SKY's latest campaign shows less algorithm and more humanity as viewing recommendations run riot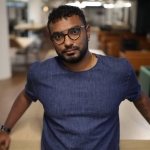 The annoying truth of unsolicited viewing suggestions
Naresh Subhash, creative art director
FCB Brasil's latest spot would leave you painfully annoyed that you did not come up with something as fun as this one—I know I was.
This works because all of us have, and continue to host, constant, unsolicited viewing suggestions that take over our streaming services, like that one time I binged on a Korean horror drama and suddenly I was only being served Korean content!
Needless to say, these tropes invade your space but at least one provider has acknowledged that it is downright annoying—Sky Brazil.
I give this piece, 9/10, for dramatizing a single truth and creating a piece that makes you feel not only entertained, but validated as they too know your pain.
For me, they have wrapped the brand's promise around the experience of its customers in a crowded category, giving us what we all need.
A little less algorithm and a little more humanity.
Also, 9/10, just makes me sound less like a psycho fanboy—because I am, I am a fan.
If you enjoyed this article, you can subscribe for free to our weekly email alert and receive a regular curation of the best creative campaigns by creatives themselves.