Stella Artois unveils new ad campaign for Stella Artois Unfiltered

Premium lager brand, Stella Artois, has unveiled a new advertising campaign with independent creative agency, Mother London, to launch its most flavoursome beer yet: Stella Artois Unfiltered.
The campaign spanning TV, print, social and OOH tells the story of a vibrant, yet slow paced European town, where the people live as naturally as the beer they drink.
As for the beer itself, Stella Artois Unfiltered is quite simply what it says it is—a beer that hasn't been filtered, allowing the fresh flavours of Saaz and Mandarina Bavaria hops to burst through for a naturally refreshing flavour. It may look unusually hazy in colour, but it's a golden lager in its purest form.
In collaboration with Anonymous Content and director Autumn De Wilde, the 30 second film shows the town's inhabitants feeling totally comfortable in their own skin (and not much else), enjoying a cold chalice of Stella Artois Unfiltered.
The ad includes a reimagined version of Stella Artois' iconic advertising music from 'Jean de Florette', re-recorded with a fresh, lively new twist - much like the Unfiltered beer.
The print and OOH content, shot by photographer Nick Meek, brings another window of how to live 'au naturel', from dog walks to chess matches. While today's Metro cover wrap, shows two locals simply enjoying a totally natural drink together, with the Metro banner covering their modesty, of course.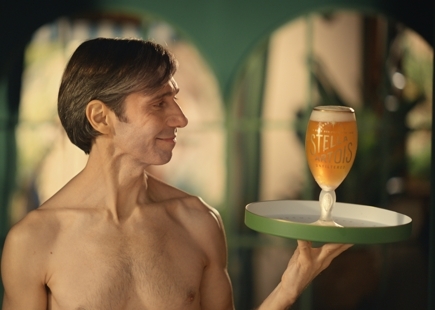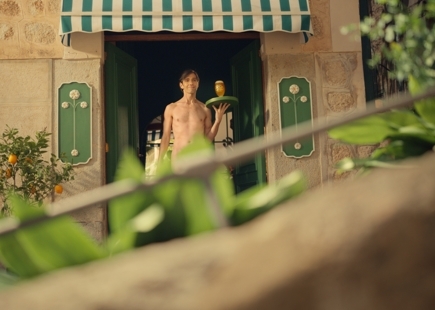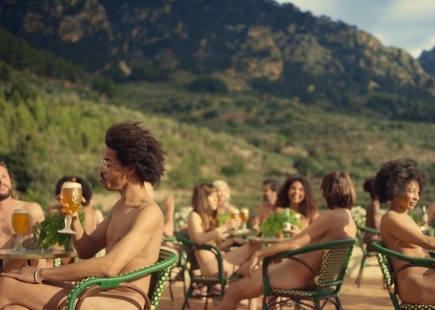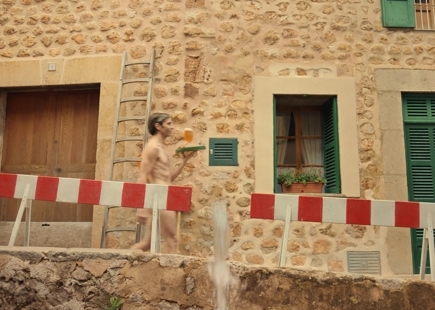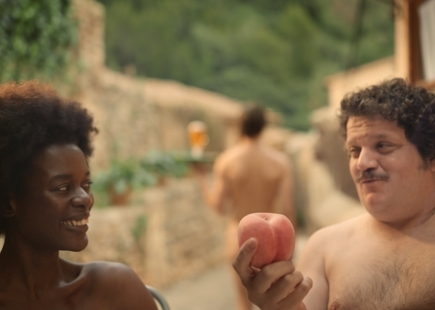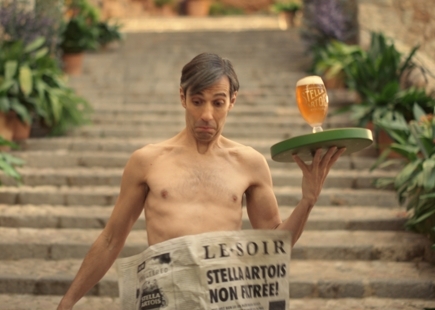 Meg Chadwick, senior brand manager at Stella Artois Europe comments: "Not many people know that beer originally wasn't filtered - we're so excited to be taking it back to its roots with the launch of Stella Artois Unfiltered. Our campaign 'Beer, au naturel' speaks to the truth of our naturally unfiltered beer - a lager in its most natural form. A beer as fresh and flavoursome as this, deserves a truly unmissable campaign – so why not showcase the beauty of being real, authentic and 'au naturel'?''
Credits
Client: Stella Artois
Campaign: Beer, au naturel
Creative Agency: Mother
Creative: Mother
Strategy: Mother
Production Company: Anonymous Content
Director: Autumn de Wilde
D.O.P: Jamie Feliu Torres
EP: Victoria Fitzwilliams
Head of Production: Shion Hayasaka
Producer: Juliet Naylor
Production Manager: Sera Bal
Local Service Company: 24/7
24/7 EP: Richard Webb
Edit House: Marshall Street Editors
Editor: Tim Thornton-Allan
Assistant Editor – Alex Djain
Post House: BlackKite
Post Producer: Tamara Mennell
VFX Supervisor/Lead: Johnny Freeman
Color: Company3
Colourist: Yoomin Lee
EP: Ellora Soret
Sound: No8 London
Sound Producer: Karen Noden
Sound Engineer: Sam Robinson
Music: Leland
Music Supervisor: Toby Williams
PR agency: The Romans

If you enjoyed this article, you can subscribe for free to our weekly email alert and receive a regular curation of the best creative campaigns by creatives themselves.