Stripped-down ads: Naked over-50s demonstrate against ageism for dating app Lumen

The Background
It all started with that Lady Godiva nearly 1,000 years ago, who realised that if you want to get noticed all you have to do is take your kit off.
April seems to be a great month for stripping for attention, with Extinction Rebellion protestors recently supergluing bare flesh to glass panels in the House of Commons.
In this day and age, why does anyone care about a bit of nudity?
But care we do, which is why celebrities love to bare all, from that famous pic of a pregnant Demi Moore on the front of Vanity Fair back in 1991 to the never-knowingly-overdressed Miley Cyrus, whose latest nudey pic on Instagram has nearly 3 million likes at the time of writing. Yawn.
Brands would be stupid not to flash a bit of flesh from time to time. All in the best possible taste of course. Dove is famous for it, and in my last review for this magazine I looked at a campaign for Mothercare where young mums posed in their underwear.
The Big Idea
Lumen, the dating app for over 50s, has already tried showing an unclad senior in a campaign that was banned by Transport for London.
It was a Christmas ad where a buff 58-year-old man, wearing just braces, was captioned 'Pull a cracker this Christmas'. It was taken down as it was seen to be objectifying the man and his physique.
It seems you can only get away with showing naked bodies if they don't make you have sexy thoughts.
So for its next campaign, Lumen has been careful to have naked people who aren't going to raise any temperatures TOO much.
What They Did
Half a dozen over 50s have been brave enough to strip off for a poster campaign, holding nothing but a placard with an anti-ageism slogan to cover up their naughty bits.
Messages include: 'Nobody puts Granny in a corner' and 'It's our time to be seen'.
The posters appeared on the London Underground from 8 April.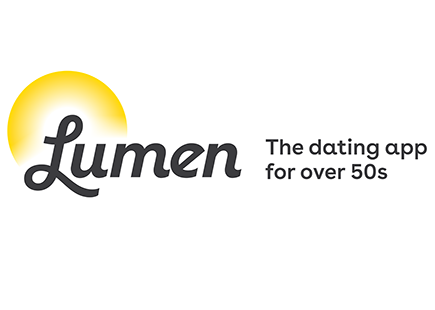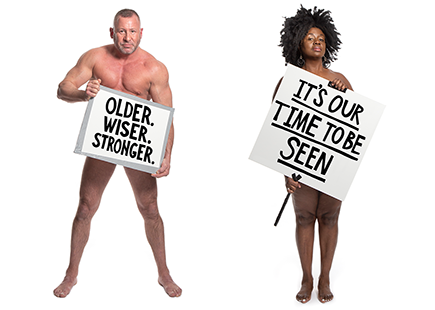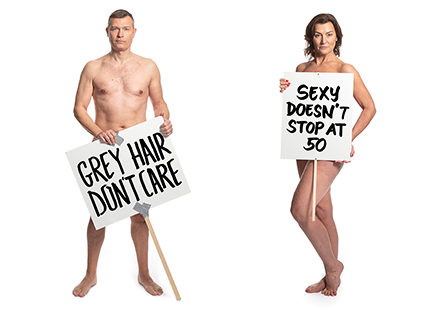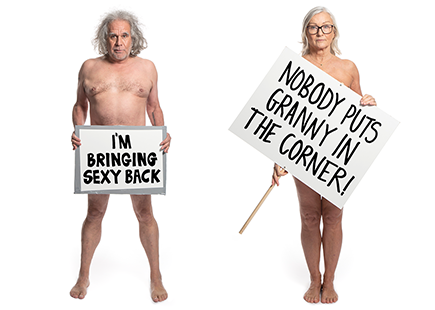 The Review
I am all for any campaign that tackles ageism, or any -ism for that matter.
This one is simple, but effective. And I love the main poster where six people hold up banners saying 'Do you see us now?' with the tagline 'Because over 50s should never be made to feel invisible'.
It might not be the most original idea to use nudity to get attention, but it is refreshing to see older people portrayed in all their glory.
As with people, just because an idea is old, doesn't mean it has run out of steam.
And I love the copy.
If you enjoyed this article, you can subscribe for free to our weekly email alert and receive a regular curation of the best creative campaigns by creatives themselves.