Success stories: How two young women broke into the creative industry through Ok Mentor

Ok Mentor is a free, real world training and mentorship programme for young women looking to break into the creative industries.
Founded by Liz Stone and Stefany Stanley, its mission is to influence the global economy of female talent by helping more women succeed, faster.

Here are two women who enrolled in the programme and have come out the other side not only with their career ambitions realised but also with the encouragement, support and mentorship from female role models who are leading in their field.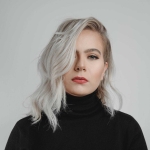 Ana Znidarsic
Co-founder and editor-in-chief, Māgoa Magazine, junior graphic designer for a skincare/fitness brand, graphic designer at Ok Mentor
I moved to London from Ljubljana, Slovenia, in 2019 for a postgraduate course at the London College of Fashion (LCF). Moving into a completely new city (and country!) was a big decision in my career, so I was looking for new experiences to build on my expertise and make new connections within the creative industries.
During my first week in London, I received a newsletter about Ok Mentor from the LCF. I decided to apply, as it was everything that I was looking for – experience for young female professionals, aged 21 to 27, trying to set off their careers.

The programme helped me enormously – after the four in-person sessions (how we all miss those!), I felt more confident and learnt how to approach different clients and pitch new ideas to them. I also learnt some important tips for writing my CV and cover letter, which helped me make a great impression at every job interview.
However, the key learning I took away was how to stay resilient throughout the tough times, which really paid off in 2020. I was in the final stages of my Master's studies and job-application process – a very unfortunate combination for any year, but especially for the 'transformative' year that 2020 had been.
I've now started 2021 with a master's degree in my hands and a brand-new job as a junior graphic designer at a fitness/beauty brand. In order to give something back to Ok Mentor, I decided to start volunteering at the charity in April too. I have been contributing with my digital content creation and graphic design skills, creating visual materials and assets for social media, presentations, internal decks and more.
Through the programme I was fortunate enough to meet so many new people, which later also evolved into various creative collaborations.
Even now I attend every single monthly masterclass and both the spring and autumn programmes hosted by the Ok Mentor. I still leave each session feeling empowered - guest speakers are always inspiring and give you the boost of confidence you need to go for any type of dream you might have.
The most important aspect of Ok Mentor is the community we are building. The energy and response from attendees on each and every session is astonishing.
You get to experience what female power and encouragement can actually achieve!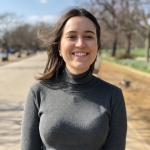 Deborah de Mello
Works in social media for the comms agency Futuramoda in Brazil
I had just finished my MA at LCF and moved back to Brazil, after living in London for a few years. I was feeling very demotivated and a bit hopeless about the future as most of my plans did not work out and I was forced to move back home earlier than expected.

The biggest struggle for me at the time was confidence. There are many things that Liz and Stef brought up during the programme that really resonated with me. For example, I remember Liz mentioning how we shouldn't talk to ourselves in a way that we wouldn't talk to our best friends. I have the tendency of being quite harsh on myself, so hearing that was very important to me and made a difference. When I start being overly critical with myself now, I stop and ask myself if I would talk like that to someone I love, if the answer is no, then I try to change my speech.
There was another thing that Stef talked about that also had a big impact on me. She mentioned that there's always a good side to our "flaws". I don't remember the exact words she used but she said that sometimes she can be very loud and fill the room as she has a big personality (I am Brazilian so I totally understand that!), which in some situations can be a problem for her. But at the same time, she loves her personality and how she can connect with people because of that. So she wouldn't change that about her, because if she did, she would miss a part that she really loves as well. That really taught me to embrace my flaws, and it's slowly helping me to build my confidence.
I received an email from LCF about the Ok Mentor programme in 2019, when it was only open to a select number of young women. I applied for it, ended up getting through the first round and even did an interview with Stef, but in the end, I was not selected for it. A few months later, I received an email from OK Mentor saying that they were doing the programme again and that it was open to everyone. I immediately signed up as I wouldn't miss out this time!
During the programme, Stef and Liz mentioned that we should reach out to people in our industry and introduce ourselves. I've always been very shy about those things, but I decided to give it a try.
There was a sustainable fashion journalist in Brazil that I really admired, so I found out she also owned a communications agency and I decided to send an email introducing my work and saying that I would love to work with them. It took a few weeks, but she replied! She said she really liked my CV and my previous experience and I started doing some freelance work for the agency (which is also an option I have never considered until the programme).
I ended up building a good partnership with her and it's been really great to work with someone I have admired for so many years.
If you enjoyed this article, you can subscribe for free to our weekly email alert and receive a regular curation of the best creative campaigns by creatives themselves.