The Debut of Boiler Man: West Brom's new mascot

Background
West Brom might have been dumped into the second-tier of English football last season, but what's a little thing like relegation when you sign a new sponsorship deal with a boiler firm and get what has been heralded as the greatest football mascot of all time off the back of it?
The Big Idea
On the opening day of the Championship season there was only one thing people and Twitter were talking about: West Brom's new mascot, and he goes by the name of Boiler Man.
Forget David Shrigley's nightmarish mascot Kingsley for Partick Thistle, West Brom's plucky combi-boiler with arms and legs was hotly received, setting a new standard in unorthodox football mascots and inevitably going viral shortly after taking its pitch-side bow.
What They Did
Ideal Boilers dressed somebody as a combi-boiler and sent them onto the pitch to get the crowd going for West Brom's opening game of the new season.

A pretty basic activation then, but with around 25,000 amused and bemused people in the stadium all sharing pictures and videos of Boiler Man's on-field antics on social media, not to mention professional photographers and TV cameras inside the stadium turning their gaze to Boiler Man's debut, West Brom's and Ideal Boilers' PR job was done for them in an instant.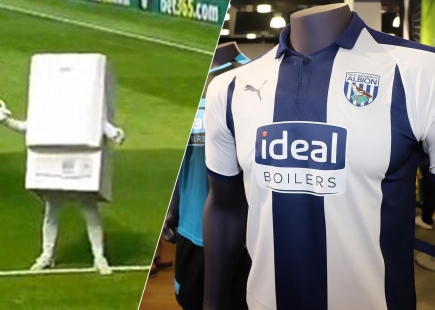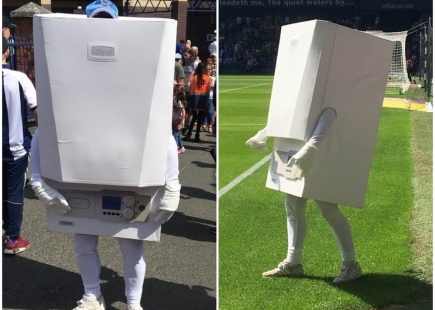 Review
In a similar vein to HECK sausages' ugliest kit ever idea (recently reviewed by fellow contributor James Gordon-MacIntosh), Ideal Boilers and West Brom turned to humour, surrealism and absurdity to get a lot of people talking, laughing and doffing their caps.

After the disappointment of being relegated from the Premier League, Boiler Man was just the optimistic and hilarious elixir West Brom needed before kicking-off the new season in the Championship, but the biggest smiles would no doubt have been found in the offices of Ideal Boilers.

They have secured an incredible amount of coverage, the majority mentioning their brand and their role as a principal sponsor, not to mention creating overwhelmingly positive conversations on social media, with celebrities, athletes and pundits joining the wider internet's appreciation of the man in a new kind of boiler suit.

Ultimately, West Brom might have lost the match, but they won over the nation, and all thanks to a sponsorship announced through a dancing, anthropomorphised household appliance.
In Hindsight
Boiler Man was undoubtedly an effective (and cost effective) way to make headlines about a sponsorship (not the easiest of tasks) and got everyone talking about central heating units, of all things.

Could Ideal Boilers have done more to make Boiler Man's entrance even bigger? Well, for one they could have parodied the recent trend for football clubs to make slick videos unveiling new signings and created one for Boiler Man, timed to coincide with his pitch-side introduction.

What's more, at the time of the announcement, the mascot's Twitter and Instagram pages were empty when Ideal Boilers could have used them as an opportunity to get a bit of teaser content out and leaned on West Brom's own social pages to amplify it to a wider audience ahead of the grand unveiling.

At the time of writing, Boiler Man's social pages are now being populated: Boiler Man has been out and about in Norwich and Ideal Boilers promises that 'the best is yet to come'.

But this does seem a little reactionary following the success of the announcement, and it remains to be seen whether a literal boiler with legs has the legs to keep lots of people interested in the long run, or, like my boiler, it will quickly lose steam.
If you enjoyed this article, you can subscribe for free to our weekly email alert and receive a regular curation of the best creative campaigns by creatives themselves.