The Floater: A surfboard made out of ocean waste by Surfers Against Sewage

The 'Floater'.
Mr. President has made a surfboard out of ocean waste, in collaboration with environmental charity Surfers Against Sewage, in protest of water companies and the government not doing enough to protect British waters.
Mr President created a video highlighting the extent of the sewage scandal in the UK, featuring footage of Ben Skinner, 11x European Longboard Champion, and other surfers riding the waves on the Floater.
Surfers Against Sewage are seeking to convert public outrage into action by staging a mass paddle-out protest against sewage pollution, featuring simultaneous events at beaches and rivers across the UK on Saturday 20 May.
The agency commissioned Cornwall-based, award-winning sustainable designer and owner of Benthos Surf, Niall Jones, to create the 'Floater'.
Niall used recycled materials to form the body of the board and raw sewage from the sea, which he turned into resin. To add impact, Jones also included two transparent windows in the top of the board that display the two litres of sewage water contained within.

The sewage used to make the surfboard was collected from St. Agnes and Godrevy after heavy rainfall in Cornwall which caused the systems to overflow.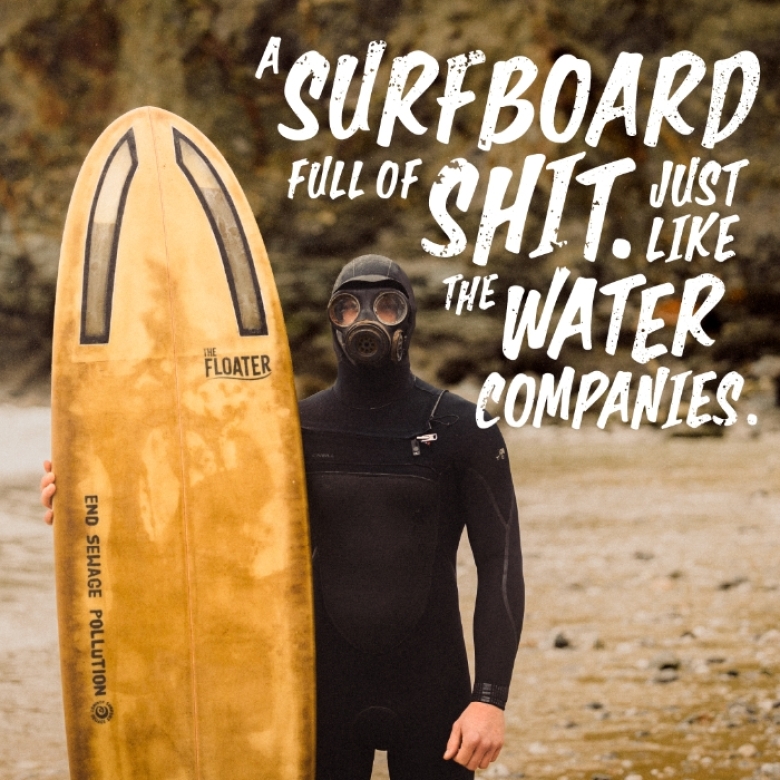 The 'Floater', which started as a passion project from Mr. President, soon became an official collaboration with Surfers Against Sewage.
Jake Smith, creative at Mr. President, (whose family lives in a small village in Cornwall called Porthtowan), said: "the whole issue is a stinking mess, so we had to do something about it. It's not just that it's disgusting, but it's the fact that it ruins peoples' livelihoods, holidays and hobbies such as surfing. It's something that can be fixed, but the people in charge take big bonuses instead of fixing the problem.
"So, we wanted to create something that raised awareness of the issue, an act of defiance and a middle finger to the polluters, from all the people who suffer. And that was how the 'beautifully disgusting' Floater was born".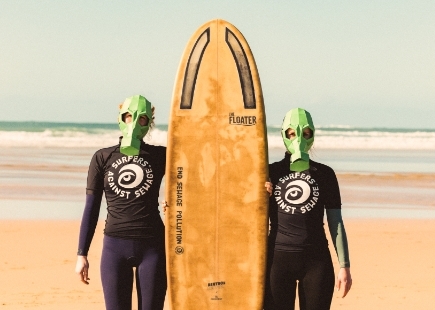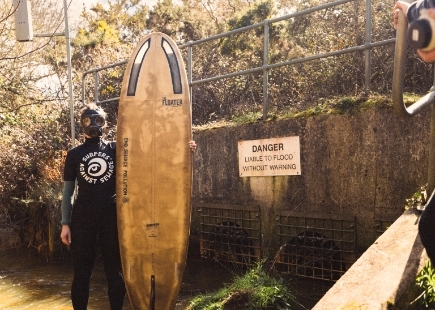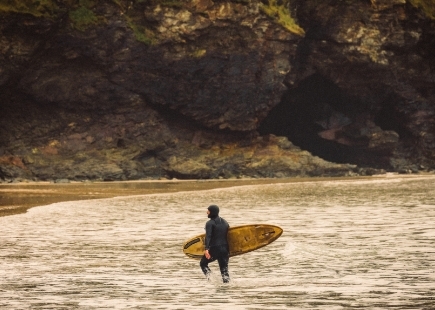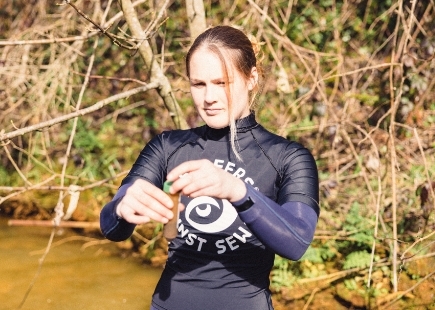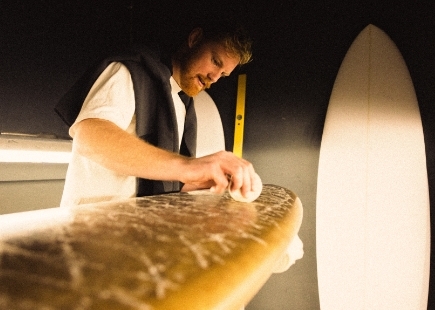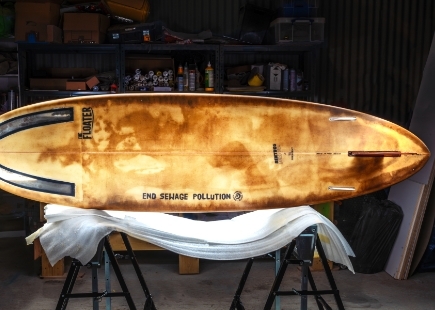 The 'Floater' surfboard will officially launch at a flagship paddle-out protest in Brighton, with 11 other protests taking place around the country on the same day at key locations covering each water company catchment.
Swimmers, paddlers, surfers, canoers, kayakers, paddle-boarders, windsurfers and anyone who cares about the health of their local blue spaces will take to the water, beach or riverbank to make their demands heard.

Surfers Against Sewage published new research on Thursday 4th May revealing damning distrust in water companies amid ongoing outrage at the levels of pollution occurring in UK waterways.
Seven in 10 (72%) say the UK Government should be doing more to tackle sewage pollution. An even bigger proportion (85%) think water company regulators need to do more to make sure water companies reduce sewage pollution. Two thirds (69%) say sewage pollution puts them off going in the sea and rivers in the UK.
SAS are also urging the public to sign its 'Dirty Money' petition, demanding an end to water companies profiting from pollution.
Josh Harris, head of communications at Surfers Against Sewage, said: "We're urging anyone who feels passionately about protecting our blue spaces to join us on 20 May as we rise up against the polluters and stage a mass paddle-out protest across the UK. Water companies are wreaking havoc on our precious rivers and seas, and we refuse to stay silent."
Credits
Charity: Surfers Against Sewage
Chief Creative Officer: Jon Gledstone
Senior Account Director: Áine Molloy
Creative: Jake Smith
Strategy: Michael Anton, Naomi Dunne
Head of Production: James Fricker
Senior Designer: Alice Kumagami
Production company: SW Productions
Photographer: Karl Mackie, Adam Furneaux, James Davies
Editor: Simon Jefferis
PR Agency: Greenhouse Communications
If you enjoyed this article, you can subscribe for free to our weekly email alert and receive a regular curation of the best creative campaigns by creatives themselves.