Why you get better engagement with micro influencers

Influencer marketing has skyrocketed over the last five years and shows no signs of slowing down.
Google Trends show search volumes for 'influencer marketing' have been rising steadily for the last five years worldwide, and according to the 'Influencer Marketing Benchmark Report 2020' the industry is set to grow to $9.7B in 2020.

Why has influencer marketing taken off with brands looking to promote their products, and what is best practice?

Why are brands embracing influencer marketing?
More and more businesses are now using influencer marketing as part of their digital strategy.
It allows brands to build credibility with their audiences – consumers are savvy to advertising and seeing someone they trust talking about a product or service, in an authentic way, makes them more likely to engage with a brand.
The content influencers create is unique and it can often boost organic traffic and engagement.
We can think of influencers as a form of "word of mouth" business mixed with native advertising.
This, combined with their massive social media followings, allows companies to create organic traffic, engagement, and grow their social followings.
Working with influential bloggers can also generate high-quality backlinks to improve SEO.

Using credible influencers is key to a successful campaign
One of the most successful influencers in the financial sector is Martin Lewis of Money Saving Expert fame – in fact, he is so successful many of his fans do not realise he is an influencer and that his weekly email is littered with affiliate links.
Lewis' weekly email goes out to over 13 million subscribers and a recommendation from him can cause a deal to sell out quickly. Martin Lewis is different from conventional influencers, in that brands cannot pay for a spot on his weekly email or website - all his revenue is generated through affiliate links. This might make him more credible to audiences and is effective for brands when they appear on his site - which can only be achieved through having a genuinely good offer.

Micro-influencers have higher levels of engagement
Interestingly, Martin Lewis is an anomaly – if brands want more bang for their buck, they are better off using micro-influencers.
According to the AccuraCast white paper, 'Influencer Marketing Benchmark Report', mega influencers on Instagram are usually not the best choice when looking for engagement with branded content. The average rate of comments received drops as the follower count increases.
On Instagram likes per 1,000 followers grows gradually - in other words, more popular Instagrammers tend to get a higher rate of likes, however micro influencers drive more meaningful engagement per follower.
On Twitter, the level of influence seems to have little effect on the rate of engagement, for example, 10 micro-influencers with 10k followers each would get the same amount of engagement as one mega influencer with 100k followers.
YouTube is the only social network where greater popularity means a disproportionately higher rate of engagement. While the rate of comments per subscriber remains consistent, the rate of likes per subscriber increases rapidly.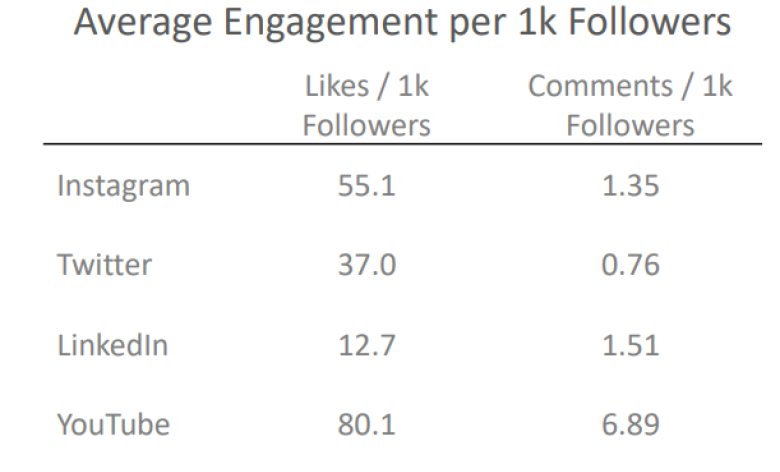 Sports brands are embracing micro-influencers as part of their content strategy
Sportswear brand Lululemon has built its brand by focusing on local influencers and gifting them products for photoshoots. By choosing influencers who have a genuine affinity to the brand, it allows them to remain authentic and create a local community.
The brand recently ran #TheSweatLife campaign, which achieved enormous success through engaging micro-influencers amongst their existing customer base – creating a viral, low cost, and authentic campaign.

Also embracing micro-influencers as part of its marketing strategy is Adidas.
When promoting a line of football boots, Adidas engaged 260 influencers to tap into a younger, urban audience via Glitch, a forum for small scale app developers to share content and product development ideas. With no additional ad spend, Adidas were not only able to increase sales of their football boots, but also trend on Twitter and the app store – showing the true value of engaging micro-influencers.
Brands need to be careful not to over promise and under deliver when using influencers
So, what about when it all goes wrong?
We've all heard of the ill-fated Fyre Festival - the greatest party that didn't happen! The Fyre Festival was destined to fail from the beginning, with a lack of infrastructure on the tiny island of Great Exuma, in the Bahamas, where it was due to take place.
A host of popular influencers, including Hailey Baldwin, Kendall Jenner and Bella Hadid, promoted it on social media.
One of the first mistakes was that many of these influencers did not disclose they had been paid to promote the event. When people turned up to the event, it was a disaster, with tents to sleep in rather than luxurious accommodation and cold cheese sandwiches instead of the five-star catering that was advertised.
Because so many of the guests were influencers and bloggers, the hashtag #fyrefestival went viral for all the wrong reasons.

Brands should think about the impact of influencers they use... or don't use
Rugby kit manufacturer brand, Canterbury, made national news for their influencer campaign – for all the wrong reasons.
The brand launched the new Irish kit in August this year and used three male players to model the new kit.
The women's kit was launched at the same time and rather than using members of the female team, the brand used models.
Canterbury came under intense fire online for missing the opportunity to raise the profile of the female players and had to publicly apologise for the mistake.

Influencer marketing can add value to a marketing strategy – with some careful thought
There is no doubt that engaging influencers can be an invaluable part of a marketing campaign, if done correctly.
Brands need to identify influencers that resonate with their brand values and those that have real influence with their target audience – not just based on the number of followers.
Brands should look at how they can utilise influencers to create authentic and credible content and build brand affinity through their followers, whether that be through micro-influencers or social media celebrities with millions of followers, and identify the right mix to suit their strategy.
If you enjoyed this article, you can subscribe for free to our weekly email alert and receive a regular curation of the best creative campaigns by creatives themselves.