The Youth Of Tomorrow: Creative partnership Jed & Ev took a week to land their first industry role

With an awe-inspiring crowd of brilliant young creative talent out there, Creative Moment wanted to find out more about who they are, what they think and what part they want to play in the future of the industry.

In this series we talk to up-and-coming creatives with something to say.
Jed Small and Evan Bryant left University and landed a job within a week.
Jed's the art director and Ev's the copywriter.
They met and partnered early on at Gloucester University while studying creative advertising. Young, energetic and committed to a career in the creative industry, they were offered an opportunity to attend an interview just a week after graduating.
Now working at Topham Guerin, a London-based creative and digital agency, they work on aligning and maintaining an online presence for brands, creating monthly content and responding to new briefs.

Creative Moment had an enlightening chat with this creative duo about the Metaverse, their mutual aspiration to create the 'big stuff' and why they love the blend of digital and stop-frame animation in the BBC's Winter Olympics ad.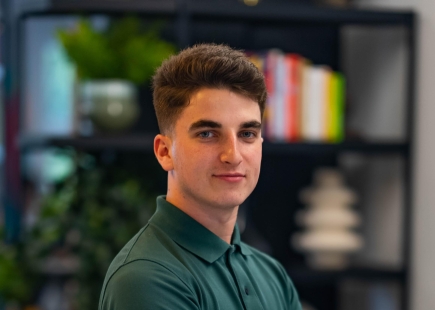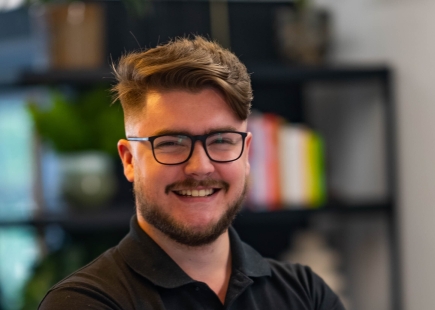 Why did you decide to work in the creative industry, and how did you get to where you are today?
We came to the industry from different perspectives.
Jed knew advertising was for him before going to Uni. Ev found the advertising course at the University of Gloucestershire after it was being recommended to him by a friend, switching from Game Design.

We became a team in the first year of the course through our mutual love/hate of Arsenal (the less said about that the better) and we stuck with it when we realised the work and ideas were flowing.
Our foot-in-the-door came a week after finishing University, when we received a call from an old course mate, Tom Hancocks. Tom recommended us for a role at Topham Guerin after being our 3rd year mentor during a scheme run on the ad course at UoG.
We must have made an impression.
After the interview process and a mock pitch with TG, we took our first step into the industry.

Can you tell us about your most recent work for Halifax?
Well, little did we know after joining TG in the summer, we'd have the chance to help lead a campaign the following Christmas.

Beginning in September, we worked closely with the account team to pitch a proactive social-first Christmas campaign to Halifax.
We devised a competition based on the daily rituals everyone goes through during December, creating a sort of drumbeat leading up to the big day. We packaged it as an advent calendar with the goal of having people engage with the brand via submitting their own family traditions as entries.
A daily competition was ambitious but we came up with plenty of our own insights to base the posts on. We love the big Christmas TV spots that focus on the polished end result, but to resonate on social, we wanted to focus on the little things that really make the time of year so special. It's not just putting up the fairy lights when December rolls around, it's the two hours spent untangling them first.

Actually putting together the campaign was a lot of fun. We were all over it. Shooting videos daily, directing, and even running out to get props like Monopoly and bauble-making kits! (added to that, sourcing a few stock videos—this is social after all.)

The campaign turned out to be a huge success and that was down to the hard work of the team as a whole. We can't wait to do more of this type of stuff—really hands-on work that's insight led and something that we can see through from start to finish.
What piece of creative work have you seen recently that grabbed your attention, and why?
It has to be the work that BBC Creative has done to promote BBC's coverage of the Winter Olympics.

There's a 'making of' video that really shows off why we love it. It's ultra-modern CG meets peak practical effects. The attention to detail, down to choosing the right slate, and the actual process of making it means it's right up our street. And that's before you look at the ad itself which stands out from others on TV at the moment for its handmade look and feel.

Another plus is that Reuben Dangoor is involved—an artist we've both followed closely on Instagram for a while (a Gooner too!).
What are your thoughts on the Metaverse versus traditional advertising?
We both think the concept of the Metaverse is a bit bizarre.
And we both believe there will always be a place for traditional advertising—drawing most of our influences from it up to this point. However, we've got different opinions on how we see this going. We should really put a bet on it.

Jed sees the Metaverse as the first real test of Gen Z's ability to 'keep up with the times'. We were born into a world with the internet and social media and this is the biggest leap forward, away from what we would call a 'platform', that the media has made. When we say 'traditional advertising' in the future, we just might be including traditional sites like Facebook and Twitter in that conversation too.

Ev's interested in the idea of the Metaverse but feels there's a sense of 'the emperor's new clothes' about it. The next trend for those feeling they missed the boat on Cryptocurrencies.

He feels the same about the Metaverse as media for advertising. Having grown up playing games like FIFA, which has adverts built-in while you're playing, you become blind to them as your attention is focused on a million other things. I'm sure the Metaverse will be similar. Like a scene out of Bladerunner, ads in the Metaverse will become wallpaper that will probably be lost as users go about doing other things while trying to disconnect from the real world.
Ultimately, the tangibility of classic advertising is irreplaceable.

In your view, what is it about TikTok that makes it so successful for your generation?
Really, Vine walked so TikTok could run—you had to be funny, creative or controversial in 6 seconds or you got ignored. People got used to that.
TikTok follows the same principles, but now you can stretch it to 3 minutes if you want to. Either way, they remain insanely consumable.

Sadly for us advertisers, viewers aren't forced to watch an ad, they can just keep scrolling.
If you aren't entertaining within 3 seconds your advert is left behind by the algorithm. So you really need to produce good content in order to stand out.

That's what it boils down to really—people follow the content, not the brand.

It's why brand warfare on social media does so well.
We love watching controversy, getting involved in a joke, or feeling 'in' on a meme, and a brand that shows willing to dip its toe in can be rewarded. Although a lot of successful advertising on social is down to hitting the zeitgeist or merely down to…timing.

What do you believe the creative industry is missing right now?
Trust.

Trust in new ideas and new thinking.

The so-called 'golden era' of say-what-you-want advertising is over.
And in a list that's longer than your arm, it's for the best.
But our new generation of creative talent needs to keep creativity at the heart of what we do, and trust that our fresh take on the industry, and how it's run, can produce better work than what's gone before.

Where do you see yourselves in 20 years?
We still see ourselves in the creative industry, although exactly what we'll be doing is another question.
Ev fancies himself as a scriptwriter, and Jed's aiming for creative director.
Whatever happens, we'll be happy if we're still enjoying what we do.

If you enjoyed this article, you can subscribe for free to our weekly email alert and receive a regular curation of the best creative campaigns by creatives themselves.