'They're coming, be ready': Argos celebrates the return of the big Christmas get together

Argos celebrates the welcomed return of fun-loving, chaotic Christmas get-togethers.
Through the story of a small family meal that becomes a very lively party, this year's advert marks the return of Christmas as we know it, with family, friends and neighbours all showing up to celebrate together.
The ad opens on a home decked out with Christmas decorations, where a couple is quietly preparing for the big day.
Questioning "so how many are coming?", as he places a bowl of crisps on the table, the wife responds, "hmm just a few", completely oblivious to the number of people about to descend on their home.

The scene cuts to a crowd of excitable neighbours wearing their festive glad rags and holding presents and champagne flutes chanting "party".
We then see a group of enthusiastic bakers wearing colourful aprons, running with trifles in hand, before focusing on some children joining the crowd too.

The wine glasses, Christmas tree and bowl of crisps all start to shake as the soundtrack builds in volume, revealing an orchestral version of Opus' Live is Life, now synonymous with Argos, as the advert focuses on the multitude of people heading towards the house. As the huge crowd approaches the couple look at each other wide-eyed in panic.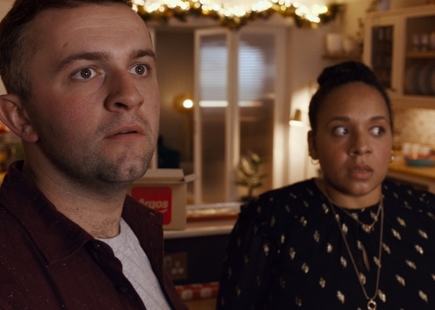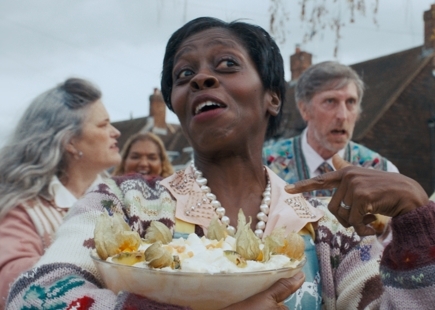 We see the crowd charging down the street and including anyone and everyone, from football fans to family and friends with their suitcases and pillows, anticipating a long stay.
The couple, now more aware of the chaos about to greet them, are taking deep breaths and the wife reassures her husband that "It's going to be okay" before the champagne from the crowd is popped.
The crowd is finally joined by spirited children firing nerf guns, cutting to an aerial shot of the cul-de-sac filled with all of the different groups of people. A message appears on screen: "They're coming", "Be ready".
The couple look at the nibbles and the husband takes out the Argos app, with the Habitat Dipped Speckle Stoneware Serve Bowl on his screen, stating "We're gonna need a bigger bowl", showing that Argos has everything you need to make this Christmas extra special.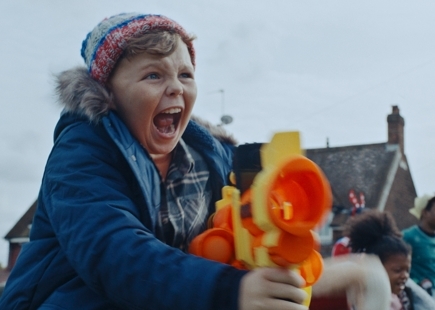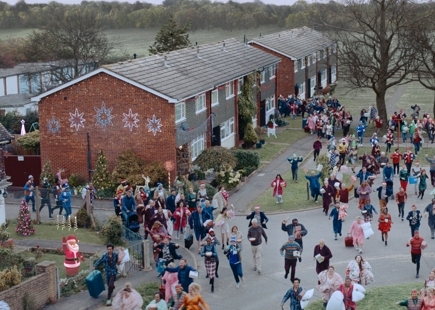 Rob Quartermain, head of marketing Campaigns, at Argos has said: "We know how difficult the last few years have been for everyone, so we really wanted to bring a smile to viewers faces by highlighting the fun and comedic moments of Christmas get-togethers, along with the unique experience of being able to bring everyone, from all ages and backgrounds, to share a wonderful Christmas together at home. This year's advert really aims to celebrate that moment, and how Argos has everything you need to make this Christmas truly special."
This year's advert was created by The&Partnership. The 30" advert launched on Wednesday 9th November across TV and on social. Four different 10" edits are also expected to land across TV and on social towards the end of November.
Toby Allen, executive creative director, The&Partnership said "Argos has always been for everyone, especially at Christmas. And by everyone, we mean everyone. No matter who's coming, how many of them, and what chaos they bring, Argos will have you covered."

Credits
Client: Argos
Chief Marketing Officer: Mark Given
Director of Communications & Creative: Radha Davies
Head of Marketing & Brand Communications: Rob Quartermain
Campaign Manager: Becky Desert
Campaign Manager: Lisa Ironside
Marketing Campaign Executive: Alice Booth
Campaign Assistant: Ben Arnold
Campaign Title: 'Avalanche'
Agency: The & Partnership
CEO: Sarah Golding
Chief Creative Officer: Micky Tudor
ECD: Toby Allen
Creative Directors: Chris Clarke & Matthew Moreland
Head of Integrated Production: Charles Crisp
Agency Producer: Alfie Glover-Short
Production Assistant: Carla Sandhu
Managing Director: Gary Simmons
Business Director: Lucy Almond
Senior Account Director: Alex Fitzsimons
Account Director: Misbah Husain
Account Manager: Gabriella Kaas
Account Executive: Sophia Levison
Planning Director: Matt Linnett
Planner: Ed Davenhill
Production Company: MJZ
Director: Gary Freedman
MD/ Executive Producer: Lindsay Turnham
Producer: Jacob Swan Hyam
Production Manager: Charlie Rose Jones
Director of Photography: Stéphane Fontaine
1st Assistant Director: Ben Glickman
Production Designer: John Ebden
Stylist: Michelle May
Editor: Amanda James @ Final Cut
Assistant Editor: Leah Burton and Mike Radforth
Offline Producer: Nikki Porter @ Final Cut
Post Production: ETC
VFX Supervisor: Giles Cheetham
Colourist: Luke Morrison
2D Supervisor: Stirling Archibald
2D Assist: Sebastian Brandow, David Ince
DMP Artist: Carl Edlund
Executive Producer: Vic Lovejoy
Producer: Alex Carswell
Audio Post Production: Grand Central Recording Studios
Audio Producer: Molly Butcher
Sound Designer: Munzie Thind
Music Supervision: Trait Music
Composers: Oliver Mayo
If you enjoyed this article, you can subscribe for free to our weekly email alert and receive a regular curation of the best creative campaigns by creatives themselves.