This is our BBC: A reminder that the broadcaster belongs to us all

The BBC has unveiled its latest film: 'This is our BBC'.
Made by BBC Creative, the BBC's in-house creative agency, and Academy Films, the film demonstrates the special place the BBC holds at the heart of UK culture.
With help from a host of famous faces and iconic moments, the film celebrates the broadcaster's journey over the last 100 years.

Kerris Bright, BBC chief customer officer said: "It's a great reminder of the BBC's remit to inform, educate and entertain. We are all striving to provide something for everyone on the BBC and as a celebration of everything the BBC shares with audiences, we've launched a new film called This is Our BBC.
The film is part of a strategy we started developing last year to demonstrate how central the BBC is to UK culture, and that it truly belongs to each and every one of us. It will appear on social media from 2nd February and on Sunday it will appear on TV for the first time after The Green Planet.

Everyone has their own version of the BBC based on what they enjoy the most.
This might be R1Xtra or the Archers, Match of The Day, Top Gear, or EastEnders. The BBC is unique to each of us but shared by all.
This is Our BBC features a cast of famous faces from Idris Elba, to Sir David Attenborough, Jodi Comer, Dizzee Rascal and newsreaders through the ages.
It also captures some amazing and memorable moments we have shared —Freddie Mercury at Live Aid, Adele at Glastonbury and the Proms.

The fact it comes to screens now is quite timely, given much has been said and written about the future of the BBC in recent weeks.
In many ways, that goes to the very heart of what the BBC has been, is and will be in the future. We are at the very heart of UK life. Everyone will have a view on what the BBC does well or their favourite moments and, of course, what we could do better."
It is essential there is debate on the role of the national broadcaster if it truly does belong to us all.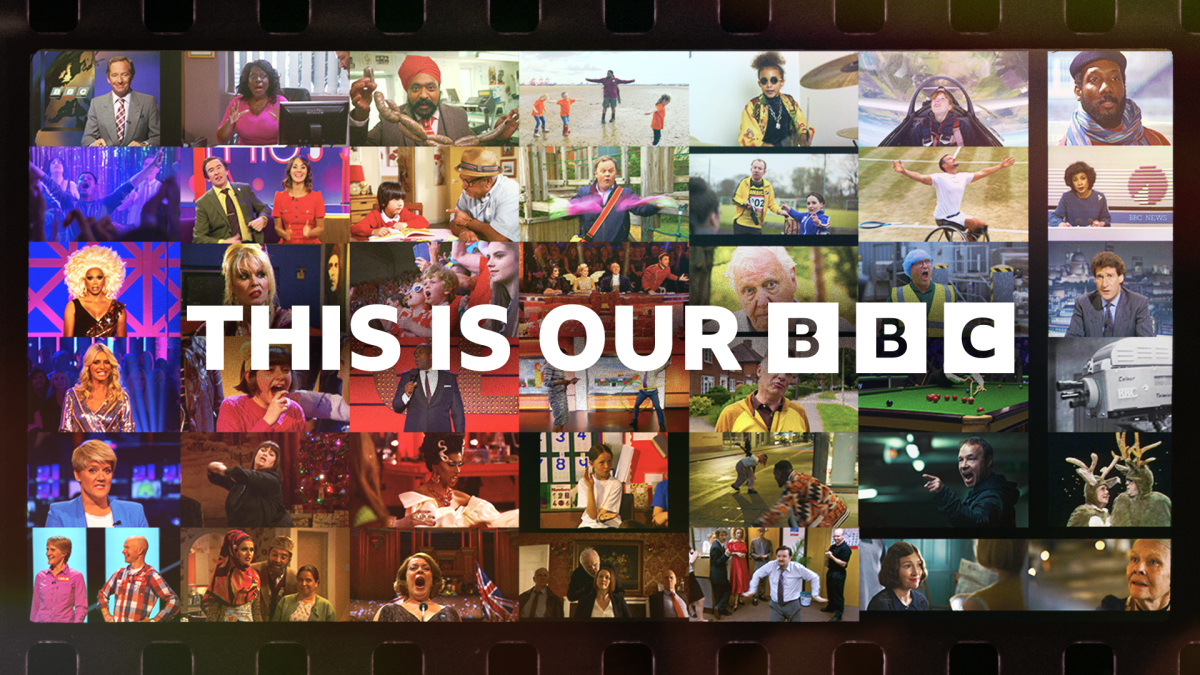 Credits
BBC Creative
BBC Creative, Director: Justin Bairamian
BBC Creative, Head of Planning: Mike Lean
BBC Creative, Head of Production: James Wood
BBC Creative, Creative Director: Chris Vernon
BBC Creative, Creative: Rachel Miles
BBC Creative, Creative: Michael Tsim
BBC Creative, Producer: Rachel Roberts
BBC Creative, Project Manager: Astrid Reiner
BBC Creative, Planner: Rosanagh Kerr
BBC Creative, Production Manager: Polly Georgeiva
BBC Creative, Production Manager: Georgina Williams
BBC Creative, Production Coordinator: Caitlin Setterfield
BBC Creative, Researcher: Edward Hobson
BBC Creative, Researcher: Caleb King
BBC Creative, Researcher: Nicola Jane Han
BBC Creative, Senior Designer: Mirjami Qin
BBC Creative, Lead Designer: Amir Saidani
BBC Creative, Digital / Social: Ceri Pashley
BBC, Archive Technology & Services: Michael Satterthwaite
BBC, Director, BBC Brand: Jane Lingham
BBC, Portfolio Head of Marketing: James Parry
BBC, Marketing Manager: Anna Manley
BBC, Media Portfolio. Lead: Emily Wilson
BBC, Campaign Planner: Andrew Morland
Production Company: Academy Films
Academy Films:
Director: Sam Rice-Edwards
Co-director: Seb Edwards
Executive Producer: Medb Riordan
Producer: Shirley O'Connor
Production Assistant: Cara Mills
Assistant Director/Researcher: Ruby Seresin
Researcher: Kritika Arya
Researcher: Preston Hartley
Researcher: Ruth Hegarty
Researcher: Elizabeth Fenton
Researcher: Nikola Ivanovski
Researcher: Rhys Lewis
Researcher: Anta Male
Researcher: Suzi Paz
Researcher: Haris Pylidis
Researcher: Alison Sargent
Researcher: Lisa Savage
Researcher: Hannah Skolnick
Researcher: Mani Shiraz
Machine Learning Engineering: Jack Arbuthnot
Edit: The Assembly Rooms
The Assembly Rooms:
Editor: Andrew Cross
Editor: Jack Williams
Edit Assistant: Bruna Manfredi
Edit Producer: Daniel Breheny
Music track: Music arrangement of 'Girlfriend' by Para One, Zebedee Budworth
Music track: 'Tree Strings' by Jonny Greenwood from the film You Were Never Really Here by kind permission of Lynne Ramsay
Factory:
Sound Design: Mark Hills
Audio Producer: Mikey Hill
Time Based Arts, Flame Lead: Jamie Crofts
Time Based Arts, Colourist: Lewis Crossfield
Time Based Arts, Nuke: Ralph Briscoe
Time Based Arts, Post Producer: Jo Gutteridge
If you enjoyed this article, you can subscribe for free to our weekly email alert and receive a regular curation of the best creative campaigns by creatives themselves.