Tilda creates lively ad putting rice centre stage

A campaign by Havas London
British rice brand Tilda® has unveiled a new advertising campaign for its steamed rice range – the start of a seven-figure marketing investment into a range which will represent the brand's focus across 2021.

Elevate Your Plate – the first major above-the-line campaign for the product range – positions Tilda steamed rice as an integral part to so many much-loved dishes from around the world – not something made to merely sit on the side.
Devised by creative agency Havas London, it highlights that the range that can deliver the right rice for the right dish, enabling people to explore a multitude of culinary cultures whenever and however they'd like.
Cheerful.
This idea is brought to life in a TV spot directed by Guy Manwaring through Merman. Opening with the line 'I can make everything nice with Tilda steamed rice', it sees an amateur (but enthusiastic) home cook grow in confidence and ambition as he crafts an array of dishes of increasing complexity – from halloumi wraps and bibimbap to leftover Thai in a stir-fry; dinner for one to a banquet for everyone – all with rice at their heart.
It was created by Rosie May Bird Smith and creatively directed by Dave Mygind at Havas. Planning and buying has been handled by media agency Goodstuff. The £1M campaign will run across TV and video on demand from today launching at prime time on Channel 4 in Devon & Cornwall. This will be the biggest investment Tilda have made in advertising to date. The campaign will be further supported by digital executions and a social campaign from fellow Havas agency, Cake, rounding off the new campaign for the much-loved brand, which is purchased by at least a quarter of all UK households.
Anna Beheshti, head of marketing at Tilda says: "As well as raising consideration versus own-label and competitor brands, we wanted to champion our premium quality Tilda rice itself as so much more than a side. With people eating at home more than ever before, we know it can be hard to find the inspiration – or the time – to cook delicious meals day in, day out. Luckily, Tilda's tasty 20-plus varieties – including Japanese Teriyaki, Peri Peri, and Coconut Basmati – make it easy, whatever dish of the world you fancy."
Dave Mygind, creative director at Havas London adds: "Tilda's steamed rice makes it so easy to take your midweek dinner from meh to magnificent, so we wanted to celebrate the taste, variety and potential of the mighty grain in all its glory. With cooking just about the most fun we're legally allowed to have during recurring lockdowns, we think it's important to do it with a healthy dose of energy, colour and excitement."
Harry Moss, group planning director at Goodstuff adds: "With the nation getting back into their kitchens, it's a great opportunity to elevate Tilda's delicious and diverse range of products. Showing consumers that rice doesn't just have to be rice. This campaign marks Tilda's biggest investment in media, so we're excited to see this new creative make a big impact on our screens."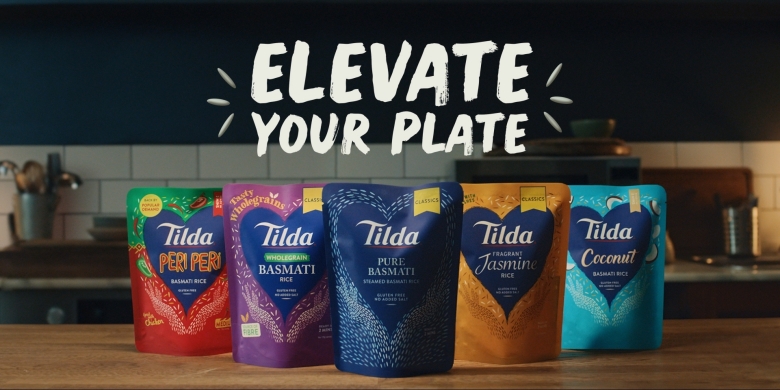 Credits
Title: Tilda – Elevate Your Plate
Client: Anna Beheshti (Tilda, Head of Marketing), Magdalena Bogusz (Tilda, Marketing Manager)
Creative Agency: Havas London
CCO: Vicki Maguire
Creative Director: Dave Mygind
Creative: Rosie May Bird Smith
Account Manager: Lily Barber
Account Director: Alexandra Webb
Business Director: Kate Woodruff
Agency Producer: Adrianne Godfrey
Head of Production: Patrick Cahill
Strategist: Kerrie Boyes
Media Agency: GoodStuff
Production Company: Merman
Executive Producer: Spencer Dodd
Producer: Amy Appleton
Director: Guy Manwaring
DoP: Alex Barber
Editor: Mark Edinoff at Work Editorial
Title Designer: Josh Toogood
Colourist: Toby Tomkins at Cheat
Lead Flame Artist: Phil Oldham
Flame/Nuke team: Carl Godwin Alvarez & Lucas Warren
Post-production: Absolute Post
Post Producer: Jenna Le Noury
Post Production Assistant: Ava Millard
Sound Designer: Mark Hills at Factory
If you enjoyed this article, you can subscribe for free to our weekly email alert and receive a regular curation of the best creative campaigns by creatives themselves.