Toblerone celebrates all things triangle with new brand story

Toblerone has unveiled a new brand story and visual identity redesign for its iconic chocolate bar to encourage uniqueness.
Conceived through collaboration between Toblerone and strategic brand creative agency Bulletproof, Toblerone's new brand story pays tribute to the importance of being stubbornly triangle in a world of squares. It draws on the brand's heritage of being different in the traditional world of chocolate – its shape as well as its original signature taste of smooth chocolate, chewy nougat and crunchy almonds.

It brings a new relevance and appeal to chocolate fans around the world, showing up in unexpected ways through creative execution, tone of voice and activation.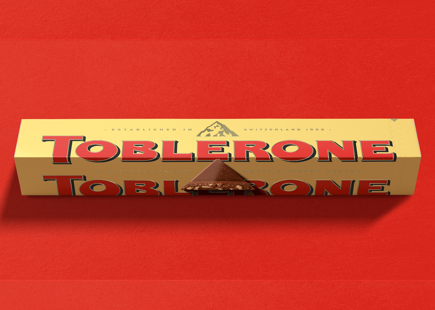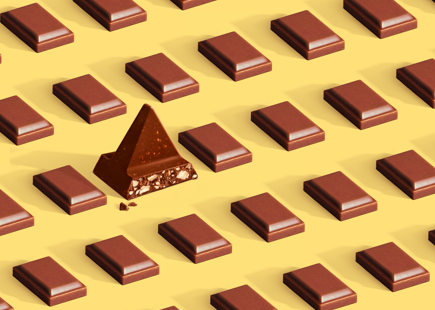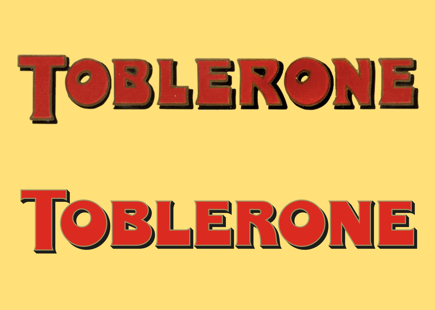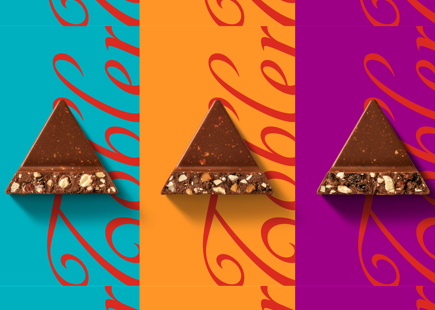 Dare to be different
Mondelēz's SVP of global brands Mie-Leng Wong says: "The premium chocolate market is growing at aphenomenal rate and as the world's number one premium chocolate in Global Travel Retail, we need to evolve with what our consumers want to see. With a rich brand heritage over 110 years in the making, we saw an opportunity to return to our roots with a new brand story that pays homage to the core values embodied by our innovative founder.

"The aim is to challenge stereotypical behaviours in the category and allow us to do things in a more progressive premium way, encouraging uniqueness and celebrating all things triangle. It also offers an opportunity to repurpose and strengthen the quality credentials of Toblerone to grow it beyond its heartland of world travel retail."
Driving brand purpose
To drive strategy, visual execution and communications, Bulletproof distilled the brand's new purpose, creating the distinctive call to action, 'Be More Triangle', which informed the development of a whole new brand world.

Nick Rees, chief creative officer and partner at Bulletproof says: "Theodor Tobler broke the mould in his time – when others were creating squares, hemmed in by the refinement and rules of Swiss chocolate production, he went off on a tangent. Delving into the archive and the founder's story informed the new brand purpose. Toblerone champions the triangles: those who dare to be different, to be themselves, who have the courage to stand against conformity and unleash their ingenuity.
"Looking back into a brand's archives usually uncovers a world of craft and lost nuance. But we uncovered something much more powerful. Mr. Tobler was way ahead of his time, an activist, a maverick and a true disruptor yet he never once took his eye from his driving ambition: to make high quality, deliciously surprising chocolate experiences."
A bold and vibrant visual style
The new visual identity includes a redrawn wordmark, a complementary typeface and a modern colour palette. The revitalisation of the Toblerone wordmark drew inspiration from the Toblerone archives, reintroducing the character of the original through bold quirks such as an off-centre counter in the 'O' and an unconventionally thickened base to the 'E'.

All visual executions, including on pack, supporting brand world and digital communications, are based on three core design principles: 'defined by our edges', 'strikingly different' and 'vibrantly positive'.
The new colour palette marks a move away from the chamois and gold of the past to a more confident and modern approach with bursts of contrasting colour.

The creative elements also include a contemporary, yet quirky graphic style and a new 'Tobler' signature inspired by the founder's sign-off on an archive poster. The redesign also modernised and streamlined the mountain logo, in line with the geometric and 'be more triangle' aesthetic, while retaining its famous hidden bear.
Reinventing the gifting experience
The Toblerone team, Bulletproof and Media Monks collaborated to create a new direct-to-consumer UK ecommerce website that shifts the conventional online gift shop towards a more unexpected user experience. Toblerone offers a curated assortment of personalised gifting ideas and content that amplify and celebrate the uniqueness of relationships, and events that chime with the purpose of celebrating individuality.

Aiming to take personalisation to the next level, it launched with 'Send a Feeling', a gifting occasion that allows people to select a 6x100g bar bundle to send a feeling in support and celebration of those individual moments that matter.

If you enjoyed this article, you can subscribe for free to our weekly email alert and receive a regular curation of the best creative campaigns by creatives themselves.