TUI launches 'Live Happy' campaign in first work from Leo Burnett London

TUI's first major campaign since appointing creative agency Leo Burnett London earlier this year relaunches the brand with a fresh identity for the post-pandemic world against a backdrop of travel restrictions easing across Europe.
The Europe-wide campaign and platform, entitled 'Live Happy', showcases TUI's breadth of offer and shows how they—help create enriching moments that last a lifetime irrespective of who you are. The campaign kicks off with a 60" film, produced by Forever and directed by Kinga Burza, which will premiere during Coronation Street on ITV, and takes us on a journey through a world of TUI experiences, from beach trips to exploring far flung islands by canoe and day trips around a Moroccan souk.
With this new take on what a new world of travel and holiday experiences can look like, TUI is looking to attract broader audiences who look for authentic local experiences on holiday, without alienating important package holiday buyers.
The platform is designed to be a long-term campaign that will run for years, repositioning TUI as a modern, progressive travel company and demonstrating that TUI has the expertise, range and scale to create the perfect travel moment for anyone and everyone.
The wider campaign sees Publicis Groupe UK public relations agency MSL—handling UK PR and the internal roll-out—unite with Leo Burnett London. The fully-integrated campaign covers TV, VOD, online video, radio, social, print, owned media, OOH/DOOH, digital, retail windows, CRM and will run across twenty-three European territories, including the UK.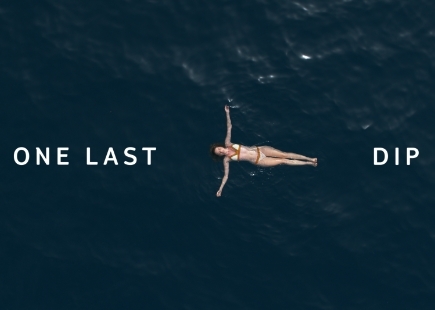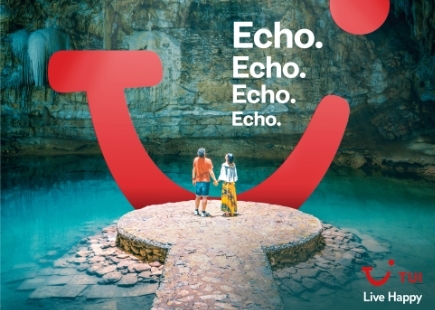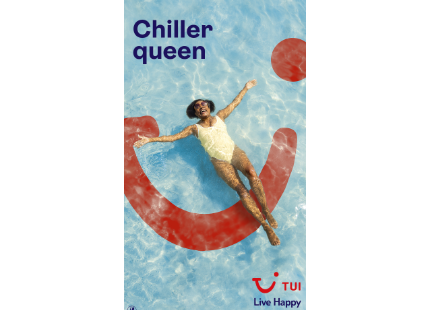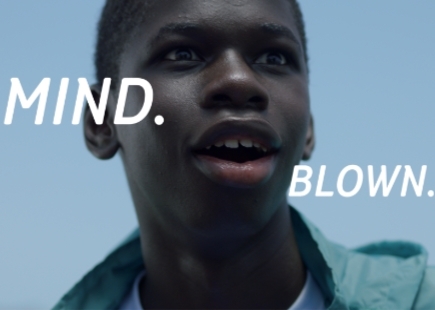 Leo Burnett London's chief creative officer Chaka Sobhani said: "Live Happy is about the stuff that changes you and the way you see the world. The experiences that help you to reconnect with the people and places you love, to start new chapters and revisit old ones. The things you remember long after you get home. We wanted to create a new look and feel that puts the famous TUI smile at the heart of the campaign. A smile that represents expertise, fun, adventure, new possibilities and a whole lot of heart."
Katie McAlister, chief marketing officer, TUI, said: "It was important for us to show that TUI helps to create much more than beach and sun holidays - with us you can ski, spa, explore cities, and everything else in between. In the past people may have believed TUI didn't have the type of holiday they wanted to experience and Leo Burnett has helped bring to life our perspective on travel: that holidays are so much more than "just a holiday". Ultimately, they enrich our lives for years to come – and it was this diversity of experience that we wanted to come across in the campaign."

Credits
Leo Burnett
Campaign name: Live Happy
Chief Creative Officer: Chaka Sobhani
Creative Directors: Rob Tenconi & Mark Franklin
Copyrighter: Joe Miller
Art Director: Steve Robertson
Head of Design: Phil Bosher
Studio Director: Richard Pettiford
Business Director: Paul Wilde
Account Director: Robert Ellen
Account Manager: Annie Flood
Account Executive: Daisy Jackson
Head of Planning: Josh Bullmore
Senior Planner: Elly Fenlon
Project Director: Dwayne Rapley
Head of TV Production: Emily Marr
TV Producer: Stef Forbes & Lou Pegg
Art Buyer: Jo Hodge
Production Company: Forever
Director: Kinga Burza
Exec Producer: Sasha Nixon
Producer: Natalie Wetherell
Cinematographer: Monika Lenczewska
Production Designer: Anna Colomer
Service Company: Palma Pictures
Editor: Jack Singer @ Stitch
Post-production company: Freefolk
Audio Post-production company: Wave
Photographer: Tom Van Schelven
Media Agency: MediaCom
Business Director: Vicky Tait
Account Director: Justyna Hodun
Comms Planning Manager: Aisha Addison
TUI's Brand Team
CMO: Katie McAlister
Group Director of Brand & Content: Toby Horry
Global Campaigns Senior Brand Lead: Felicity Walker
Head of Brand Identity & Creative: Christian Torres
Global Campaigns Brand Manager: Jennifer Smith
Head of Brand Strategy: Sara Ali
Design Studio
Executive: Alex Johns
Creative Director: Julien Queyrane
Design Director: Tom Munckton
Strategy Director: Rachel Corponi
Client Director: Magali Johnson
Client Manager: Naomi Williams
Designer: Joni Kirton
Designer: Tom Hadaway
Design Director: Charlotte Francis
Designer: Hayden Shields
Designer: Diane Dear

If you enjoyed this article, you can subscribe for free to our weekly email alert and receive a regular curation of the best creative campaigns by creatives themselves.