Uncommon and Habito bring to life the hell of interest rate uncertainty

The hell of interest rate uncertainty.
Habito, the mortgage broker, lender and home buying company, unveils its latest 'Hell or Habito' TV ad which brings to life, in typically dramatised fashion, the hell of interest rate uncertainty.
The 30-second animation, titled 'Don't get stung', is the seventh instalment of the inimitably gory and garish Hell or Habito creative campaign. This is the brand's first ad for Habito One - Habito's new range of fixed-for-life mortgages, which guarantee mortgage payments for the full lifetime of the mortgage, meaning that if and when interest rates go up - as alluded to by the Chancellor in his Spring budget - your monthly payments won't.
Homeowners could get stung.
The ad opens with an unsuspecting homeowner, tending peacefully to her cottage garden to the sound of birdsong and the benign hum of flying insects. A newspaper lands before her on the garden path bearing the headline '% interest rates rise' and 'homeowners could get stung' in bold, red font.
Suddenly, the sky darkens and the gentle hum builds to an ear-splitting buzz as wasps flood out of a hive in the tree above, angrily dive bombing at her with percentage rate stingers ready to strike. The garden has now turned into a hellish scene where huge thorns, man-eating plants and skull rocks form the backdrop of a vicious and violent wasp attack. Our protagonist tries to run but is stung all over her body, face and hands, resulting in large oozing welts erupting from her skin and covering our screens in yellow puss. As she makes for the safety of her home, a giant stinger pierces her heart, while above her the swarm grows and fills the sky.
A voice says, "Don't get stung by rising interest rates, with Habito One your payments are fixed for the life of the mortgage" just as the protagonist takes out her phone and clicks the Habito One button. A protective force-field forms around her home and zaps the wasps away. We return to the serenity we first saw at the start, with the homeowner in full control of her home and her mortgage.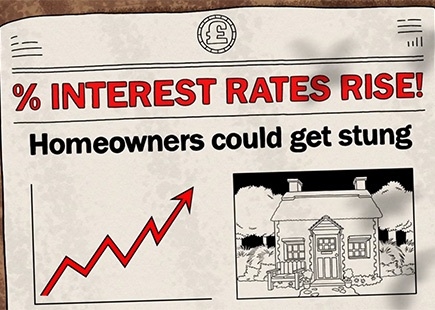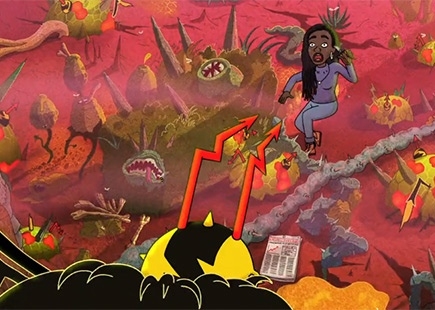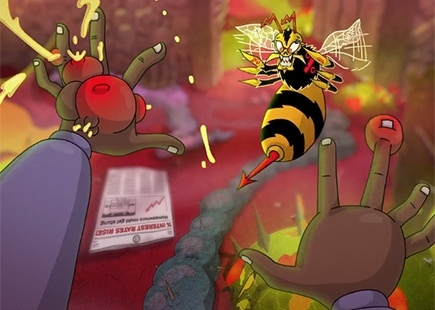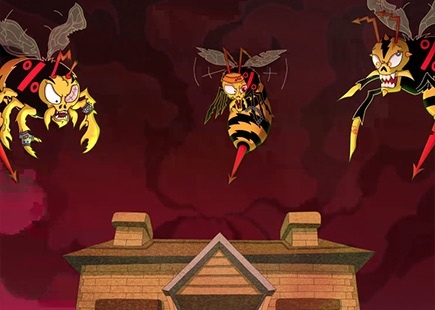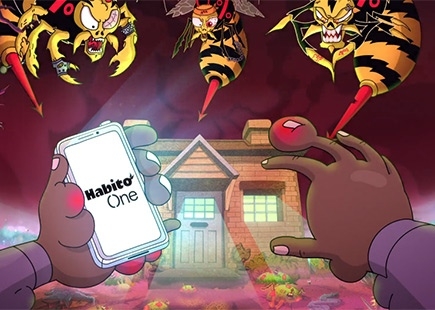 Abba Newbery, chief marketing officer at Habito, said, "The Habito One mortgage guarantees peace of mind. It offers homeowners full control over monthly budgeting and allows people to plan their lives, make their next move, pay off their mortgage - all without punitive charges. It's a little bubble of protection around your most important asset - your home. We hope our ad captures that feeling that Habito One can offer some much needed safety and security during these uncertain times."
When asked, around a third (30%) of UK mortgage-holders said they would be interested in switching to a long-term fixed rate mortgage, citing flexibility, certainty and protection against interest rate rises as their key reasons2. With Habito One, homeowners can have one mortgage for life - as monthly repayments will stay the same throughout the lifetime of the mortgage, removing the need for the continual and often costly cycle of remortgaging every two to five years. What's more, with Habito One there are no early repayment charges.

Credits
Client: Habito
Agency: Uncommon Creative Studio
Production company: Andy Baker Studio
Director: Andy Baker
Executive producer: Lucia Davies
Character design: Serge Seidlitz
Animation Intern: Simran Singh
Sound design: Wave Studios
Sound designer: Dugal Macdiarmid
Post production: Time Based Arts
Music supervisor: Theodore
Media agency: Goodstuff

If you enjoyed this article, you can subscribe for free to our weekly email alert and receive a regular curation of the best creative campaigns by creatives themselves.