'Unexpected Guest': John Lewis celebrates the magical moments of Christmas experienced for the first time

John Lewis has launched its 2021 Christmas advertising campaign.
The two minute advert, entitled 'Unexpected Guest', is a story of friendship celebrating the magic of Christmas experienced for the first time.
With customers more excited than ever for Christmas and craving joyful moments, togetherness and escapism that they were unable to experience last year, John Lewis hopes to take viewers on a magical journey.

The story takes place through the eyes of the lead characters, a young boy called Nathan and the space traveller, Skye. Nathan discovers and befriends Skye, who has landed in the woods beside his home. Their friendship develops as Nathan introduces Skye to many of his family's festive traditions and brings them to life for her in the woods.
They decorate the tree with fairy lights, celebrate the tradition of eating and hosting together, as he encourages her to try her first mince pie, and he also introduces her to the joy of thoughtful gifting by giving her his Christmas jumper. Through these shared moments, we see the magic of Christmas through the eyes of someone who has never experienced it before.
This year's soundtrack to the advert is performed by Lola Young, a 20 year old singer-songwriter from South London. The track 'Together in Electric Dreams', originally released by Philip Oakey and Giorgio Moroder in 1984, was chosen as a celestial compliment to the advert.
Claire Pointon, director of customer says, "There is nothing more magical than discovering the joy of Christmas for the first time and enjoying your favourite festive moments with loved ones. After the last 18 months, we wanted our advert to really celebrate this as we look forward to a brighter future. We know our customers are excited for this festive season more than ever, as they reconnect with family and friends. Through the story of Skye and Nathan we celebrate friendship and are reminded of the joy of experiencing Christmas for the first time."
Lola Young, singer added, "I feel super honoured to be a part of this, growing up I always watched the John Lewis Christmas adverts, they're iconic and so it kinda feels surreal getting asked to be in one. It also means a lot as an up and coming artist to be a part of something this special. Together In Electric Dreams is a very beautiful song. I love that era of music and I think Philip Oakey & Giorgio Moroder are incredible. The lyric and soul within the song is something inspirational, fitting to the story within the ad. I feel so excited to be covering it and working with John Lewis."
Experience the ad in real life
This year, the story of the advert will be brought to life for customers in our ten Christmas Emporiums, where they will be able to get up close to Skye's ship and create and share an interactive gif on social media.
To celebrate the ad, there will be two Snapchat lenses available on the day of launch; the first, a selfie lens, which lets you become a space-traveller like Skye and the second is an outward facing lens, which lets the users play with Skye's spaceship in their very own world.

A version of Nathan's Christmas jumper that he gifts to Skye will be available in shops and on johnlewis.com in men's, women's and children's sizes (£14-£29); they will donate 10% of the profits for each jumper sold equally to our Give a Little Love charities FareShare and Home-Start UK. The advert will also be easy to explore and shop on the website, all the products featured in the advert are from John Lewis, customers will be able to shop key scenes and make purchases directly from them.
My John Lewis Members* will also be able to interact with the advert, they will have exclusive access to a virtual experience on the app and website, 'Unexpected Guest: The Experience'. Members will be able to take on the character of Nathan and explore the world of the advert through his eyes, discovering AR characters and downloadable prizes for children such as printable toys and activities. There will also be hidden characters from our previous adverts waiting to be found. We'll be dropping new and exclusive content within the game on a weekly basis such as behind the scenes footage not seen anywhere else.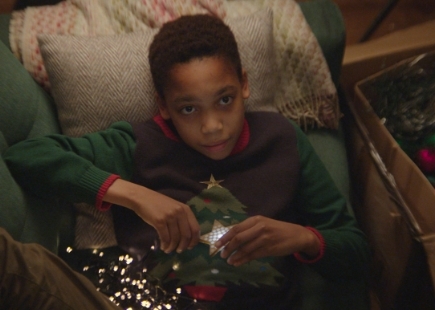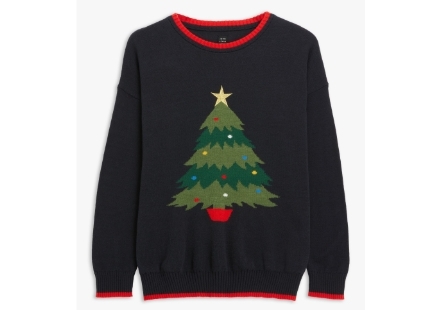 Credits
CLIENT: JOHN LEWIS & PARTNERS
Director of Customer: Claire Pointon
Director of Creative and Content: Matt Richmond
Head of Brand Marketing: Rosie Hanley
Advertising Lead: Emma Wood
Senior Advertising Manager: Holly Kicul
Senior Advertising Executive: Rebecca Stevens
Senior Advertising Executive: Ellie Smith

CREATIVE AGENCY: ADAM&EVEDDB
Chief Creative Officer: Richard Brim
Joint Chief Executive Officer: Tammy Einav
Managing Director: Paul Billingsley
Creative Directors: Matt Gay & Feargal Ballance
Copywriter: Matt Gay & Feargal Ballance & Patrick McClelland
Art director: Matt Gay, Feargal Ballance
Executive Producer: Sally Pritchett
Integrated Producer: Clio McLeary
Assistant Producer: Claire Peacock
Project Manager: Amy Waldman
Designer/Typographer: King Henry: Dave Robinson
Head of Integrated Production: Ben Sharpe
Head of Diversity, Equality & Inclusion: Bukola Garry
Chief Strategy Officer: Martin Beverley
Planning Partner: Hugh De Winton
Senior Planner: Sian Iles
Business Director: Jo Lorimer
Account Director: Charlie Poole
Account Managers: Emily Bristowe
Business Affairs: Layla Husted / Lois Edwards / Gemma Davies
Legal Counsel: Candice Macleod / Tom Campbell / Trine Odin​MEDIA:
Media agency: Manning Gottlieb OMD
CEO: Natalie Bell
Managing Director: Katrina Bozicevich
Executive Director: Glenn Berchnall
Business Director: Ryan Cummins
Account Director: Lauren Ashford
Strategy & Planning: Matthew Philip & David Bielenberg
Executive Director, Head of Creativity and Innovation: Tamara Cross
AV Media Planners: Gabriella Michalski, Daniel Baker & Tom Brown
Social Media Planners: Gilad Mandelboim & Lucie Barnett
Digital Video Planners: Erika Maciulyte & Gareth Treacher
PRODUCTION COMPANY
Production company: Smuggler
Producer: Ewen Brown
Production Manager: Marketa Husecka
Director: Mark Molloy
D.O.P: Greig Fraser
Production Designer: Nathan Parker
Costume Designer: Rosa Dias
Hair & Makeup Artist: Michele Baylis
Casting: Ali Fearnley
POST PRODUCTION PARTNERS
Editing Company: Work Editorial
Editor: Stewart Reeves
Edit Assistant: Rain Keene
Editing Producer: El lie McNaughtan
Post Production: nineteentwenty
VFX Supervisor: Bill McNamara
2D VFX Supervisor & Creative Director: Ludo Fealy
CG VFX Supervisor: Ben Thomas
2D Artists: Jamie Stitson, Adam McHale, Humayun Mirza, Nicole Palucsis, Jessica Hayes, David Ince, Joseph Dymond, Chrys Aldred, Matt Hutchins
3D Artists: Ivan Tomovic, Andrew Maccabe, Alison Stott, James White, Guido Pagotto, Mike Farrar, David Rencsenyi
DMP & Environment Artist: Emilis Baltrusaitis, Aurelien Ronceray
Motion Graphics: Anthony Scott
Concept: Jake Lunt Davies, Nathan McKenna
Colourist: Kai Van Beers
Colour Assist: Elliott Ward​VFX Producer: David Keegan
Music Supervisor: Leland
Audio Post Production: Factory
Sound Engineer: Anthony Moore
Sound Producer: Beth Massey
MUSIC
Track Name: Together In Electric Dreams
Music Supervisor: Leland Music (Abi Leland, Ed Bailie & Toby Williams)
Library, Licensed or Commissioned: Licensed
Composers: Philip Oakey / Giorgio Moroder
Artist: Lola Young
Music Producer: David Kosten
Master: Universal Music Group / Island Records
Publishers: BMG Rights Management (UK) Limited (50%) / Warner Chappell North America Limited (50%)​