'Unleash your vibe' and follow your desires at the River Island

A campaign by St. Luke's
After months of lockdown River Island, one of the UK's most well loved high-street retailers, has unveiled a new campaign created by St. Luke's, to launch its spring/summer collection.
'Unleash your vibe at the River Island' is an unapologetic call for us all to follow our desires this coming summer season and let our true selves shine, after a year of being cooped up indoors.
The campaign features four women throwing off the shackles of lockdown in a celebration of liberation and friendship reminding us of the glorious fun we've been missing. From hugging each other in the foyer of an opulently decorated hotel, to having a knockabout on a tennis court, getting to grips with riding a classic chopper and poolside frolics, after the months most of us have spent in jersey leisurewear, the clothes featured are equally liberated – gorgeous colours, pretty prints and frivolous frills all designed to bring us joy.
The campaign runs for 6 weeks from 29 April on video-on-demand in 30- and 20-second versions and on social channels. The photography from the campaign will run across all River Islands owned channels: website, emails and DM. It is the first major campaign created by St Luke's for the brand.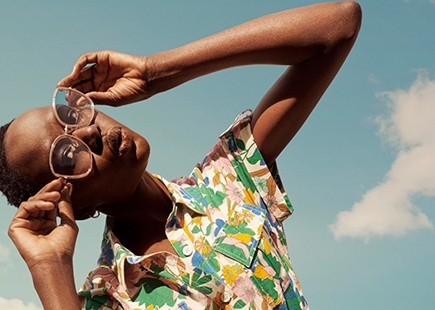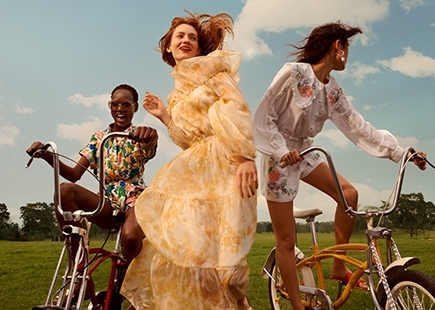 Jill Gate, marketing director at River Island, said: "So much of what we took for granted suddenly feels so precious and getting these things back is truly liberating. St Luke's has tapped brilliantly into customer mindset and emotions with a campaign which feels like a real celebration of a moment in time that we've all been waiting to welcome."
Richard Denney, executive creative director at St Luke's, said: "The high street is open once again and we're actually going to have somewhere to wear new clothes – a perfect moment for the River Island brand to celebrate what it stands for and remind everyone how much there is to look forward to."
Credits
Advertiser/Brand: River Island
Campaign Title: Unleash Your Vibe at the River Island
Creative Agency: St. Luke's
Chief Creative Officer: Al Young
Executive Creative Director: Richard Denney
Art Director: Laura Stevens
Copywriter: Claire Wombwell
Agency Producer: Chloe London
Print Producers: Daniel Moorey, Andrew Thorne
Agency Planner: Adele Aitchinson
Business Director: Lara Poole
Account Director: Ashley Box
Account Manager: Hope Shooter
Production Company: RSA
Director / Photographer: Marie Schuller
Socials Director: Greg Barnes
Production Company Producer: Nick Ferguson
DoP: Jake Scott
Post Production & Audio: No8
Post Producer: Emma Shuter
Music Supervision: Native
Media: Manning Gottlieb