Banks in post-Soviet Georgia are redesigned by local artists to represent local culture

VMLY&R Commerce UK, in partnership with brand strategy consultancy typehas unveiled a new retail design for Tbilisi Business Centre (TBC Bank)—post-Soviet Georgia's leading bank and top five Lovebrand. Launched in the capital city Tbilisi, the new design is set to roll out across 139 branches nationwide.
The refreshing "ready for the future of business" concept redesign is far removed from current financial design which borrows heavily from non-business sectors such as shops, clubs and homes. "We call this approach Bank+ to encapsulate the idea of banking in an open and democratic way", said Richard Hartle, creative director, VMLY&R Commerce UK.
Tearing up the traditional "one look" rule book, the new modular design invites TBC branches to localise an overarching look and feel for their specific communities. In this spirit, local Georgian artists decorate interior walls with their street art. Softer colour palettes with modular, light furniture offer a warm and welcoming experience—all underpinning TBC's new vision "Making People's Lives Easier".
This break from rigid financial services design convention allows branches to adapt to future new products and services including customer co-working space; after-hour events; new digital hubs.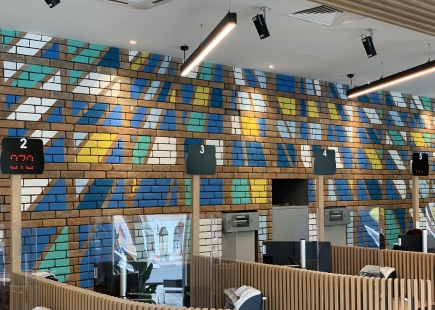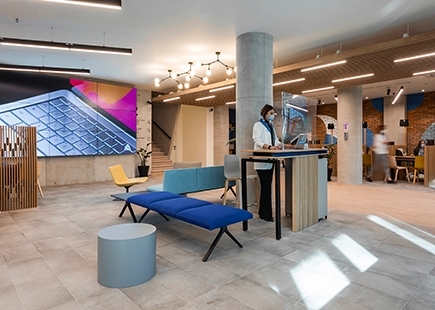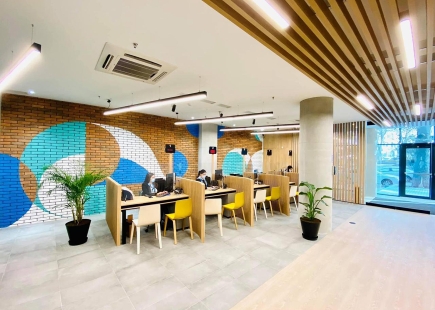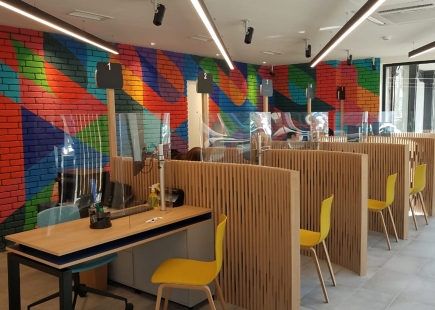 Culture is critical
Triggered by converging factors including rapid changes across customer behaviour, Georgian society and politics, and in the financial services category itself, TBC conceived a new brand vision "Make People's Lives Easier" along with new brand values "freedom" and "human".
Cultural context was critical.
Following Soviet Union collapse, Georgia has navigated independence emerging as a youthful, forward-thinking nation, characterised by dynamic architecture, independent design-led cafés and hotels, vibrant arts and literature scene, and a genuine sense of excitement.
The brief
With this new vision in place, VMLY&R Commerce was challenged to think beyond look and feel, to consider how the brand behaved in its physical space.
Specifically, to transcend commerce and genuinely make people's lives easier. With some of society needing reassurance and education around the relatively new financial services category, space needed to harness the new TBC brand position and offer new services with less formality, more openness and relevance, and, greater empathy.

The solution
Breaking from convention and allowing branches to reconfigure locally, design is adaptable, furniture and fittings are lighter, mobile, and tactile, with flexibility to change space for after-hour events.
There is refreshed spatial arrangement for added services such as public co-working spaces. Individualised street art, visible from the street, created by Georgian designers such as George Bokhua decorate interior walls with colourful statements.

The warm welcome extends to the exterior with new timber fascia's featuring signage in the brand's famous light blue. Glass frontages signal openness, allow visibility of the timber to carry through to the interior – visually and emotively drawing customers in.
Customer shared spaces are bright, energetic, and welcoming, with natural materials and light colours. Digital walls and screens feature localised content, while custom-designed desks and Arper furniture deliver functional comfort.
VMLY&R Commerce UK creative director Richard Hartle concludes: "With a shift towards digital banking services we expect to see queues in banks to disappear. Yet despite the move towards digital platforms, we believe that branches will continue to play a vital part of our future. People's desire for human banking will not change. This is where the flexibility of our spaces plays a key role with warm and welcoming experiences both digitally and physically."

If you enjoyed this article, you can subscribe for free to our weekly email alert and receive a regular curation of the best creative campaigns by creatives themselves.