Wasteminster: CGI film from Greenpeace shows Downing Street buried in the plastic waste it dumps on other countries

A unique depiction of what would happen if the average 1.8 million kilograms of plastic waste that the UK exports each day was dumped on Downing Street rather than other countries.
Voiced by two of Britain's best impressionists, Jon Culshaw and Matt Forde, the animation holds Boris Johnson and the government to account for the plastic pollution crisis the UK is creating overseas.
The UK exported 688,000 tonnes of plastic packaging waste in 2020 which equates to an average of 1.8 million kilograms a day. It is illegal to export plastic waste unless it is destined to be recycled or incinerated in an energy-from-waste plant, but a Greenpeace investigation in March 2021 uncovered new evidence revealing that UK plastic bags and packaging are being dumped and burned in Turkey.

Wasteminster reveals the stark contrast between the bold promises the UK government has made about reducing the environmental impact of plastic, with the reality that aside from bans on microbeads, cotton buds, stirrers and straws, they have done very little. Significant reforms have been delayed multiple times.

The two minute film shows the Prime Minister outside 10 Downing Street speaking to the press about being a 'global leader in tackling plastic pollution', while a barrage of plastic starts to pour down from above. The animated plastic creates a surge that floods Downing Street, lifting Boris Johnson and Michael Gove, voiced by Matt Forde and Jon Culshaw respectively, and startling Larry the cat and some Downing Street pigeons.
The film then cuts to real footage of plastic waste that has been dumped and burned overseas, to show the devastating effects that UK plastic waste exports are having, disproportionately affecting the Global South and communities of colour.

To show the enormous volume of plastic waste the UK is dumping on other countries, production company Park Village, inspiring artists Studio Birthplace, and their CGI partners Method & Madness, built an exact digital replica of Downing Street.
Using library photographs and satellite imagery, they went into incredible detail, right down to the light fittings. CG Director Alex Scollay and his team used the power of a bespoke VFX data simulation, high-end CGI and modelling to create the dynamic flow of 1.8 million kilograms of plastic, with the individual items of plastic interacting with each other in a physically accurate manner thanks to 'Tyflow' software.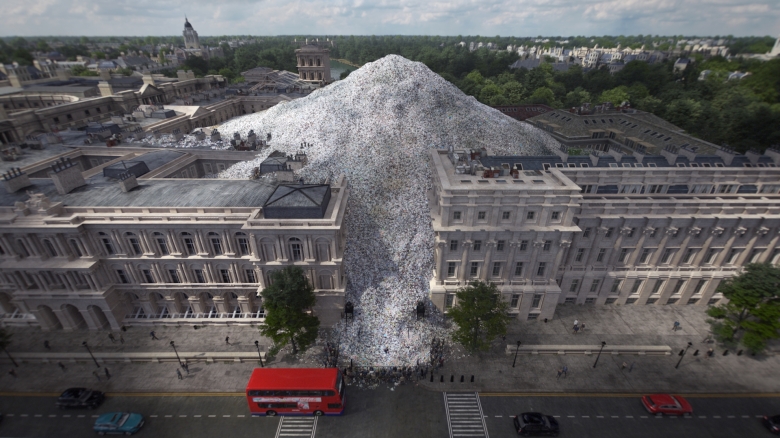 Directors Sil & Jorik at Studio Birthplace, said: "We didn't want to put words into Boris's mouth so we went through hours of interviews and speeches by Boris and the government where plastic pollution and the environment were discussed and quotes were extracted. All statements in the film were made by Boris and the government."
Adam Booth, executive producer at Park Village, said: "It was a real honour to work with such an incredibly dedicated team at Studio Birthplace, led by our directors Sil & Jorik. The hours of painstaking CGI, across 3 time zones, really shows in the insane detail of the waste simulation and modelling, and to be able to put that skill to work for such an important cause and well-regarded client such as Greenpeace was an absolute privilege."

Nina Schrank, senior campaigner at Greenpeace, said: "The dedication and outstanding technical ability that has gone into this animation is phenomenal. We're so grateful for the creativity of Studio Birthplace and Park Village, the ecological ethos of directors Sil & Jorik, and the CGI skills of Method & Madness. This powerful film shows the shocking truth about what happens to plastic that the government tells us is being recycled but is being exported for other countries to deal with. And who better to enlist for the voiceovers than impressionists from the legendary Spitting Image, the impeccable voice talents of Jon Culshaw and Matt Forde."

Sam Chetan-Welsh, political campaigner at Greenpeace, said:"The plastic we carefully wash and sort for recycling is being shipped off to other countries where it overwhelms their waste systems and much of it ends up illegally dumped or burnt, poisoning local people and polluting oceans and rivers. The government could put a stop to this but so far Boris Johnson is only offering half measures. We need a complete ban on all plastic waste exports and legislation to make UK companies reduce the amount of plastic they produce in the first place."

The release of Wasteminster comes as new opinion polling by YouGov reveals that 86% of the UK public are concerned about the amount of plastic waste the UK produces. The polling also shows that 81% of the UK public think the government should be doing more to deal with plastic waste in the UK, and that 62% of people support the UK government stopping exports of the UK's plastic waste to other countries.
Greenpeace is calling on the government to enact the Environment Bill, and use the powers within it to ban plastic waste exports. The campaigners say this should start with an immediate ban on all exports to non-OECD countries, like Malaysia, and mixed plastic waste to OECD countries, like Turkey. Greenpeace is calling for a complete ban on all plastic waste exports by 2025, and for the government to also set legally-binding targets to reduce single-use plastics by 50% by 2025.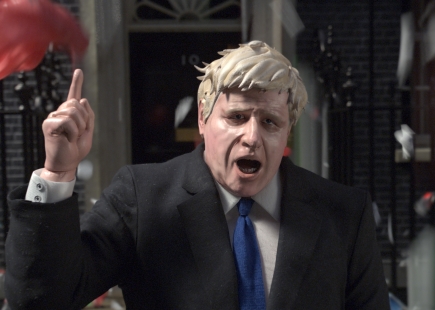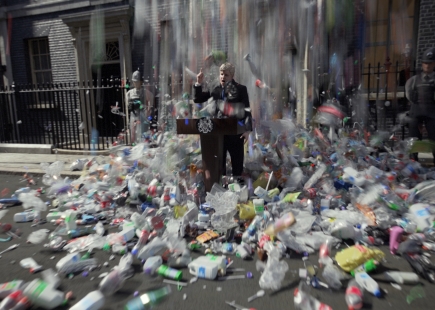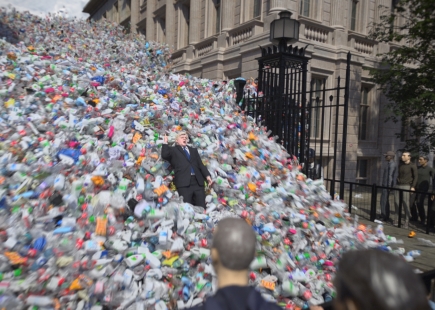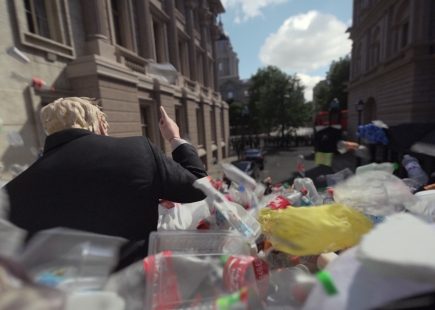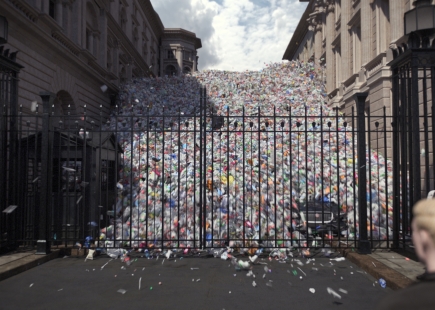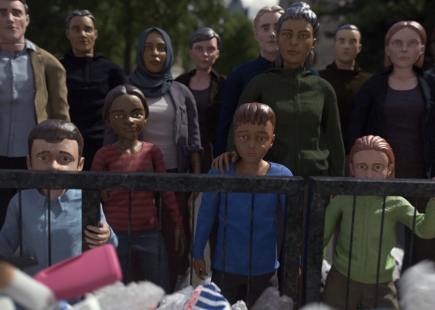 Credits
Concept & Production - Studio Birthplace
Directors - Jorik Dozy & Sil van der Woerd
Producer - Sean Lin
Voiceover Boris Johnson - Matt Forde
Voiceover Michael Gove - Jon Culshaw
Sound Design - Wavefarer Audio
Music Composer - Onn San
Co-Production / Directors' Representation UK - Park Village
MD / Executive Producer - Tom Webb
Executive Producer - Adam Booth
Brand Partnership Consultant - Peter Myers
Recording Studio - GCRS London
Voiceover Sound Engineer - Gary Turnbull
CG Production - Method & Madness
CG Executive Producer - Tan Wen Hao
CG Producer - Christian Fontaine
CG Director - Alex Scollay
CG Previsualization - Kevin Chua
CG Artists - Abdul Rahman, Pilipino Reyes, Fabrio Wasques, JiaJun Haw
Compositing - Simon 'Duck' Rafin
If you enjoyed this article, you can subscribe for free to our weekly email alert and receive a regular curation of the best creative campaigns by creatives themselves.