What caught my eye at Cannes: VMLY&R Commerce's global creative director Gabriela Lungu comments on creativity

Gabriela Lungu, global creative director at VMLY&R and founder of creative ideas lab Wings, tells us what she found at Cannes this year as a judge for the e-commerce categories, and how it compares to other award ceremonies.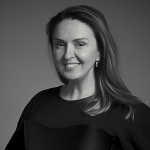 What caught my eye at Cannes
Gabriela Lungu, global creative director, VMLY&R Commerce
Creative Moment: What was the most impressive piece of creative work you saw across the categories you judged, across the different award ceremonies you have been part of this year?
Gabriela Lungu: I was impressed by many campaigns, for different reasons, but probably the bravest campaign I've judged is "Enjoy Before Returning" Diesel/Publicis Italy.
This campaign is a nonconformist, tongue-in-cheek stance on the controversial phenomenon of wardrobing (buying a garment, wearing it without removing the tag and returning it), showing profound understanding of its young, irreverent target audience.
It used a creative approach that most marketers would perceive as "commercial suicide" (rather than condemning wardrobing, the brand came to terms with it) and achieved global success in both brand equity and commerce.
It has outstanding craft, as well as a fantastic brand fit, and it's the perfect example of creative bravery that achieves results.

CM: Two campaigns that did well winning Grand Prix's at Cannes in your category were AB InBev's Tienda Cerca and FCB Inferno London's Raising Profiles. Tell us your thoughts on both these winning campaigns and did you agree with the decision?
GL: I do love these two campaigns. They represent market disruption and capture the zeitgeist, reflecting our shared cultural experience over the last year and a half. They spot-light companies pivoting with the help of eCommerce to turn the crisis into opportunities, transforming traditional business practices while having positive impact in the community.
Interestingly, they experiment with social platforms less known for commerce (like LinkedIn). It was great to see how eCommerce plays such an important role as the enabler for fast pivoting, and an equaliser for businesses and individuals by democratising commerce.
CM: You've been invited to judge many awards, including our own Creative Moment Awards! What were you looking for in the entries, what did you find and has there been anything missing in your view?
GL: I'm always looking for work that is surprising, memorable, meaningful, impactful, and beautiful; work that makes me super jealous (I turn that into motivation later, to do even braver work with my own agency).
Thinking of what was missing…well, I wish there had been more humour in the campaigns I've judged this year (usually one can find this in abundance across entries for all top creative competitions). But it's entirely understandable why so many brands have opted for a more serious tone of voice.
CM: Having judged at both Cannes and Eurobest, can you share your views on the differences between the two?
GL: Compared to Eurobest, at Cannes Lions we had 25 times more entries in the Creative eCommerce category. The competition was therefore a whole lot tougher. The work that won Grand Prix at Eurobest didn't even make it to shortlist at Cannes Lions. At Eurobest many campaigns were short-lived, taking advantage of an event or a news story to push the brand onto the public agenda, and sell products.
At Cannes Lions I was glad to see creativity used in a much more strategic, less tactical way.
In both competitions, however, it was great to see how creative commerce is showing up in many different ways—blending online and offline across the entire customer journey to create both commercial and brand value. There was even long-term social change like we saw from the two Grand Prix winners mentioned above, and many other campaigns such as Roadside Market and Mastercard from McCann Romania.
CM: Where do you stand on the value of awards and why agencies should enter work?
GL: I truly believe in the importance of awards—the recognition of excellence.
I think every company that values creativity should make creative awards a top pillar of their creative strategy.
Awards inspire and motivate and attract great talent. They allow us to evaluate against our peers. Here in the UK, our VMLY&R Commerce Boots team landed a Silver Lion for Bootiques, and for all of us, it was like winning the Euro2020!
If you enjoyed this article, you can subscribe for free to our weekly email alert and receive a regular curation of the best creative campaigns by creatives themselves.