Why Burger King has admitted to its chequered chicken past

The Background
Brands often have problems explaining exactly what they sell. But when your name's Burger King that's not a problem. Or is it? After many years extolling the values of flame grilling burgers, BK rightly goes toe-to-toe with McDonald's for share of 'belly' with UK's burger addicts.

You're either a Whopper man, like me, or a Big-Mac man and that's just the way it is. But when it comes to the 'healthier' chicken burger, it's very different. For those in the know, getting your chicken burger at BK is just a no-no. After years of strong marketing its ever-expanding chicken range, McDonald's just blows it out of the water so it's time for BK to fight back.
The Big Idea
In an unusually honest campaign, BK IS offering one person £20,000 to take a bite out of its new Chicken Crispy burger. The thing I find really interesting about this is the fact the BK UK CEO features in a YouTube vid stating that 'Okay, we know about our chequered chicken past'. So an indirect admission that it is aware of the strength of feeling out there and is not just burying its head in the sand.
It does feel like something from the late, great Dudley Moore film, Crazy People, when patients in a mental institution made ads which told it like it was. So, a bit of honesty to start with then lump in a bit of old-fashioned sales promotion to get peoples juices flowing with a £20k prize – not that enticing but it's the clever use of social media that makes people want to get involved and get their mugs seen online.
What They Did
So communicating with simple, and not especially memorable, executions in press and online, BK will give £20k and the very first Crispy Chicken Burger to one lucky person before its 3 Oct launch.
And to win this honour, people have to send in an imaginary video review of the new burger and upload it to BK's social channels.
I guess it is hoping that the craze for video engagement takes off here like it did for the ice-bucket challenge and makes more and more people provide more and more content.

Seems to be working looking at its Twitter feed!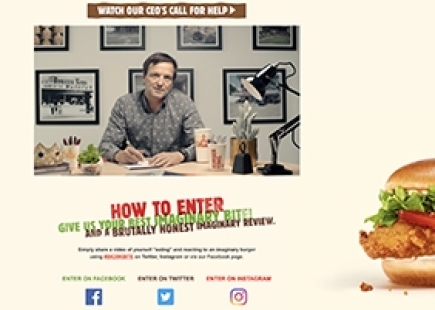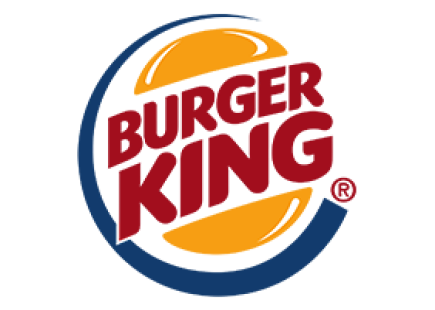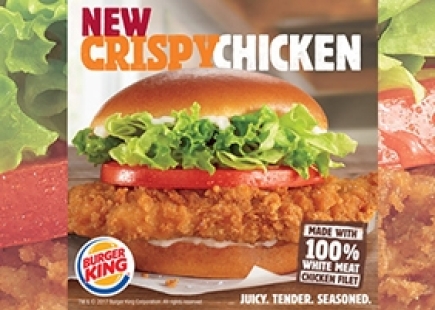 The Review
Whilst writing this review, a colleague mentioned that one of our clients had taken an interest in this campaign due to the honesty element from the MD. So, are we about to be inundated with brands being honest about past fallings? No, I don't think so and it's a fine line between being believable and simply hamming it up, but for me, BK has found a good balance. I actually quite like the simplicity of it and the way the mechanic really makes people think about what they want from a Chicken Burger as lots talk of 'moistness' and 'juiciness' in the videos I watched whilst researching this. And you can't beat a bit of moistness can you!
In Hindsight
Be interesting to see what happens when it finds the winner and if the winning video is promoted, but we'll have to wait until October to find out. On the press, I would have liked the mechanic to have come through more as it does look like a pretty standard fast-food ad.
I wanted to score it higher and would have if the press ads had been more interesting. Like the idea, like the mechanic, but wished the fun had showed up in the press ads.