Why is airline KLM telling passengers to take the train?

The Background
'No flights were taken in the making of this advert'.
KLM, the Dutch flag carrier, has long positioned itself as a leader in sustainable aviation – if there is such a thing right now – and has received the external credit for it, placing in the top three of the Dow Jones Sustainability Index for 14 years in a row.
But, as everyone from Greta Thunberg, to Extinction Rebellion, to hedge fund managers, step up the pressure on businesses to take action on the climate emergency, KLM may have felt the need to strengthen its position with a new campaign on responsible flying.
The Big Idea
There are multiple facets to the Fly Responsibly campaign.
The action KLM is taking to reduce emissions; a call to arms for the industry to collaborate on green initiatives; and what essentially amounts to a call on passengers to fly less.
The latter is a bold move and takes this campaign way beyond what you'd normally get from an airline, which, at the very least, needs to demonstrate what it's doing to operate sustainably from a position of compliance.
To put this move in context, Unilever is often seen as being at the vanguard of sustainability and just last week the CEO said he would consider selling brands that don't fit within its sustainable living ethos. But not even Unilever is telling customers to eat less of its ice cream and eat more fruit.
An airline telling people to take the train instead of flying is either brilliant or mad.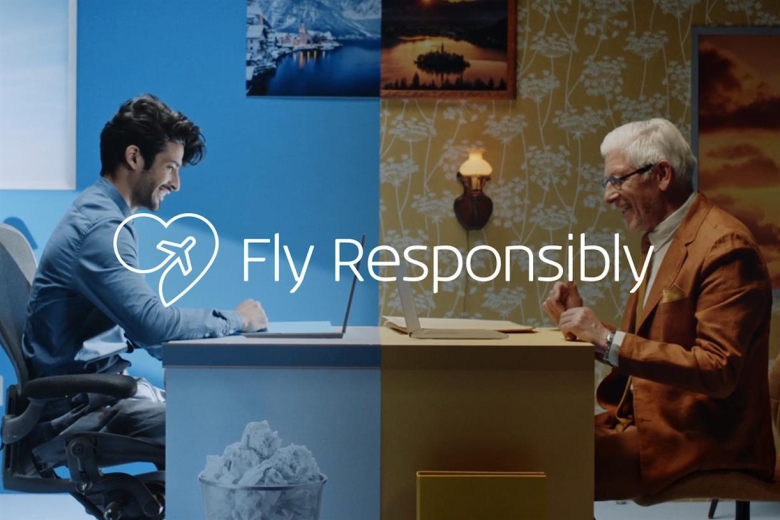 What They Did
Firstly, to launch the campaign, KLM took out full-page press ads across the world in the tried-and-trusted 'letter from the CEO' format. The letter was aimed at passengers and other airlines, asking everyone to do more to 'fly responsibly'.

Secondly, the airline created an advert for responsible flying (without taking a single flight) which put the onus on passengers to fly less, pack less and offset more.

Finally, KLM supported it all with a campaign website aimed at passengers and the industry, suggesting how each can do more to fly responsibly.

The Review
This campaign is not without its criticism, but I'm seeing this as a strong long-term play.
The campaign addresses a growing risk to KLM's commercials and reputation by confronting the uncomfortable fact that it is a huge emitter of greenhouse gasses.
It combines what it is doing, with what it wants travellers to do, and demonstrates leadership in a positive way by inviting the industry to join in.
KLM is investing and trying to future proof its business and wants travellers and protesters to know that it is serious. Really, what more can it do without shutting up shop until someone invents electric planes?
The airline could have communicated all this in a sustainability report, destined for digital landfill with every other corporate PDF, but instead it opted for a more creative approach to make itself heard.
In Hindsight
Will success actually be people flying less?
In which case, how do shareholders feel about that?
Or is this just a defensive position against increased chat on aviation taxes in The Netherlands and Europe?
Either way, the message is out there – a major airline is proactively seeking for travellers and the industry to reduce the impact of aviation on the climate emergency.
That can't be a bad thing.
If you enjoyed this article, you can subscribe for free to our weekly email alert and receive a regular curation of the best creative campaigns by creatives themselves.