Women in the creative industry: Creative Moment talks to Jackie Stevenson, founder and CEO, The Brooklyn Brothers and Sarah Baumann, managing director, VaynerMedia London

Creative Moment's editor Lucy Smith asked two key women in the creative industry three key questions about one thing—equality.
We wanted to know about their individual experiences, what they want to see to enable a more equal future, and what does the future of the industry look like.
Here's what they said.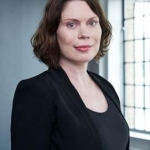 Sarah Baumann
Managing director, VaynerMedia London
Sarah has over 20 years' agency and marketing experience, formerly the Deputy CEO of Leo Burnett London for 16 years, and the co-founder of VivaWomen, Publicis Groupe's women's network.

Lucy Smith: What is your experience as a woman working within the creative industry?
Sarah Baumann: I was about to say "I've spent" my whole career in the creative industry – which is, in itself, an indication of the inherent bias and way language reinforces our inequalities and how we are all taught to think.
So, I shall correct myself – "I have built" my career over the past 20+ years in the advertising and marketing industry.
It's changed a lot, but I have experienced what most women in advertising have. I prefer to focus on the positives. I currently have – and have had – some incredible female and male leaders who have inspired, mentored and championed me.
I am in awe of the talent coming up – their attitude, awareness and determination to create equity in our industry.
We are close to the point where we will prioritise life as much as work. The penny is dropping about shared parental leave and supporting women through previously taboo subjects such as miscarriage and menopause.

LS: What changes would you like to see/think are necessary for a more equal future?
SB: To create a more equal future we must normalise the diversity of our businesses at every single level.
When it is no longer considered odd to be a majority female leadership team (like our own at VaynerMedia) and for people of colour, and/or with disabilities, and/or LGBTQIA+, and/or for women with years of experience to be visible and numerous, then we'll have made proper progress.

LS: What does the future for women in the creative industry look like?
SB: I'm optimistic but we must make sure the impact of lockdown, WFH and the new hybrid world does not create a new framework of glass walls and bias.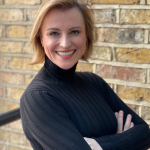 Jackie Stevenson
Founder and CEO, The Brooklyn Brothers
Jackie is founding partner and CEO of global award-winning earned-first advertising agency, The Brooklyn Brothers.
As one of London's few female founders and creative CEO's, Jackie is a pioneer for female entrepreneurship and a champion of gender equality.
Lucy Smith: What is your experience as a woman working within the creative industry?
Jackie Stevenson: Working in the creative industries has offered women some of the most rewarding and exciting careers in business—this holds true today.
However, the informality and often unstructured nature of our business can hide systems and behaviours that can hold women back, and this is an area that requires constant vigilance.
When I joined as an advertising account executive in the '90's, being part of the culture often meant fitting in with 'the lads'—the banter, the power suit, the pub talk and the linear push-up. This has changed for the better for both men and women and the drive for more diverse perspectives, more empathetic leadership and more interesting career paths is genuine.
However, the recent microscope on pitch culture shows how many of the old systems have yet to be dismantled—constant late nights, lack of resources and one-way vs complimentary ways. It's only when we change our industry to be better for people in general that we'll find more women entering and importantly, staying.

LS: What changes would you like to see/think are necessary for a more equal future?
JS: We need to embrace new ways of working that will not only bring more women into the industry but will encourage them to stay.

I'd like to see the Government backing the mass adoption of Flexible Working with every job required to be advertised as 'flexible', which would deliver an immediate impact on the number of women applying for roles.
I'd also like to see Government policies that focus on providing good quality low cost, tax-free childcare to all. Currently, childcare is effectively a 'parent' tax if you want to have a family and a fulfilling and stimulating career.
Training is key. Ensuring everyone in the organisation is responsible for recruiting or promoting can architect a genuinely diverse team with different talents and skills, not just the 'cookie-cutter, looks and acts just like me' approach so often seen.

LS: What does the future for women in the creative industry look like?
JS: I think bright for two reasons.

First, companies have woken up to the fact that women represent half of the population and organisations that design products for women's 'real' lives can build brands and businesses far more quickly than those that don't listen or act on what women want. The raft of start-ups in women's health, skin, period and personal care that have quickly over-taken decades old brand favourites shows the commercial strength of listening to women. Creative businesses will keep being hungry for brilliant female talent.
Secondly, our industry has recognised the benefits of a new style of leadership and leader—one that is empathetic, caring and inclusive. While these aren't exclusively female traits, female leaders have proven track records in building creative companies with a different set of cultural principles that, together with their male counterparts who believe the same, will be the architects of the future of all our work.

If you enjoyed this article, you can subscribe for free to our weekly email alert and receive a regular curation of the best creative campaigns by creatives themselves.