Wonderhood Studios tells the story of a man who worked so hard he trapped himself in a video call

It's been another tough year.
Another tough year with a huge chunk of time spent on video calls. From taking fewer than 20 steps a day as you roll from one call to the next, to struggling to contribute as you dial in virtually to an in-person meeting – the struggles feel all too familiar.
And that's why we all need a well-deserved break.
This festive season, Wonderhood Studios is launching a film encouraging people to switch off between Christmas and the New Year. The film was directed by Joe and Tim of Odelay Films and written by Jack Croft & Stacey Bird of Wonderhood Studios. Featuring actor Kerry Howard and actor and comedian Daniel Barker, the film tells the story of a man who worked so hard he trapped himself in a video call.
'Twas the call before Christmas'
Titled 'Twas the call before Christmas', the short film opens on a family doing the final touches on their Christmas tree. The mother soon realises her husband is taking longer than anticipated to surface from his call and goes looking for him.
Gary explains he is in fact 'stuck' – he was "on a call, then the next minute he was in a call."
In the next few scenes, we see the couple comically trying to live out their lives with this new limitation. They play virtual charades, have awkward virtual sex, and have heated arguments over a screen – ultimately ending in Gary being put on mute. In the final scene on Christmas Day, Gary is propped up at the family meal, secluded from the buzz of his family around him.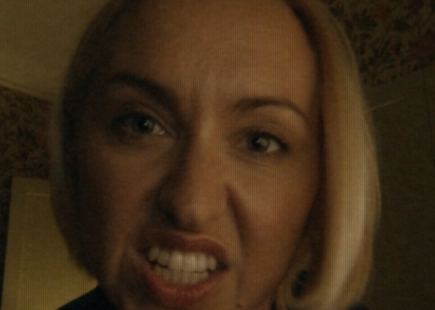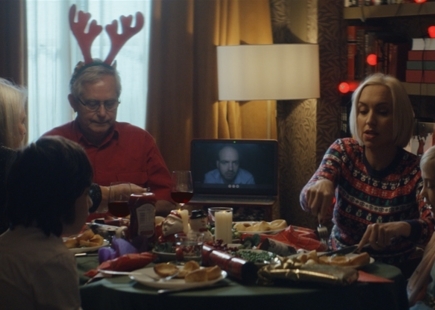 Jack and Stacey, creative directors at Wonderhood Studios, said: "We've uttered the words 'I'm stuck on a call' far too many times this year. So, the thought of Christmas Day trapped in a box on a video call felt truly terrifying. The film is meant to make the average worker-from-homer shudder and encourage bosses to hang up the headset for the festive season. We loved working with Tim and Joe to bring the script to life in all its bleakness."
Commenting on directing the film, Joe and Tim said: "From the moment we read the script from Jack and Stacey we knew we wanted to write on and direct this film. We're all guilty of dipping into work emails and calls, without fully appreciating the often intangible ways it can affect family life. The joy of Christmas is so fleeting that it's important to be as present as possible for all of it. It's a slippery slope from one last email to suddenly you've missed the tree going up and the kids are in bed and it's Boxing Day and you're dealing with overflowing recycling bins".
The film uses dark comedy to reflect the struggles many of us have felt as we adapted to working from home throughout the pandemic, with the lines between work and personal life becoming blurred. The spot ends with the line 'Remember to switch off this Christmas' – encouraging people to log off so they can enjoy spending time with their loved ones this festive period.
The cast were intrinsic to creating the mood, so the team was delighted when actors Kerry Howard and Daniel Barker both joined the project, bringing their inimitable styles to the film.
Joe and Tim added: "We've been huge fans of Kerry Howard for a long time and knew she'd be great for the frustrated character we needed from the Mum. Likewise, with Daniel Barker, we were already big fans of his enthusiastic delivery, which really plays well against Kerry's stress".
The film is set to a new arrangement of 'Carol of the Bells' by Sam Foster of Foster & Foster Music with vocals provided by the Bristol University Singers and was conducted by Elinor Cooper.

Credits
Creative Directors: Jack Croft & Stacey Bird
Chief Creative Officer: Aidan McClure
Producer: Nikki Holbrow
Production Company: Odelay Films
Director: Joe and Tim
Exec. Producer: Prudence Beecroft
Production Manager: Cesci Shepherd
Production Assistant: Chelsea Jones-Alleyne
1st Assistant Director: Oliver Waters
Director of Photography: Tom Turley
Sound Recordist: Tom Bartlett
Gaffer: Pete Musgrave
Electrician: Ben Desousa
Art Director: Jessica Berry
Art Department assistant: Freya Hollis
Hair & Make-up Artist: Aston Davies
Editor: Saam Hodivala @ Shift Post
Assistant Editor: Adam Buckmaster
Black Kite Post Producer: Tamara Mennell, Bruce Langfield
VFX 2D Lead: Marcus Moffatt
2D Supervisor: Paul Wilmot
Grade: Tom Mangham @ Black Kite
Music: Foster & Foster Music
Bristol University Singers, conducted by Elinor Cooper
Sound Design + Mix: Dugal Macdiarmid
King Lear Music & Sound
With thanks to: Westbay House, Westgate-on-Sea, Kent
SHL Film Lighting
SL Vision
Andy Jenks and Christchurch Studios

Cast:
Felicity: Kerry Howard (Curtis Brown)
Gary: Daniel Barker (PBJ Management)
Lucas: Stellan Powell (Alphabet Management)
Martha: Margot Powell (Alphabet Management)
Grandma: Julie Lewis
Grandpa: Jerry Lewis
Christmas Party Guest: Alex Austin
Christmas Party Guest: Darcy Gilbert
Christmas Party Guest: Eddy Yan
Christmas Party Guest: Holly Georgious
Christmas Party Guest: Lawrence Slater
Christmas Party Guest: Sophie Lewis
If you enjoyed this article, you can subscribe for free to our weekly email alert and receive a regular curation of the best creative campaigns by creatives themselves.