Work Of The Week: Budweiser X Rolling Stone magazine unite to support up-and-coming artists

The ultimate dream.
According to this film from W+K São Paulo and W+K New York, the ultimate dream of every up-and-coming artist was to be in a magazine.
Magazines always meant massive audiences. Those days are gone. Or maybe not?
Bud and Rolling Stone magazine have collaborated to create a monthly music magazine printed on cardboard beer packs. With Budweiser having one of the largest circulations in the world, logic told them to make the most of it and in its own words, give the 'publishing industry a chart-topping revamp'.
A punchy film bringing the beer brand and budding musical artists together, giving them a very accessible platform in a typically engaging W+K style, creating an unmistakable synergy between the two.

Not a standalone concept, Bud has form when it comes to representing musical talent.
Earlier this year, Budweiser created billboards in East London with the words, 'The stage is yours to take' where artists could literally do just that, take the stage. Not just the best of British, the line-up was full of global, diverse, emerging talent.
You may have also come across 'playable' vinyl beer coasters—a traditional-looking cardboard coaster that could be played on most record players—where Bud supported local underground artists.

A committed approach from the brand that now incorporates one of the best-known American monthly magazines in history.
Nice. Play on.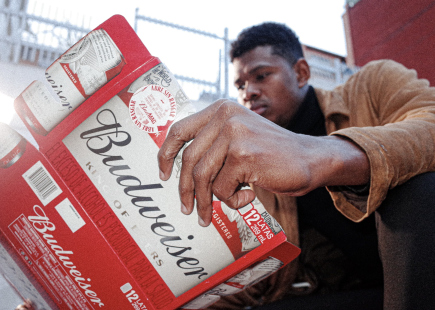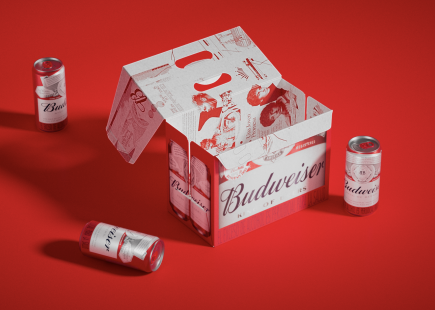 Credits
Budweiser BudMag
AGENCY: Wieden+Kennedy
PROJECT NAME: BudMag
CLIENT: Anheuser-Busch Inc.
PRODUCT: Budweiser
GLOBAL CEO: Neal Arthur
GLOBAL CCO: Karl Lieberman
LATIN AMERICA CCO: Felipe Ribeiro
CREATIVE DIRECTORS: Rafael Melo, Renan Molin
ACD / WRITER: Alexandre Giampaoli
ACD / ART DIRECTOR: Humberto Cunha
ART DIRECTOR: Leandro Beraldo
COPYWRITER: Gustavo Moraes
DESIGNER: Djavan Amorim
HEAD OF PRODUCTION SAO PAULO: Patricia Gaglioni
HEAD OF PRODUCTION NEW YORK: Nick Setounski
EXECUTIVE PRODUCER: Dave Lambert
SPECIAL PROJECTS PRODUCERS: Fernanda Segura, Tábata Viana
PRODUCERS: Leticia Hernandez and Mariana Golpian
PROJECT MANAGER: Roberta Guzzardi
HEAD OF PR: Danúbia Paraizo
GROUP ACCOUNT DIRECTOR: Brooke Stites
ACCOUNT DIRECTOR: Courtney LeBlanc
MANAGEMENT SUPERVISOR: Bianca Nikic
ACCOUNT SUPERVISOR: Thomaz Falzoni, Cameron Carr
ACCOUNT EXECUTIVE: Saporah Carter
ASSISTANT ACCOUNT EXECUTIVE: Grace Yeo
PLANEJAMENTO/ MEDIA COMMS: Zack Green, Javaad Beg
BUSINESS AFFAIRS: Paul Fitzgerald
BROADCAST TRAFFIC: Laura Guerra
FILM PRODUCTION COMPANY: JOINT
DIRECTOR: DRVNK
1ST DIRECTOR ASSISTANT: Fernanda Segura
PHOTOGRAPHY DIRECTOR: Pedro de la Fuente
EXECUTIVE PRODUCER (JOINT): Patricia Gaglioni | Fernanda Segura
POST PRODUCER COORDINATOR: Mauricio Kazu
EDITOR AND MOTION DESIGN: Rodrigo Aranha, Pedro Silveira e Gabriel Santana
FINISHING EDITOR: Rodrigo Aranha, Pedro Silveira e Gabriel Santana
COLOR GRADING: Node Post
3D PRODUCTION: Gabinete.co
ANIMATION DIRECTOR: Rodrigo "Digones" Ribeiro
LOOKDEV: José Rafael C. Fontour
3D MODELING & ANIMATION: Rodrigo "Digones" Ribeiro
2D ANIMATION: Fernando Shelka
ACCOUNT EXECUTIVE: Marcella Boneder
AUDIO PRODUCTION COMPANY: MUG SHOT
EXECUTIVE PRODUCER AUDIO: Gilvana Viana
MUSIC PRODUCER: Arthur Abrami, Bruno Zibordi, Chico Reginato e Maurício Herszkowicz
AUDIO MIX: Leandro Rodrigo, Henrique Ohara e Henrique Oliveira
ACCOUNT EXECUTIVE AUDIO: Guto Figueiredo e Maite Magoga
AUDIO PRODUCER COORDINATOR: Jaque de Paula e Giuliana Tavares
CLIENT: Budweiser / AB InBev
VP GLOBAL MARKETING: Todd Allen
GLOBAL MARKETING DIRECTORS: Lia Bertoni | José Oliveira
GLOBAL MARKETING MANAGER: Morgan Franklin
COLUMBIA MARKETING DIRECTOR: Juanita Leon
COLOMBIA MARKETING MANAGERS: Camila Romero, Juan Cortes Duran and Laura Garzon

If you enjoyed this article, you can subscribe for free to our weekly email alert and receive a regular curation of the best creative campaigns by creatives themselves.