What comes first? Drone taxis or the first woman president?

The women.
Timed to coincide with International Women's Day, this work features an uncomfortable mix of humour alongside the absurdity of the truth, to create a message that really hits home.
Chief, a private network for the most powerful women in leadership (an impressive Rolodex like no other you've ever seen) along with New York agency Technology Humans And Taste has created its first TV ad.
It compares the rapid technological progress of our age, to the snail's pace of gender equality.

It stars a female alien landing on Earth and asking a young girl to take the alien to her leader.
When the girl questions the alien's use of the word 'her', the alien disappears, apparently disillusioned that the leader is not a woman and therefore has no further interest in a meeting.

The questions.
Chief has also created a series of posters posing more relevant questions asking what will come first—drone taxis or a woman president and (as this is in the US) is your daughter more likely to have spring break on Mars or have an equal chance to become a CEO?
Good questions, right?
As for the answers, I guess we will have to see.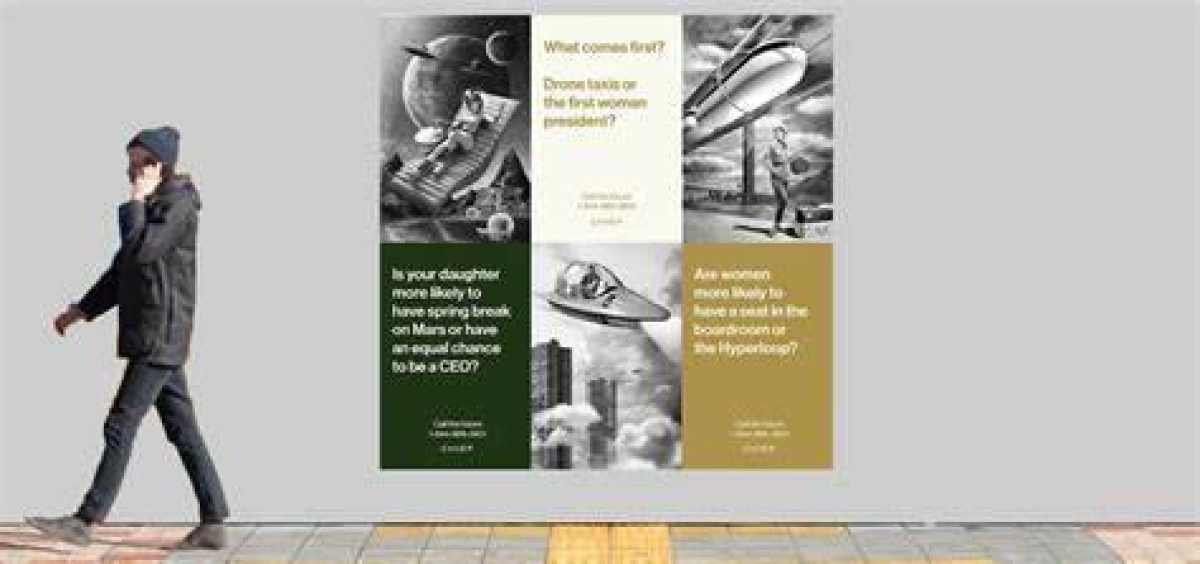 The absurd.
According to Chief, the World Economic Forum says it will take 135 years to reach global gender parity.
Chief asks, which is more absurd: these stats? Or aliens coming to visit the earth and learning about our lack of women in leadership?
Have to say, I agree with Chief. No big surprise there.
The posters, displayed in lower Manhattan, highlight the difference between technological advances and inequality. The difference being vast, and changes in equality lagging so far behind, it's actually quite embarrassing.
The ad aimed to raise these questions and point out the absurdity of them and in my mind, they achieved this. The copy on the posters made me feel surprisingly uplifted—lucky, through an accident of birth, to be part of this resilient movement.
From aliens to glass ceilings.
Chief is also responsible for the glass portrait of Kamala Harris installation following her inauguration.
The accompanying film, again, is really powerful. I'm kicking myself I didn't see this back at the beginning of February as it definitely would have made it in as a Work Of The Week.
The presentation of the black and white facts and hopeful music leading up to the face of Kamala Harris, constructed from the broken glass ceiling pieces, is quite something to behold.
As Chief states:
"We need to change the face of leadership. History demands it and the future depends on it."
Credits
Alien ad:
Date: Mar 01, 2022
Client: Chief
Agency: Technology Humans and Taste
Co-Founder: Nathan Phillips
Co-Founder: Dave Kalvert
Managing Director: Dena Graham
Director of Operations: Christine Austin
Creative Director: Kirstin Roquemore
Creative Director: Tiffany Appleton
Program Manager: Cassie Hice
Design: Mizuki Tsujikawa
Production Company: Whooden/Studios
Director: Berenice Eveno
Executive Producer: Garen Barsegian
Editor: David Bartin
Colorist: Na Thirakomen
Music & Sound Design Composer: Alex Siesse

Kamala Harris Glass Installation:

Date: Feb 05, 2021
Client: National Women's History Museum
Agency: BBH-New York
Co-founder and CEO: Carolyn Childers
Co-Founder: Lindsay Kaplan
VP Marketing: Clare Carr
Design Director: Kinney Seth
Senior Marketing Manager: Tova Miller
Copywriter: Kali Shulklapper
Partner: Jon S. Bouker
Partner: Wesley T. Gee
Executive Administrator: Patty Hernandez
Vice President of External Affairs: Jennifer Herrera
President & CEO: Holly Hotchner
Associate: Dan Jasnow
Chief Brand and Experience Officer: Jessica Tillyer
Chair: Susan Whiting
Chief Creative Officer: Rafael Rizuto
President: Amani Duncan
Creative Director: Jackie Anzaldi
Creative Director: Liz Loudy
Creative Director: Diego Fonseca
Creative Director: Jim Schwartz
Associate Creative Director: Zac Ong
Executive Producer: Peter Williams
Producer: Caitlin Byrnes Dawson
Supervising Producer: Marc Baill
Motion Designer: Yuan Guo
Director of Studio Operations: John Connolly
Lead Retoucher: Brian Truncali
Global Chief Growth Officer: Tim Harvey
Account Director: Julia Brenton
Account Supervisor: Cris Flores
Head of Planning: Tom Callard
Production: Glass Artwork
Artist: Simon Berger
Represented by: Artstübli Gallery
Portrait Photographer: Celeste Sloman
Represented by: ATRBUTE
Production Company: m ss ng p eces
Experience Director / Head of Immersive Content: Mike Woods
Founder / Managing Partner: Ari Kuschnir
Managing Partner: Kate Oppenheim
Managing Partner: Brian Latt
Executive Producer / Partner: Dave Saltzman
Executive Producer: Edward Grann
Producer: Jason Reif
Developer: Mike Bodge
Fabricator: DC Scenic Services
Music Company: Human Worldwide
Composer: Jon Hubbell
Executive Producer: Carol Dunn
Creative Lead: Craig Deleon
Producer: Joshua Green
Colour: Company 3
Colourist: Sofie Borup
Colour Producer: Alexandra Lubrano
Audio Post Production: Sound Lounge
Audio Mixer: Ashley Simmons
Producer: Lauren Mullen
Key Visual: Kenneth Brossoie
Getty Editorial: Shannon Finney
Photographer: Martien Mulder
Represented by: Walter Schupfer
If you enjoyed this article, you can subscribe for free to our weekly email alert and receive a regular curation of the best creative campaigns by creatives themselves.