Why coconut water brand Vita Coco wrote 'Love Letters to Bodegas', the corner shops of New York

The Background
Bodegas are the corner shops of New York.

It's the offy (or is it offie?), the shop that's always there for you, stocked with essentials and crucially, alcohol. Bodega is most often translated to cellar or storeroom, so you get the gist, it's a humble kind of shop.
This year, these types of stores have become crucial to cities around the world.
I imagine I'm not alone in having used corner shops more than ever over recent months, particularly early in lockdown when a snaking queue to get into a supermarket seemed even more soul-destroying than the prospect of working at home until 2021.
For coconut water brand Vita Coco, the bodega is one of its original distribution channels and it's keen to be New York's hangover cure by positioning itself alongside the classic BEC sandwich made up of bacon, egg, and cheese!

The Big Idea
Vita Coco sells a lot of its product in these bodegas and wanted to honour these stores that stayed open as the rest of the world shut, providing crucial supplies to New Yorkers.

'Love Letters to Bodegas' channels these New York institutions through an OOH campaign and a partnership with a delivery app to get the bodega classic BEC into the hands of healthcare workers.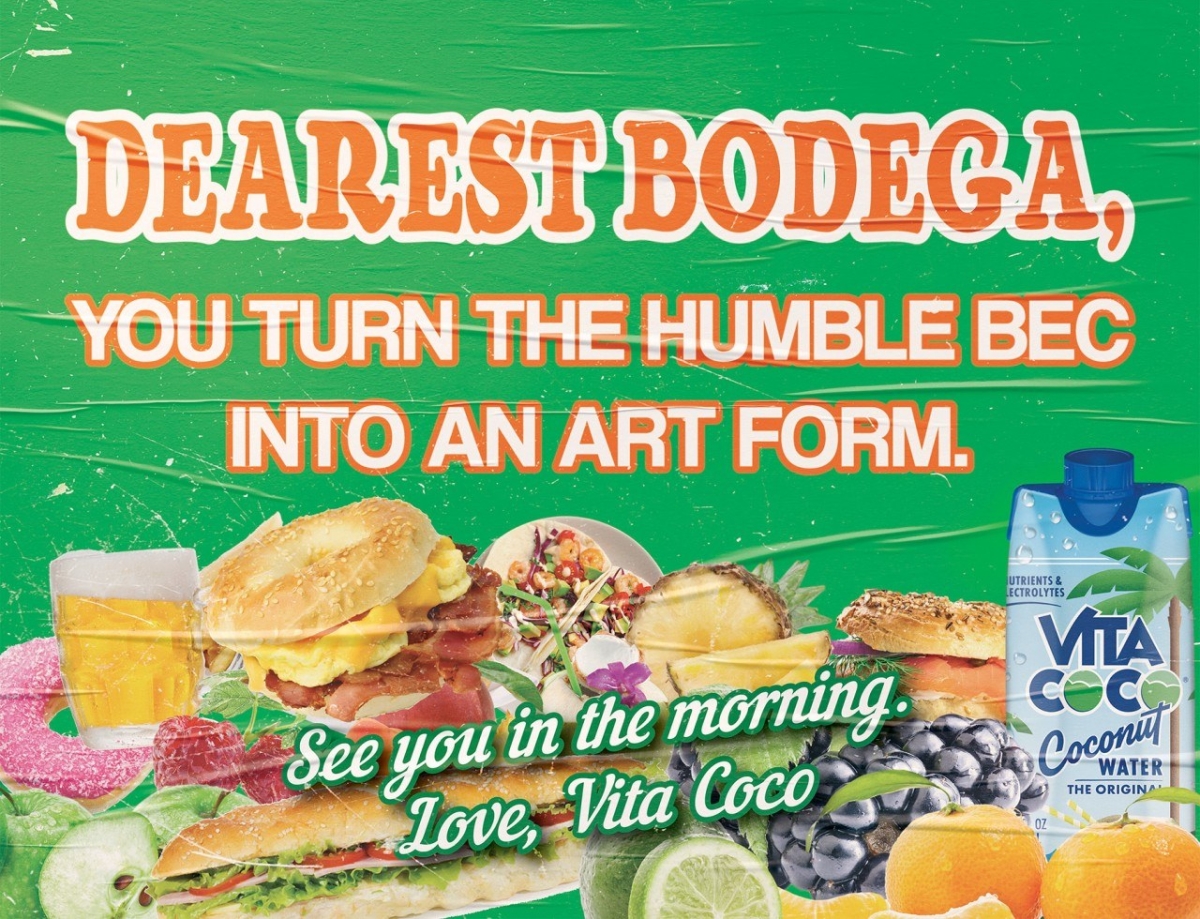 What They Did
The first phase used OOH spots that had been bought for a campaign focused on its pressed coconut water range.
When Covid hit New York, Vita Coco reacted by changing the theme to honour the city's bodegas.
As you'd expect from a campaign described as a love letter to the bodega, the focus is on retro graphics coupled with endearing copy acting as an ode to these shops.

A series of posters convey messages of love to the bodega, "You turn the humble BEC into an art form" says one, whilst another asks "where else would we find probiotic soda, forties, and coconut water within 6 inches of each other?".
In addition to the OOH creatives there was an additional element to the campaign which saw Vita Coco team up with My Bodega Online, a delivery app. The partnership allowed Vita Coco to deliver 5,000 coconut water and BEC packages to healthcare workers around the city. Additionally, the brand launched its own Insta Bodega giving people the chance to buy merch that also dispatched more BEC packages to workers.
The Hangover Kit listed on the website included coconut water, sunglasses, face wipes, gum, breath mint, under-eye mask, and salted crackers to show the diversity of a bodega's offering as well as dispatching 5 BECs to healthcare workers. Crucially the BECs dispatched to workers are done so from the bodegas Vita Coco is supporting through that partnership with My Bodega Online.

The Review
We've seen literally hundreds of initiatives to help healthcare workers across the world. We've also seen hundreds of initiatives to save certain industries.

This campaign caught my eye for doing a pretty good job at doing two in one.
Another real positive in this campaign is the relevance of what the brand is doing, who it's helping and how it's helping them. Vita Coco's a New York brand and bodegas have been, and can continue to be, an important sales channel for them.
The addition of the My Bodega Online partnership for distributing BECs to healthcare workers strikes me as probably being one of healthcare workers' favourite initiatives. Can you think of a better snack after a 12-hour shift than bacon with oozing cheese and egg? T
he only slight disappointment is the lack of social media engagement. The shop seemed to perform ok, shifting an additional 1,000 BECs, but their social media competition seemingly resulted in just a single entry.

In Hindsight
I like the fact that Vita Coco has accepted not only that this is an effective sales channel for them, but that it's one worth protecting and proactively supporting.
We've seen in this country over recent months that corner shops can keep us going when supermarkets are swamped by hoarders.
I wonder when we'll see Blossom Hill or Fosters show their appreciation for the humble off-license?
Perhaps now's the time.

If you enjoyed this article, you can subscribe for free to our weekly email alert and receive a regular curation of the best creative campaigns by creatives themselves.