Beck's Heroes of the Night app turns your WhatsApp group chat into a comic strip

The Background
WhatsApp has transformed the way we interact in groups and helped sharing to become easier, but also more private than the Facebook age when we were all very liberal with sharing not only photos, but personal thoughts and details.

We're all in numerous group chats, with friends, with family, with colleagues, even the contributors to Creative Moment are part of a group chat together.

The Big Idea
WhatsApp group chats on a night out are a source of amusement and hidden secrets, come the next morning they can often tell the story of the night's shenanigans better than the people themselves.
Beck's took this thinking and launched an app to tie in with its brand claim that "you make it legendary" by launching the Heroes of the Night app.
How it worked
This app takes group chats and transforms them into a comic strip – pretty cool right?
Working with an illustrator, Matthias Schardt, it created over 300 frames with ten characters that help create a personalised story of the night through the group chat that accompanied it.
Once revellers have downloaded the app in their hungover stupor, they upload a WhatsApp chat directly to the app and within seconds you have a comic strip which can then be edited, if needed, to craft it into something people can share with the group and beyond.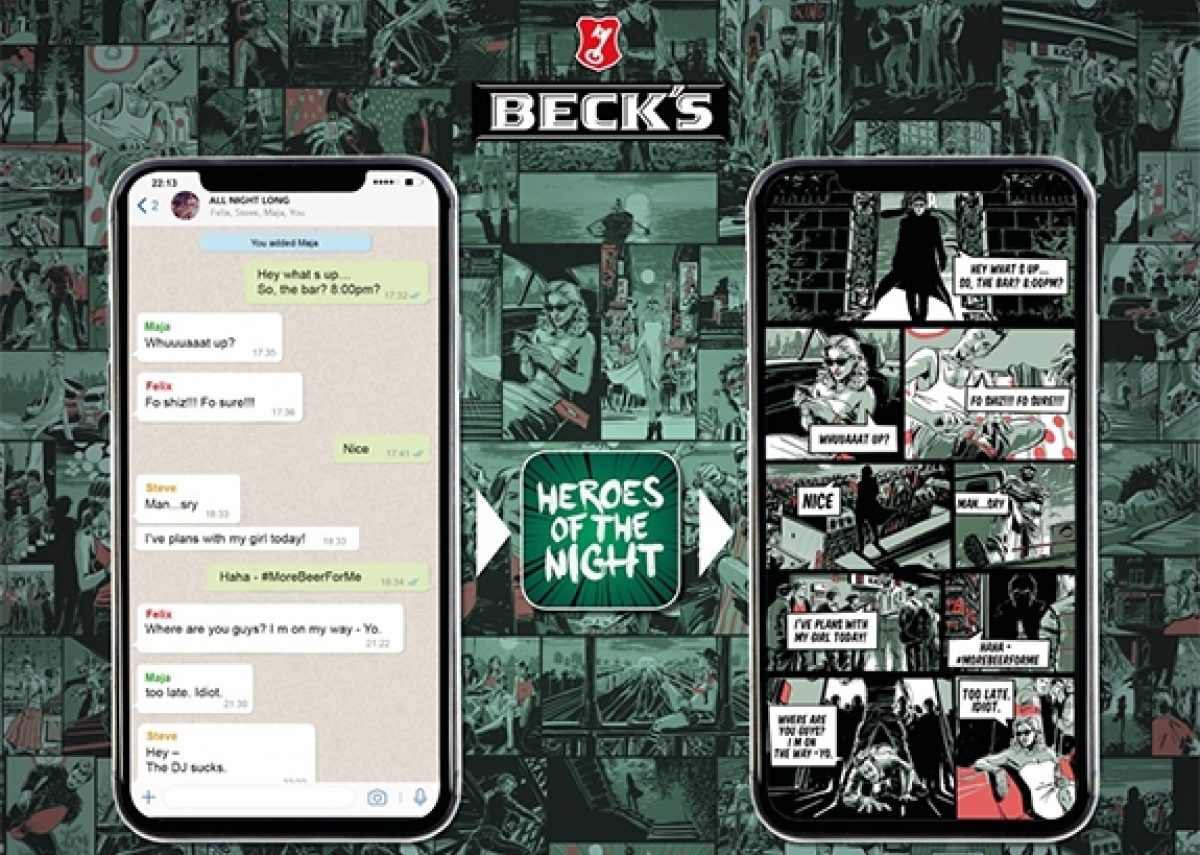 The Review
A creative director I've worked with used a campaign being shared on a WhatsApp group chat (the modern-day pub chat) as the key barometer to success for campaigns today. Group chats are where people are at their most authentic, it's not the façade of Instagram profiles nor is it hindered by a lack of willingness to share thoughts for fear of your gran seeing it on Facebook.
If you're creating content from a group chat there's every chance you'll then share that with the group chat.
Beck's has produced something that helps the brand get through to people on a hard-to-reach channel.
And it's just a really cool concept, it's something we've not seen from any other beer brand, much more exciting than another music or arts collaboration.
It's also performing really well in terms of reviews on the App Store, yes, many will be agency people, but there are 45 reviews mostly surprised that it does work.
In Hindsight
When thinking about the way in which people are more open, more revealing and happier to share on WhatsApp, the issue for this app is presumably getting people to use it.
Whilst I may be fine with sharing the story, another mate who got a bit worse for wear and declared his love for Nigel Farage or Donald Trump's policies might not be so keen (NB, not a true story, none of my mates are that ignorant…).
"Pub anyone?" Time to give this one a go.