Budweiser celebrates Messi's 644 goals record by sending beer to each goalkeeper he scored against

The Background
Lionel Messi, for many the greatest player of all time (though personally I'm in the Maradona camp on that one followed by Cristiano Ronaldo) scored his 644th career goal in December 2020.
Unless you're Pelé or the communications team at Brazil's Santos, it's recognised that this makes him the top goal scorer for a single club of all time.
A moment that one of Messi's sponsors, Budweiser, couldn't pass up.

The Big Idea
Budweiser sent out 644 bottles of beer, one to commemorate each of Messi's goals for Barcelona.
Each bottle had a number on the label, corresponding to a goal from Messi's record.
But rather than send these to the great man himself, the bottles were shipped off to each of the 160 goalkeepers that have seen a net bulge behind them over the past 15 years since his first goal for the club in May 2005.

𝐑𝐄𝐂𝐎𝐑𝐃 𝐁𝐑𝐄𝐀𝐊𝐄𝐑

20 years. 1 club. 644 goals. Kings aren't made overnight 👑

Leo Messi now holds the record for most goals scored at a single club.#BeAKing #Messi #KingOfBeers #KingOfFootball pic.twitter.com/o9s0wQw77w

— Budweiser Football (@budfootball) December 22, 2020
What They Did
Presumably the rollout of this required a fair bit of research, both in terms of finding who each goal was scored against, but also a whole load of agent and address sourcing.

But the simplicity remained, the bottles were dispatched to each goalkeeper, some receiving a lot more than others. Diego Alves, the ex-Valencia and Almeria goalkeeper, received the highest number of bottles, bringing back 21 bad memories for the player. Iker Casillas, the ex-Real Madrid goalkeeper and current Porto player, was third in the list receiving 17 bottles, another who was likely to have bad memories on receiving the package.
Plenty of goalkeepers took it in their stride however, some also being on Budweiser's roster, but also including some that aren't. Gianluigi Buffon, who received a respectable two bottles, was one of the first to show them off on social media and offer his congratulations to Messi.
Jan Oblak and Kepa Arrizabalaga were two others to show off their commemorative bottles, helping the campaign take off and its cheeky nature attract the world's media. Coverage landed everywhere from The Sun and Daily Mail through to the likes of News.com.au and USA Today.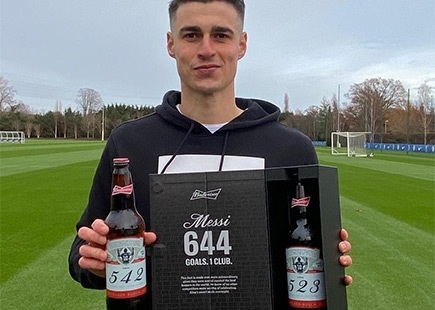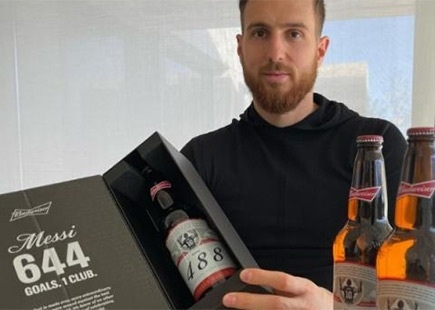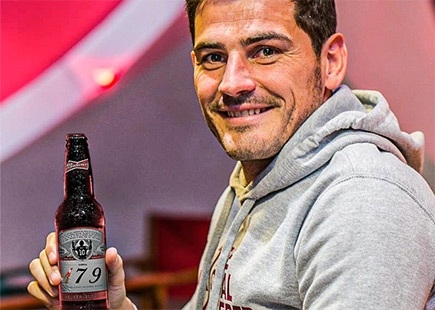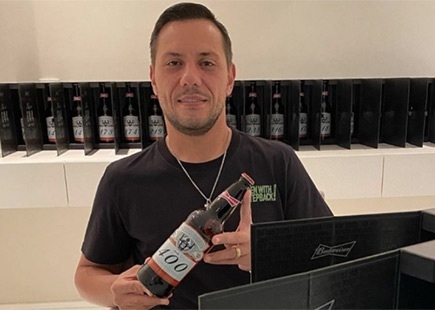 The Review
This activation commemorates Messi's record in a far superior way to any of the other sponsor's posts that adorn his Instagram account (which reaches a staggering 175m incidentally). It's the cheekiness of it, but also the respect that comes from the reaction of the goalkeepers sent the beer.

Of course, as a Budweiser sponsored athlete, Gianluigi Buffon had no option but to graciously accept his beers, but we'd expect nothing less from one of the game's gentlemen. The subsequent posts from the likes of Jan Oblak show that it's a badge of honour to have even had the opportunity to go to battle with Messi on the pitch.
It's a great example of flipping the challenge, taking a brief that was "celebrate Lionel Messi and his record 644 goals" and thinking "what about the goalkeepers, they each played a role".
And let's be honest, no one's writing about Gatorade's celebratory Instagram advert marking the same moment.

If you enjoyed this article, you can subscribe for free to our weekly email alert and receive a regular curation of the best creative campaigns by creatives themselves.