Burger King and BBH have proudly produced a Whopper on the side of a bus
BOAST is a place where you can find out about recent creative campaigns.
It is a space where agencies can tell us about the new work they are proud of; blowing their own trumpet, so to speak.
Here's the latest from the creative world as we know it.
A campaign by BBH
Burger King's most recent stunt went down a treat across social media this week.
The image and accompanying video of a Whopper on a bus outside Westminster found that sweet spot of humour, relevance and engagement that hit the mark with the UK public.
At Creative Moment we wondered whether it should have been served "with lies" but perhaps that would have been a (London) bridge too far!
The campaign was created and executed by BBH London.
Ian Heartfield, Chief Creative Officer said: "This is how advertising is meant to work. Phil & Stu came up with a killer idea, a brave client didn't hesitate to approve it, we got it made and out onto the streets in next to no time, the nation started talking about it. Job done."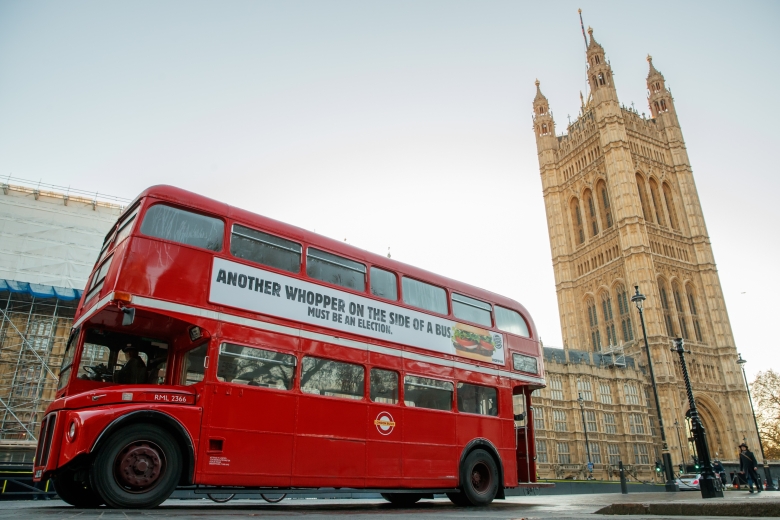 Credits
Client name and title: Burger King Marketing Director: Katie Evans
Burger King Head of Brand & Communication: Soco Nunez
Burger King Brand Manager: Suzi Hoy
BBH Creative Team: Stuart Royall and Phil Holbrook
BBH Designer: Christian Tunstall
BBH Chief Creative Officer: Ian Heartfield


BBH Head of Strategy: Ben Shaw
BBH Strategy Director: Saskia Jones
BBH Account Manager: Laura Huber
BBH Account Director: David White
BBH Producer: Beth Mechem
Photographer: Dan Matthews
PR agency: FRANK PR London