Charity Breast Cancer Now encourages people to talk more openly and honestly about breast cancer

Research and support charity, Breast Cancer Now, has launched a new campaign, created by BMB, to encourage more open and honest conversations about breast cancer.
The campaign launches this month and will run in press, social, radio and digital display.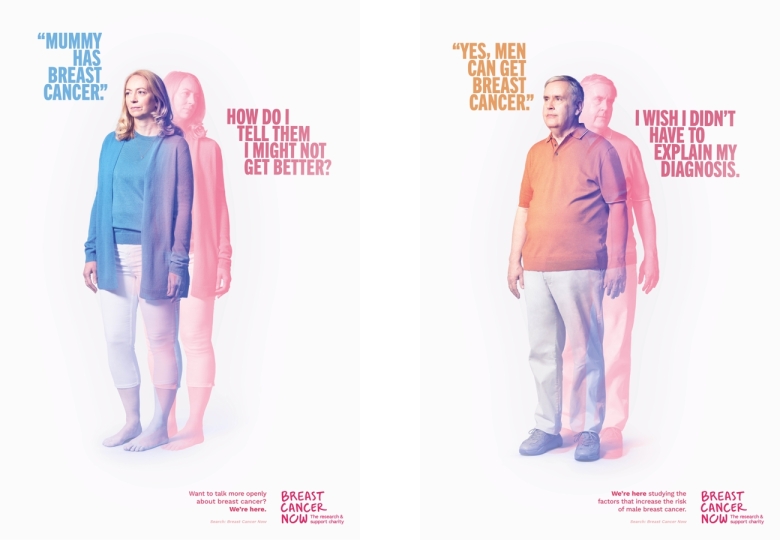 Drawing on the experiences of people who have had breast cancer, the creative juxtaposes how internal concerns, questions and fears can often differ from what people choose to say out loud.
In one example the narrative: "Yes, men can get breast cancer," is set alongside an internal monologue that asks, "I wish I didn't have to explain my diagnosis".
In another, the headline, "Mummy has breast cancer" appears alongside, "How do I tell them I might not get better?"
Shot by award-winning photographer James Day, the new print work is an extension of the 'Real Talk' TV campaign, in which a woman diagnosed with breast cancer, breaks the fourth wall to reveal her internal feelings and fears, whilst outwardly masking how she really feels to family and friends.
Both the TV campaign and new print creative direct viewers to Breast Cancer Now's support services and share the end line: "Want to talk more openly about breast cancer? We're Here."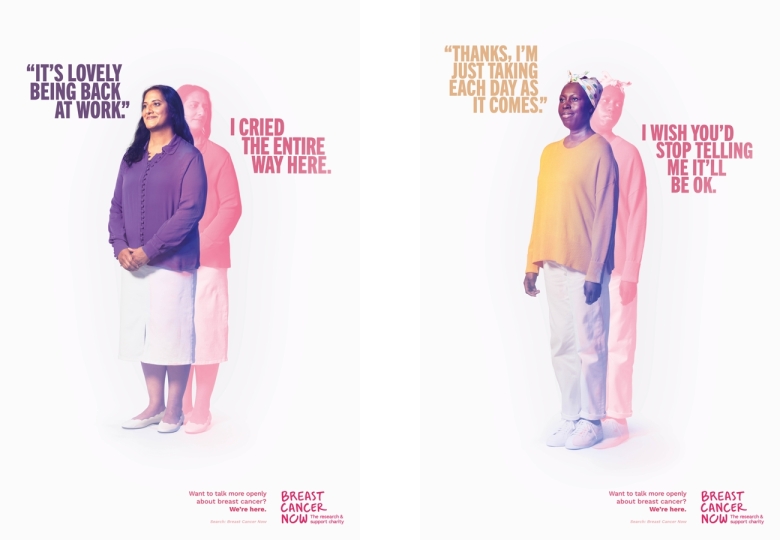 Rachael Franklin, director of fundraising, communications and engagement at Breast Cancer Now said: "We know that having breast cancer can be an isolating experience and that it can be hard to talk openly and honestly about it with friends and loved ones. That's why we felt it was so important to shine a light on how the inner thoughts and feelings of someone affected by this devastating disease can go unsaid and to encourage open and honest conversations. "We also want anyone affected by breast cancer to know that, whatever your questions or concerns about breast cancer, we're here". Franklin concludes.

Matt Lever, CCO at BMB said: "This campaign is the next step in our mission to get people talking more openly about breast cancer, and to position Breast Cancer Now as the charity that is here for open and honest support."
If you enjoyed this article, you can subscribe for free to our weekly email alert and receive a regular curation of the best creative campaigns by creatives themselves.