Creative Corner: Jet-pack pizza delivery, climate change on the White Cliffs of Dover and Awful Black Mirror

Welcome one and all, it's time for another Creative Corner!
If you follow me on Twitter you'll have seen me get very excited about the sheer volume of awesomeness spotted this week, so let's get into it!

Defying Gravity
It's Glastonbury week!
We've already had icons like curler woman and the people who brought an actual full-size bed with them, but what happens when festival-goers get peckish? They have a pizza flown in to them, of course!

Dominos has teamed up with Gravity Industries to offer jetpack delivery to Glastonbury, taking inspiration from the OG Rocket Man Elton John, who is headlining this year.
At Radioactive, we launched Gravity way back in 2017, and often talked about the fun we could have with the jet suit Richard Browning had created, so it's amazing to see such a cool stunt like this brought to life by One Green Bean.
Let's be honest, we'd all love to have our pizza delivered this way! I'm a big fan of the creative thinking from the Dominos' team and impressed with the adaptations Gravity was able to make to the suit so it could store pizza - definitely not what it was originally designed for!
Massive congratulations to everyone who pulled this off.

#ShowYourStripes
On Wednesday, the White Cliffs of Dover were lit up with a graph of the average UK temperature from 1884 to 2022 to highlight the real-world impact of the climate crisis.

The bars of the graph were coloured from blue to red depending on the temperature recorded in each year, with the colour change over the years showing a dramatic change in the UK.
The data is being tracked globally at the University of Reading, and showyourstripes.info makes for sobering reading.
What I love about this is its simplicity. The data visualisation is as easy to understand as it is impactful, and displaying it on the White Cliffs is perfect. Lovely work from all involved; I hope #ShowYourStrips Day continues its work.

You Are Awful
No, not you!
Any Black Mirror fans reading this will know I'm not being mean for the sake of it this week. Season six of the hit dystopian show is a big hit, and the opening episode 'Joan Is Awful' is a big part of that.

Without giving too much away, the episode centres around Joan, who one day spots a TV show called 'Joan Is Awful' on Streamberry (Netflix in an alternate universe) where she's being played by Salma Hayek.
As part of its marketing push for the new season, fans can now 'sign up' to Streamberry via youareawful.com and make themselves the subject of their own billboard on the fake streaming platform. Not going to lie, I'd watch 'Angharad Is Awful'.
It's a clever microsite PR stunt that has seen a lot of social media shares and coverage; bravo to the team behind it!

Kings and Queens
A lovely little stunt just up the road from my office, Gloucester's Kingsholm Stadium gave itself a rebrand to Queensholm ahead of the Allianz Premier 15s final this weekend between Gloucester-Hartbury and Exeter Chiefs.

Low cost; high impact, and a great nod to women's rugby - love it!

Some sad news…
Creative comms agency Talker Tailor Trouble Maker, whose campaigns I've featured many times here over the years, has sadly had to close its doors this week. Founders Gary and Steve tweeted a statement on Twitter, confirming the award-winning agency would be closing after seven years.

It's still a very tough scene for SME agencies, many of which will still be feeling the aftermath of the pandemic, but it's heart-breaking to see such a creative force for good like Talker Tailor have to shut up shop for economic reasons.
I can fully empathise with how emotionally gutted the team must be feeling right now, but know that they will undoubtedly produce more great work in the future.
And finally, there's ONE WEEK to go until the final deadline for the Creative Moment Awards 2023!
There's still time so get your best work together and show us what you've got!
You can check out all the categories, brilliant creative judges and how to enter here.
Get your skates on and good luck!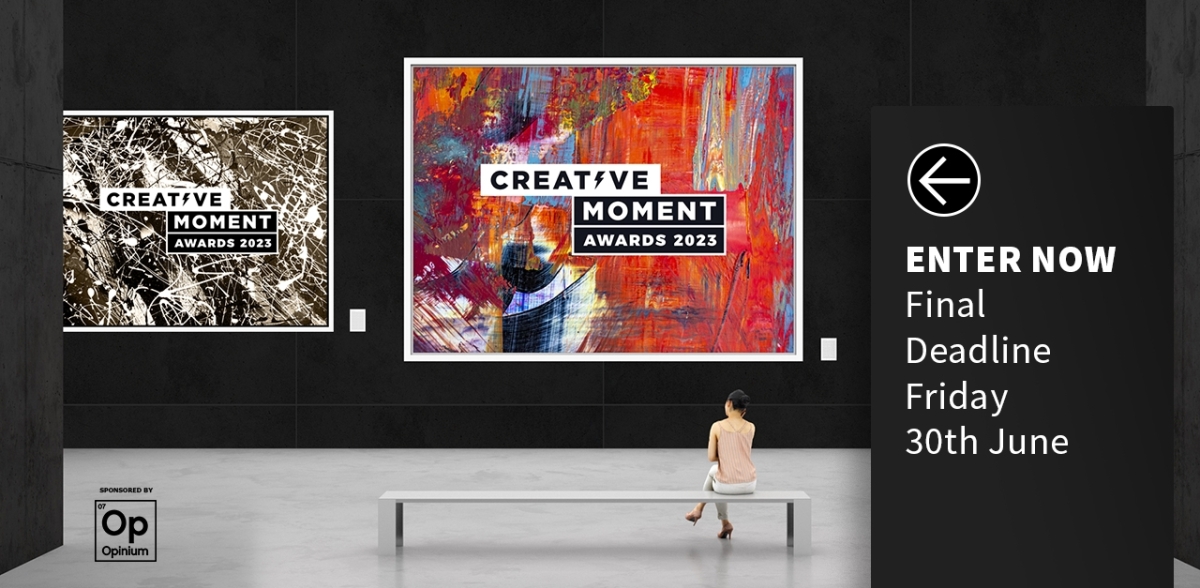 That's all from me for this week.
Rumour has it that Rich Leigh will be back at Creative Corner very soon, so if you're launching anything, or see a campaign worthy of celebrating here, please let him know!
He's @RichLeighPR on Twitter or rich@weareradioactive.com

If you enjoyed this article, you can subscribe for free to our weekly email alert and receive a regular curation of the best creative campaigns by creatives themselves.