Creative Director's Cut: How Ocean Spray managed to make cranberries so distinctive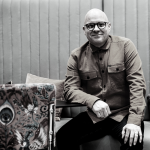 This is distinctive work with a light-hearted touch
Guy Bradbury, creative partner, M&C Saatchi
Wiggle wiggle. Jiggle jiggle. If you haven't heard these words yet, you soon will.

The new spot for Ocean Spray, The Agricultural Cooperative of Growers of Cranberries in the US, is just brilliant. So distinctive.
We can all remember great spots when they hit our screens. Whether it's a gorilla banging some drums, or an ad that gets you to look at your man, now back to me. And this ad is one of those.
If it doesn't get banned for complaints, it will drive huge growth. And that's because it is so distinctive.
And it makes you wonder just how they sold it in.
We open on a dysfunctional family, sitting around a delicious turkey at Thanksgiving.
Everyone waits patiently for the jellied cranberry sauce, and when it finally does arrive, it wobbles on the table.
Everyone is hypnotised by it, and they wobble too.
Sounds pretty straightforward, but then add the amazing craft, an amazing track, the styling, the casting and the super talent that is Jeff Low, and you have something rather special.
They even slip in another product at the end with the gran sipping cranberry juice, which reminds me of the gran hitting the piano in a Carte D'Or spot a good 10 years ago.
The world needs more light-heartedness right now. And this has buckets of it (well, tins).
It's a lesson for all of us. The more distinctive we can make a brand, the more salient it will become. And the more growth we can create for our clients.
We just need to take our client partners on the journey and build trust. After all, as Bill Bernbach said: 'If nobody notices your advertising, everything else is academic'.

If you enjoyed this article, you can subscribe for free to our weekly email alert and receive a regular curation of the best creative campaigns by creatives themselves.