Deliveroo's drive to reunite missing people with their families before Christmas is a great idea, but did it deliver?

The Background
As part of its Christmas campaign, food delivery giant Deliveroo launched Ride to Find.
Teaming up with charity Missing People, throughout December, 500 of its riders will have displayed a total of eight missing people's posters via the boxes it uses to carry its food.
The campaign will have run across London, Bristol, Manchester and Birmingham.
The Big Idea
This campaign brings a modern twist to the infamous missing persons ads displayed on milk cartons in the USA.
With Deliveroo, the posters don't quite make it into the fridge, but instead are displayed on the backpacks used to transport the food.
The seasonal link is to try and reunite loved ones in time for Christmas.
What They Did
To launch the concept, Deliveroo released details alongside simple, but effective, photography of the riders with customised backpacks, and a small launch film.
The concept was announced mid-November. A second story was released in early December announcing that three people had already been located through Ride to Find (at that point a total of four missing people's posters had been displayed).
Incredible.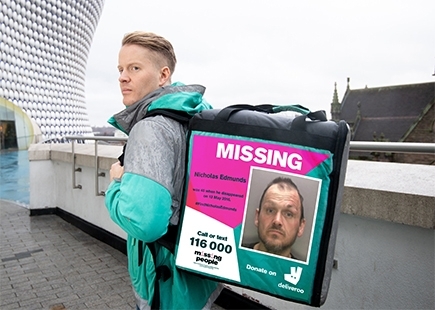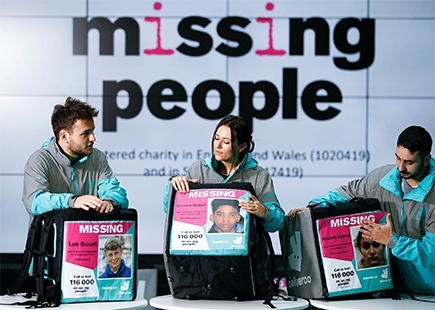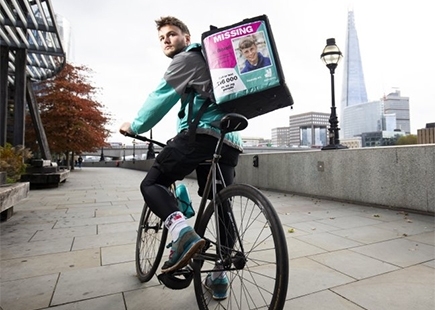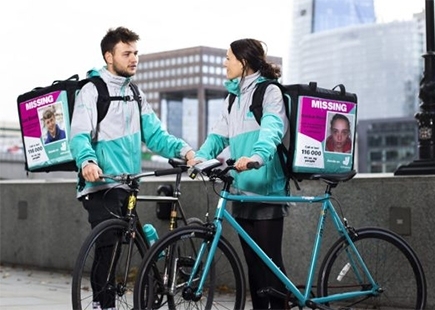 The Review
The first thing to say is that as far as I can tell the announcement – and follow-up story – didn't generate a huge amount of national attention. Sometimes stuff like this creates a ton of buzz in our industry but not beyond it.
But in this instance, frankly who cares? It's the ambient nature of this that gives it its power. The fact that three out of the four people featured at that point had been located by early December is simply stunning. People saw the posters and responded.
Yet I have a niggling sense of discomfort with Ride to Find.
On paper I should love it. It's a brand doing something altruistic and using its assets for good. Most people that go missing are from big cities and Deliveroo operates in big cities. And also it's great to use its employees – often a point of contention for those operating in the gig economy – in this way. But it's the 'stunty' nature of it that doesn't sit well with me.
Call me a cynic, but the actual cost to Deliveroo currently is negligible – posters on the sides of 500 riders boxes, and some basic PR materials. I also couldn't find it on the Deliveroo website, or on the app, even though the MailOnline story tells me the app should include a feature allowing me to donate to the missing persons charity. To be fair, I've not ordered from Deliveroo this month, but even my friends that have couldn't recall seeing anything or being asked for money.
If this concept came from the agency – good on them, it's a great idea. But eight people in total? Just for December? And it being impossible to find on the app? It just feels superficial. Deliveroo should have taken the strong concept and made it real.
Why wouldn't it? If three people can be found in a couple of days – the difference it could make if it did this properly would be extraordinary. To society, but also to Deliveroo's own corporate reputation.
In Hindsight
Am I being too harsh?
After all Deliveroo wouldn't be the first, and certainly won't be the last, to merely dip its corporate toes in the waters of social good.
But aren't we beyond that?
Don't we, as members of the public, see through it?
If this was real – a genuine long-term commitment – I would definitely prioritise Deliveroo over the competition (in fact I already do). But the short-term nature of this 'Christmas campaign' almost pushes me in the opposite direction. And maybe it is on the app and the website – Deliveroo if you're reading this please put me right, but if that's the case shouldn't it be more prominent?
I'm hoping that I'm proved wrong. And that come the new year this concept is expanded and the stunning nature of its success to date in terms of finding those that are lost is repeated. And repeated.

If you enjoyed this article, you can subscribe for free to our weekly email alert and receive a regular curation of the best creative campaigns by creatives themselves.