Euro 2020 Meme's: Hits and Misses

Bittersweet memories of England's rather impressive run to the final at this year's Euros created a bit of a feeding frenzy among brands looking to be part of the conversation.

And with England smashing their way through the semi's, it seemed that every man, woman, their dog, their social media manager and their creative agency set about pitching clients an array of quick and dirty reactive opps that would get them noticed.
So, unless you were hiding under a rock, blissfully uninterested or support one of the Irish nations, you probably raised an eyebrow or even a smile at the memes filling your social feeds over the last four weeks—some better than others.
So, like an England vs Italy penalty shootout, here are some of the hits and misses from the last week from around the creative industries in no particular order.
And full disclosure, as someone with skin in the game, I have left the IKEA "KØMMÖNENGLAND" cup out of this list. However, you can read about it here.

Boxheads from Bud-Light
As the tournament's official sponsors, the folk at Budweiser took a slight left turn in advertising to fans in creating Bud Light 'Boxheads'. This involved sticking blown-up, super close up images of Jordan Pickford, Kieran Trippier and Kyle walker on multipacks of their beer.
The idea being that fans can enjoy a Bud before showing their support for the England men's team with their very own boxy beer mask.
Going beyond the stock and standard ambassador based advertising open to the brand, Wieden+Kennedy successfully turned mundane product packaging into social media fodder, as England fans up and down the country selfied the hell out of their own hilariously oversized box head on the socials.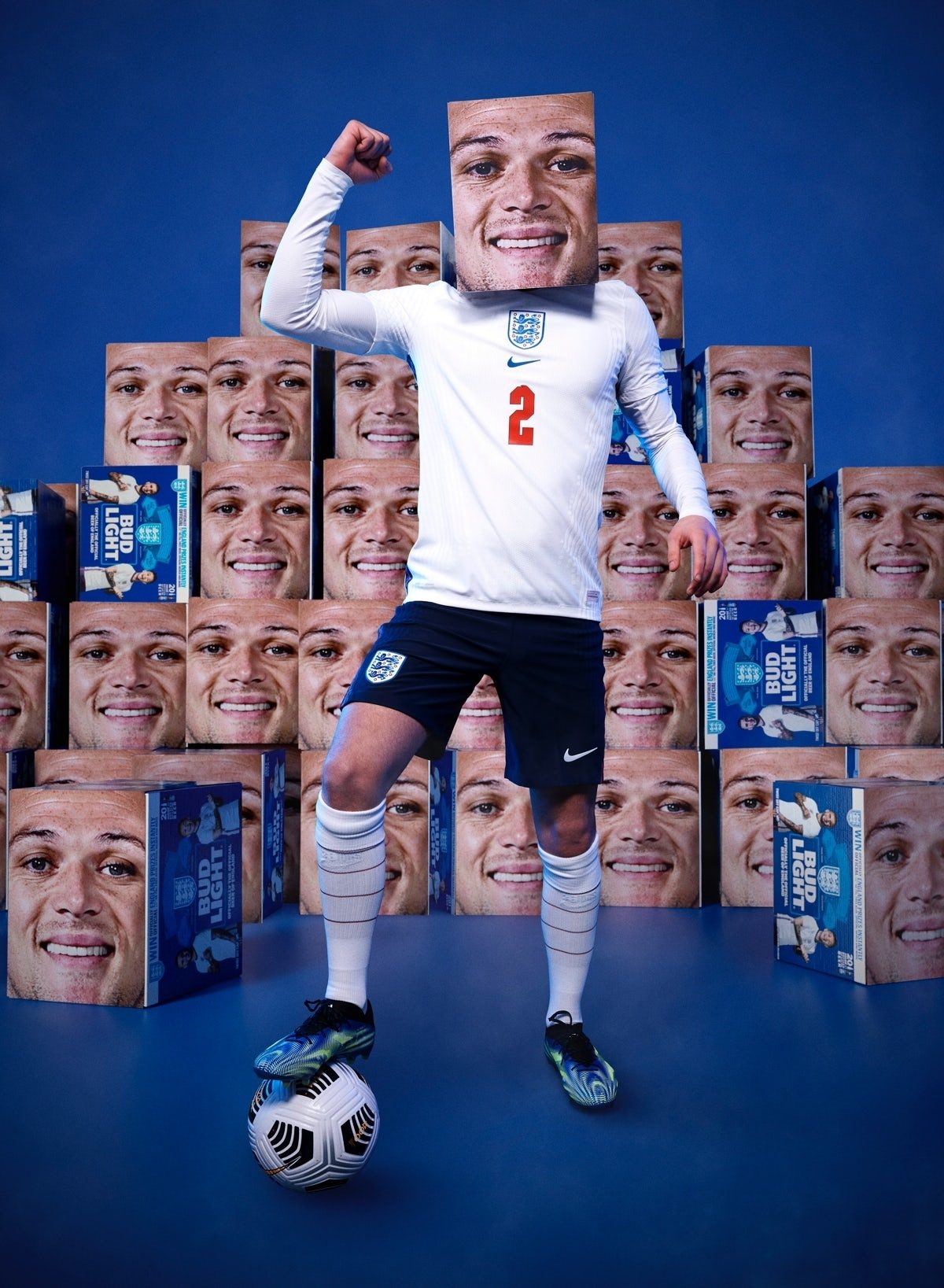 Specsavers Eye Exam
We all still have that warm fuzzy feeling reminiscing about the wonderful lampooning of Dominic Cumming's and his trip to Barnard Castle Specsavers gave us a few lockdown's ago.
Keeping the gag going, in one of the simpler bits of reactive OOH, Specsavers and Tangerine Communications erected a giant eye chart, with the letters decreasing in size and spelling out 'It's coming home'.
Straightforward, slick and speedy to react to the historic result of the England vs Germany game, its brilliance lies in the fact that they stayed utterly true to the brand.
Instead of overengineering the fun out of things, they kept to a tried and tested formula that immediately screams 'Specsavers'.
Brilliant.

Danish discounts by Morrisons
With the prospect of, what proved to be, an incredibly tense encounter with Denmark, Morrison's announced discounts to a range of halftime snacks, aiming to stir up some controversy by exclusively offering in England as "Scotland and Wales did not qualify".
Ruling out any perceived bias based on my own Scottish heritage, objectively, it's just a bit rubbish.
Feels very much like someone somewhere had a good idea that embarked on a journey through red tape and had the sharp edges knocked off it. Lacking the courage of its convictions and evolving into a mediocre Frankenstein focussed more on sales than brand building, low engagement and a quick look at comments from other Twitter users show the gag was lost on many.

It's coming home! Are you ready for the big match against Denmark on Wednesday? Bag yourself a half time treat. It's 3 for £3 on loads of your game snacks and goodies! Get the beers in at just 3 for £20 on selected boxes. Excludes Scotland and Waleshttps://t.co/pK2Coh6ndupic.twitter.com/iD2yIbRINw

— Morrisons (@Morrisons) July 5, 2021
Peroni three 'Leoni'
Inviting England fans to drown their sorrows, Peroni added a touch of bittersweet class to proceedings by launching a reactive bit of advertising, renaming a trio of lagers to 'Leoni'—Italian for Lion.
Intending to establish a bit of harmony between the two competing nations in the aftermath of 'that defeat', it was a really clever bit of wordplay that plays for both teams.
Some smart thinking from Trouble Maker, Splendid Communications and Wavemaker collectively.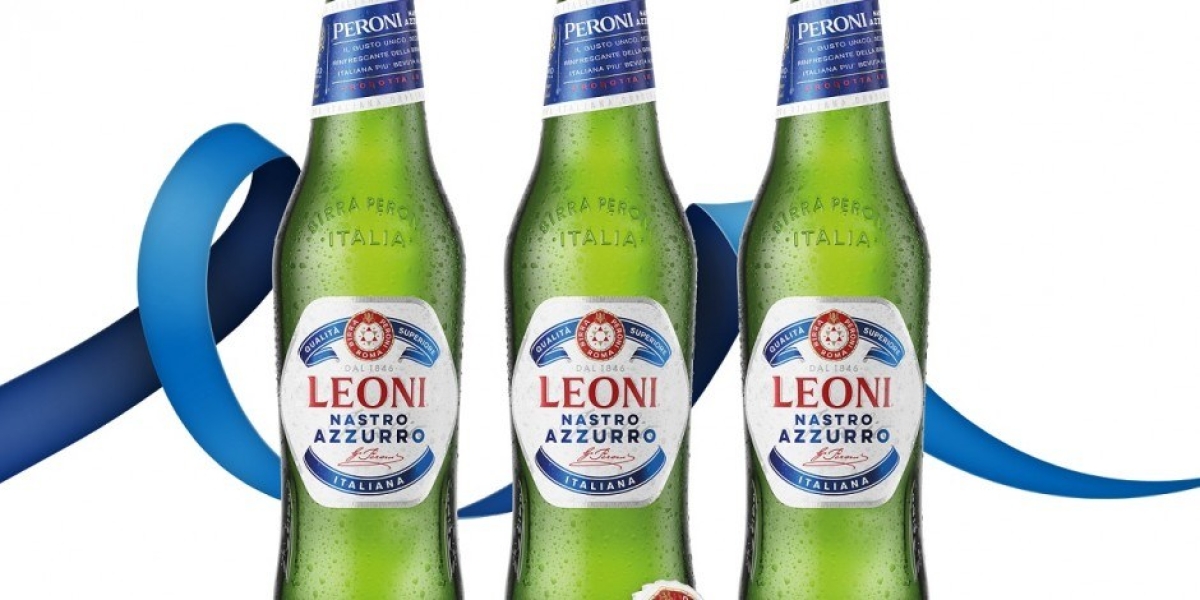 Ron Burgundy and joe.co.uk
Hats off to the folk at Joe.co.uk that posted a video of Anchor-man Ron Burgundy's iconic 'jazz flute' scene, redubbed with dodgy flute playing of Three Lions.
With a strong pedigree of parodying topical videos from across the web, the beauty of this one is the meticulous skill and attention to detail in matching Will Ferrell's improvised fake flute playing with the iconic melody of the unmistakable England anthem.
What's more, it's bloody funny.

Royal Mail football
A personal favourite was the Royal Mail's incredibly understated and beautifully simple social post of a football, wrapped in brown paper and stamps addressed to 'HOME'.
That was it.
And yet, it was so much more than that in having the courage of their convictions to let people make the connection without labouring it through unwanted copy that would have killed the joke stone dead.
You don't see a great deal in the way of reactive stuff from the Royal Mail, but this one really stands out.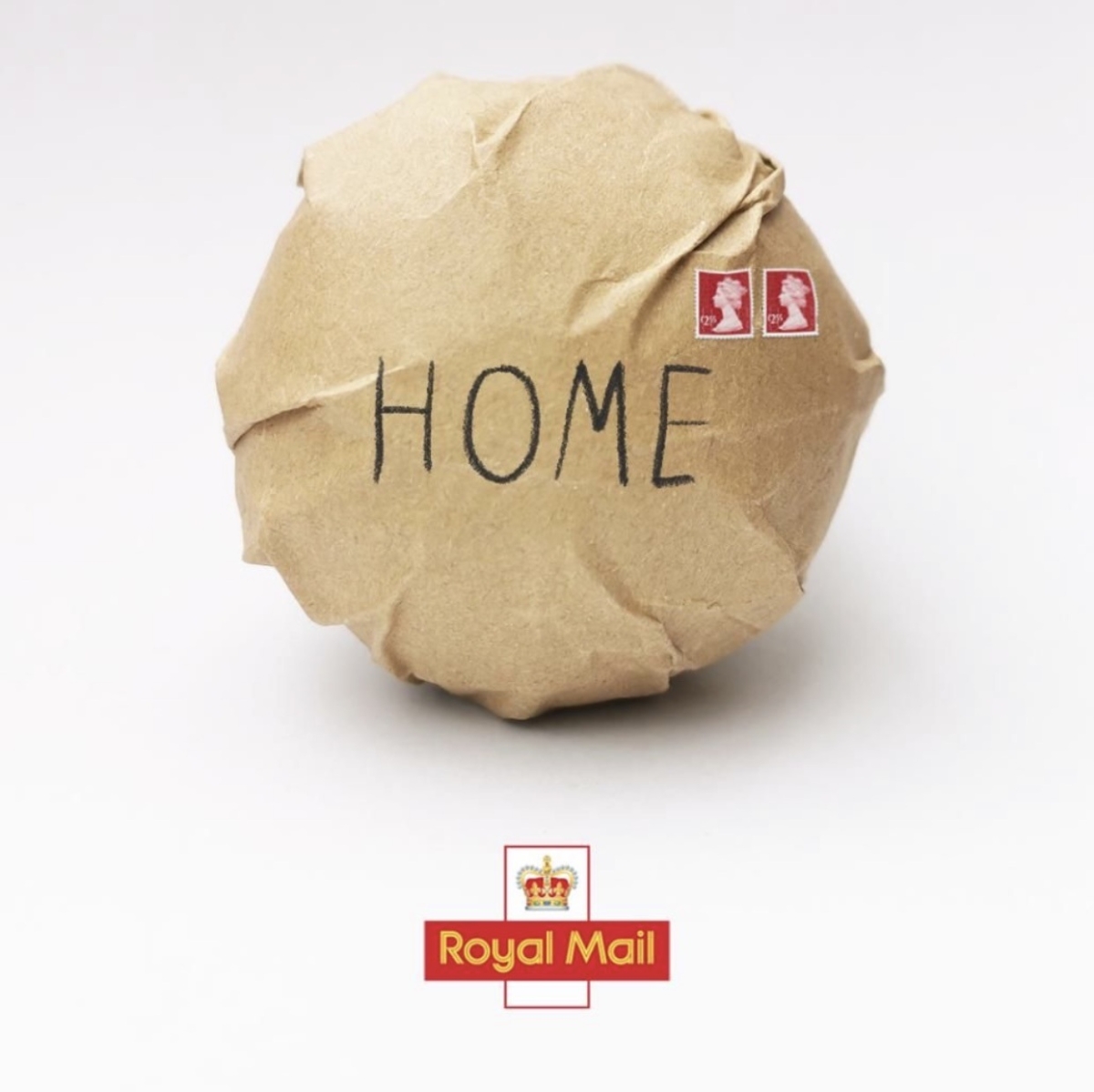 "Ites coming home" by Tesco
Conjuring images of a dad dancing at a disco, British supermarket chain TESCO's woeful effort to get in on the action involved a desperate attempt to incorporate their own name into 'It's Coming Home'.
The result? "Ites coming home", and the tweet "For anyone who ever wondered about the origin of our name… #ItsComingHome". Cut to people staring at their phones, head in hands (and rightly so).
The try-hard attempt was so poorly received it sparked loads of ridicule from rival supermarkets and the likes of Burger King with "Its Burger KomING Home".
Creatively a flop, but you could argue it's memorable, generating loads of engagement, even it if was the wrong kind and did kind of go viral.
Kind of.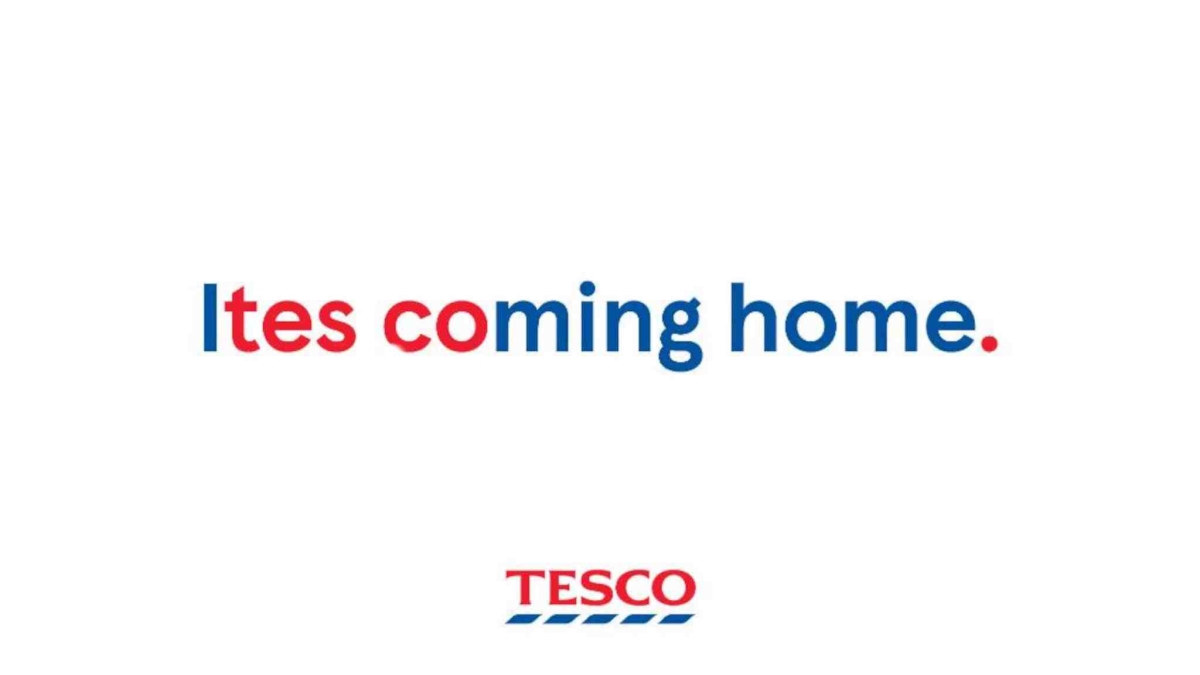 Nike Huddle
Capturing the mood of the nation, England shirt sponsor Nike released a rather touching image of the team huddle supported by the words 'We didn't come this far to just come this far'.
Classic Nike in taking the temperature of the situation and quickly reacting with a beautiful print execution that tugs at the heartstrings of England fans as their love for the national team gently migrates toward the brand.
Love it.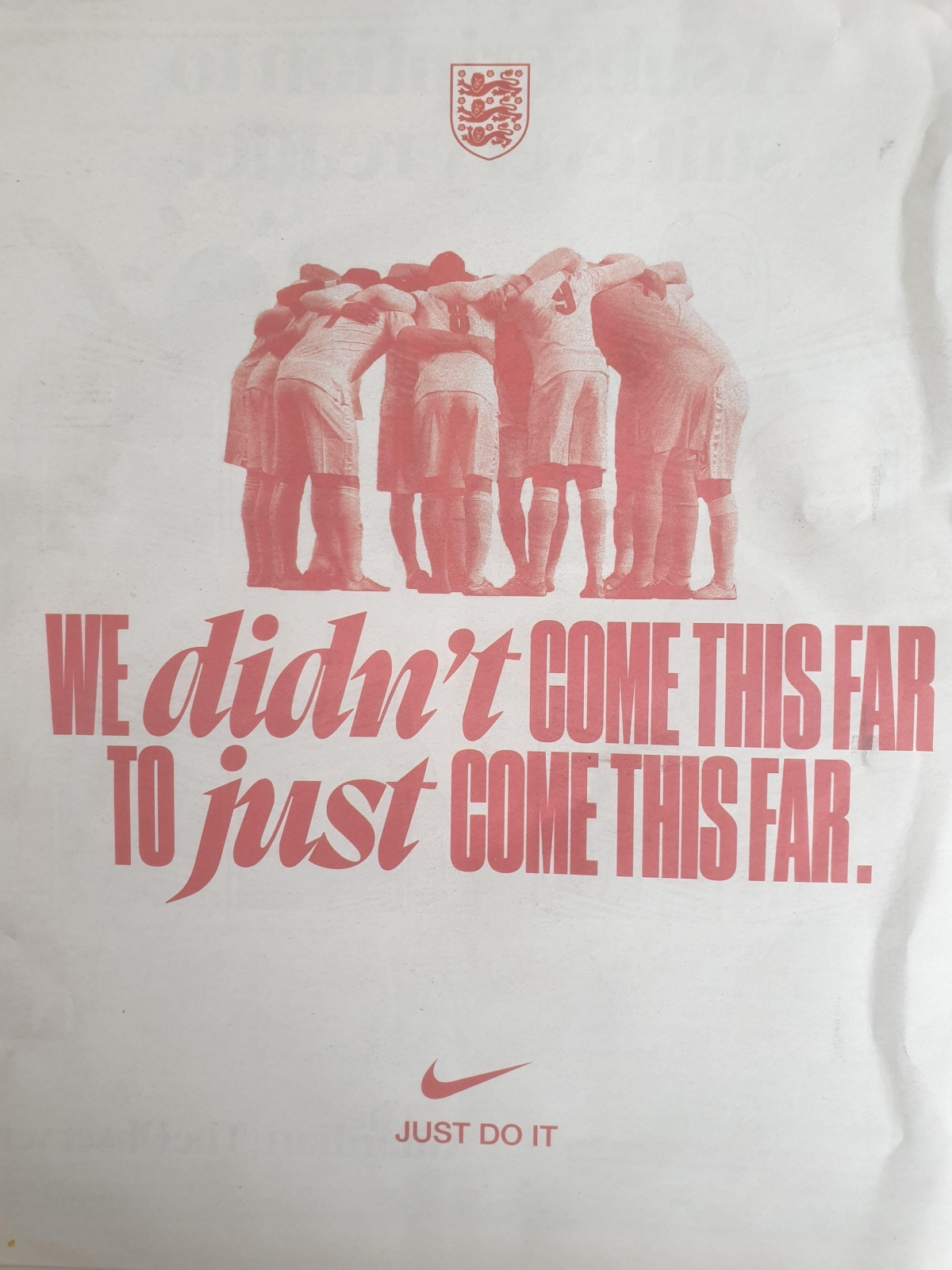 M&S hidden messages
On their Instagram feed, Marks & Spencer turned out an image of cakes and eclairs claiming to feature a 'hidden message' in support of England ahead of the final. What had they done?
Etched into the icing?
Subtly hidden an image in the dusting of icing sugar?
No.
They went onto Microsoft paint and pasted 'IT'S COMING HOME' in brown lettering. I mean awful, just awful.
Not funny or particularly clever and executed with such little effort they shouldn't have bothered. As a brand known for quality products, this doesn't exactly do much for their luxury credentials.

Volkwagen's tiny football car
Oddly, the stuff around the actual game itself can often become the star of the show in the mind of fans (anyone remember the referee magic line spray?).
Well, step up this year's fan favourite Volkswagen's 'Tiny Football Car'—a tiny remote control Volkswagen ID.4 transporting the match ball to the centre circle.
Within minutes of being on-screen on the opening day of the tournament, it had gone viral. With over 18,400 Twitter followers, the trusty VW ball boy signed off for the last time in the final with the tweet "Did I do good, @UKVolkswagen?"

If you enjoyed this article, you can subscribe for free to our weekly email alert and receive a regular curation of the best creative campaigns by creatives themselves.