Happy Fryday: Sarson's continues to advocate for the beloved British chippy

I had to give up every-Friday-fish-and-chips when the chip shop man started waving at me in the street.
So, I was cheered at the news it's our patriotic duty to go to our local chippy twice a year.
This is a noble act, designed to save our most British of institutions. Literally, the chip shop and spiritually, the chips. Thank you to Sarson's for giving us all the excuse in its new campaign. But I like this campaign not just because I like chips. I like it because it's the kind of idea an ad agency presents as 'PRable'…and then it actually is.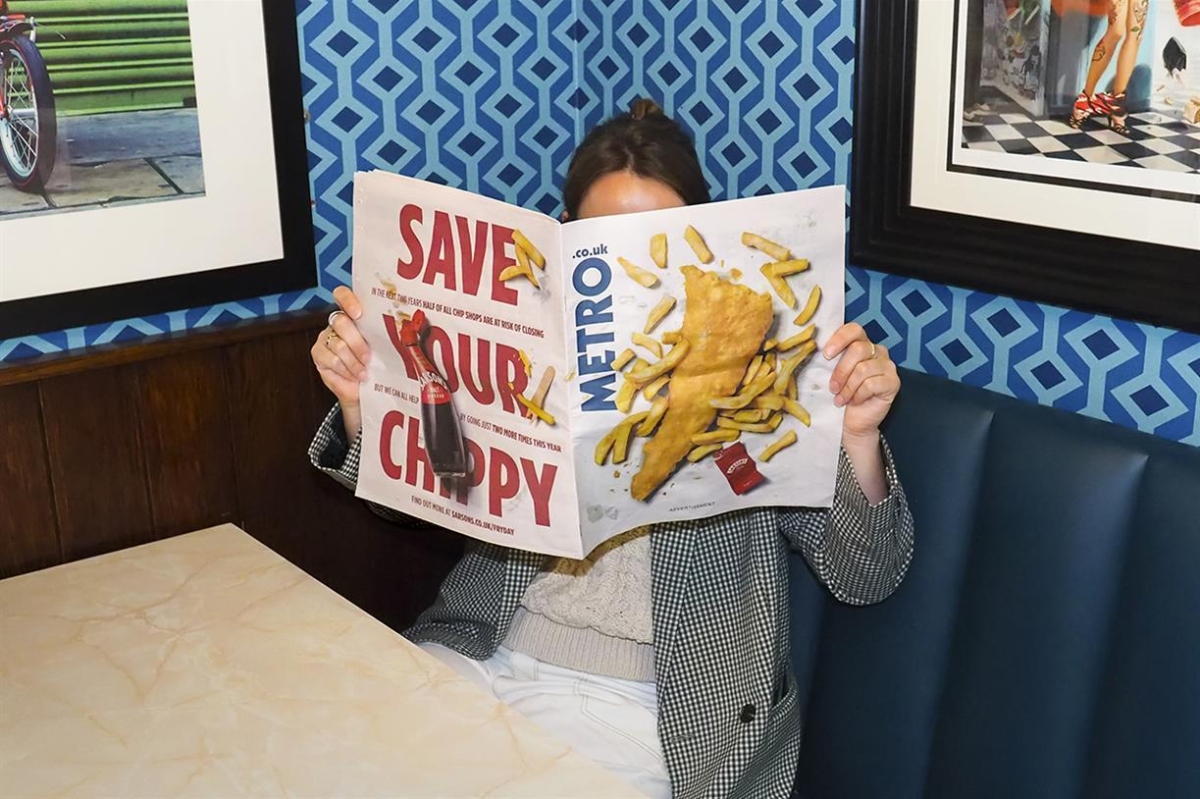 It's got a proper insight – chippies are struggling.
This probably isn't an insight, but the fact we can save them if we all go twice more a year is.
In the same spirit of 'just buy one card' to help small shops, it gives us a clear, easy and enjoyable way to tackle an issue and support our communities.
It's also got a proper purpose. American billionaire businessman Larry Fink says purpose is "not the pursuit of profits, but the animating force for achieving them". With a reported net wealth of $1bn, Larry clearly knows what he's talking about.
You will notice Larry did not say 'Purpose is not the pursuit of profits but of Cannes Lions' or 'Purpose is not the pursuit of profits but the attaching yourself forcefully to a newsworthy, but brand-irrelevant cause.'
For me, the proper purpose is a brand solving a wider societal problem pertinent to its business. Sarson's knows its success and the chipper's success is mutually reliant. It's a kind of symbiosis akin to Lennon & McCartney or indeed Ant and Dec. And that's why this works.

This campaign is an idea that naturally lends itself to many channels.
It's a cover wrap (clever, a call-back to the newsprint nosh-talgia of the 80s), it's probably a heart-wrenching video, it's a news story, it's a radio spot, it's influencers showing up to show up for their local.

But most importantly, it's an idea that lends itself to a chat.
"What shall we cook for dinner?" "Maybe go to the chip shop instead, we all need to go twice more a year I heard." "Best do our duty then.".
The chip shop is part of the fabric of life – even more so because fish and chips were actually brought to this country thanks to our proud tradition as a place of refuge. It's for Friday nights, post-pub-pints, seaside dates and filling family plates. This helps us keep it that way.
So, visit your local. Do your bit. And when they ask the inevitable question, answer: "Yep and plenty of vinegar."
Campaign by Wonderhood and W Communications with media planning handled by Bicycle.
If you enjoyed this article, you can subscribe for free to our weekly email alert and receive a regular curation of the best creative campaigns by creatives themselves.