Heathrow Airport uses symmetry of flightpaths to highlight African destinations

St Luke's has created a new campaign highlighting the range of African destinations accessible from Heathrow Airport.
The campaign features three executions using the simple, streamlined symmetry of flightpaths to trace a direct link between Heathrow and destinations including Cairo, Cape Town and Nairobi. It will run across digital out of home, digital display, social and print nationally until mid-July.

Each advert features the flight path and terrain from Heathrow to the destination. For Cairo and Luxor, it is traced in the footsteps of a couple enjoying the desert view. For Cape Town, the tracks of people strolling down Boulders Beach, and for Nairobi and Johannesburg, two offroad vehicles carve out the flight path while on safari.
This latest work builds on the new strategy launched in January to position Heathrow as the UK's best-connected airport and the perfect launch pad for the very best trips, wherever they may be. The first campaign highlighted the accessibility of ski destinations.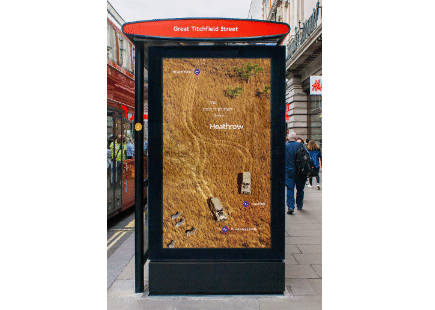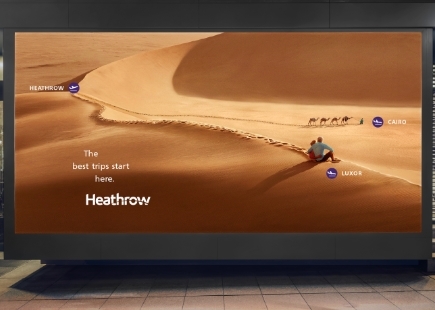 Meenal Varsani, head of marketing and customer engagement for Heathrow Airport, said: "With this simple yet evocative campaign, we want to remind people that truly memorable trips begin at the airport, while highlighting the inspiring and diverse range of destinations that Heathrow can offer people seeking to explore Africa."
Rich Denney, joint CCO, St Luke's, said: "There's a wonderful symmetry in the marrying of flight paths to the many experiences to be had from Heathrow's destinations. This set of ads for Africa forms part two in the series, and doesn't disappoint. It's another dream brief from Heathrow turned into wonderfully simple yet engaging creative; a joy for the team to produce them."
If you enjoyed this article, you can subscribe for free to our weekly email alert and receive a regular curation of the best creative campaigns by creatives themselves.