Heinz creates label with the exact pantone reference of tomato ketchup to fight ketchup fraud

'Ketchup Fraud' is real in Turkey, too.
Heinz Tomato Ketchup is a universal, consistent and instantly recognizable colour. For Heinz fans everywhere, there is no disputing whether the ketchup is Heinz or not the moment they see it.

True colours?
Wunderman Thompson Turkey has turned the Heinz label into a control tool to help customers check whether the ketchup they're eating being served is truly Heinz, or whether it's an imposter.
They identified the exact shade of red of Heinz Tomato Ketchup and added this colour to the edge of the label so customers can easily identify 'Is That Heinz?'.
If the colour on the label doesn't match the sauce in the bottle, people can see that it's not the original Heinz Tomato Ketchup.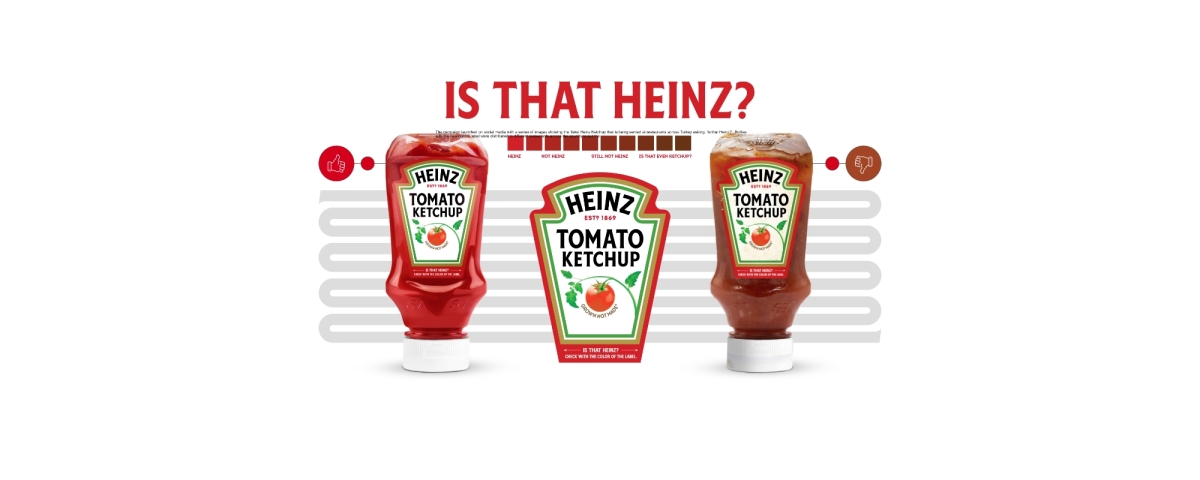 Commenting on the work, Ümit Taşlı, executive creative director at Wunderman Thompson Turkey said: "The people of Turkey love Heinz and want to see it being served in the restaurants they visit. The problem is, some small traditional restaurants or businesses fill the Heinz bottle with different ketchup brands and serve them as the original."
"We wanted to put an end to this so-called 'ketchup fraud' and create an innovative solution that will help customers identify whether they're eating the real deal, or whether it's an imposter," added Onur Kutluer, creative director at Wunderman Thompson Turkey.
Bottles with the new control label were distributed to different restaurants across the country.

The team has also rolled out an Instagram filter that consumers can download and use in different restaurants to check the colour of the ketchup, turning customers across Turkey into the Heinz police to finally put an end to 'ketchup fraud' once and for all.
The campaign launched on social media with a series of images showing the 'fake' Heinz Ketchup that is being served at restaurants across Turkey asking, 'Is that Heinz?'.
If you enjoyed this article, you can subscribe for free to our weekly email alert and receive a regular curation of the best creative campaigns by creatives themselves.