How Brewdog's proactive and unpredictable approach keeps them leader of the pack

The Background
Everyone knows Brewdog.

It's that anti-establishment (more on that later) beer brand from Scotland that has arguably accelerated the craft beer scene more than any other brand.

Their marketing is absolutely rampant.

In the past month we've seen the brand: become 'climate activists' by going carbon negative; respond to Aldi's Anti-Establishment IPA knock-off with their own ALD IPA brew; collaborate with Ricky Gervais on Street Dog, a limited edition Punk IPA featuring dogs up for adoption; announce its Overworks fruit beers would be made using surplus fruit; launch Hello My Name is Gale, a beer to celebrate being wind powered; collect unwanted apples to giveaway Hawkes cider (owned by Brewdog) highlighting wasted apples in the UK; make Punk IPA available in trash cans to highlight that a billion good cans are wasted annually; add carbon footprints to all items on menus and packaging; and probably more.

All that in one month. That's a year's work for most marketing departments.

I'm going to focus on one of those seven campaigns from the past month and take a broader view of their marketing overall.
The Big Idea
Street Dog is a limited edition Punk IPA (limited edition packaging) that offers up space on the can to publicise dogs in need of new homes.

The cans feature the profiles of dogs from dog adoption charities Dogs on the Streets and All Dogs Matter.
The campaign launched in response to Ricky Gervais' unprompted shout out to Brewdog's beers leading to the brand wanting to offer something in return, the comedian being well known for his animal rights activism.
What They Did
As well as launching the beer packaging, Brewdog's been able to develop a good relationship with Gervais leading to him accompanying the launch with a quick video describing his involvement and admiration for the project.
In the perfect quote to back the campaign Gervais claimed "Is that not f***ing amazing? If that was my only legacy, I'd be happy with that!"

The campaign also ran in the US, teaming up with local charities and dogs.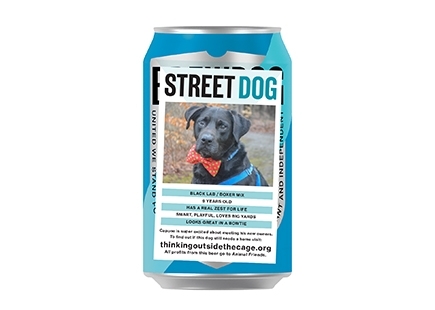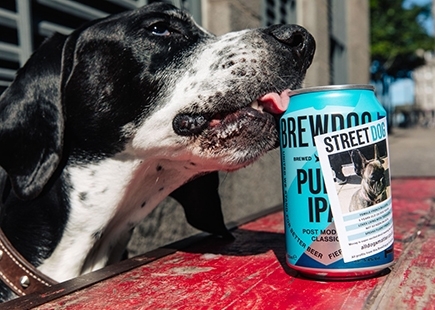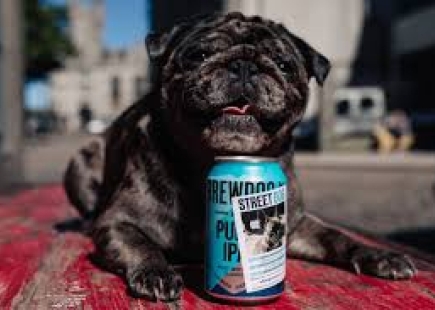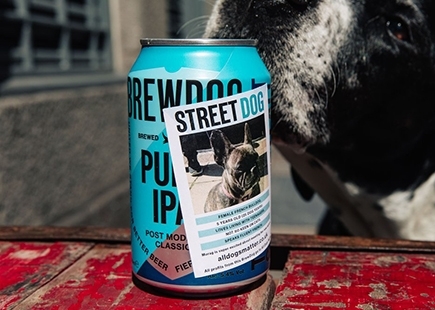 The Review
We've seen a few of these kinds of campaigns recently, like Deliveroo adding missing people to riders' bags. It's a simple and effective tactic given it's all on brand owned space so costs are minimal.

And it helps dogs, so that's a big plus for any campaign in my book. Beer + dogs = winner.

These limited edition beers Brewdog produce manage to grab headlines, people share them on social media, and Brewdog gets a big pat on the back. But these are seemingly no longer available to buy having been available to pre-order through the Brewdog website suggesting that volumes are low. Who knows, perhaps it'll be restocked with more dogs on cans.

This would be so much more powerful if I could go to Tesco, grab a four-pack of Punk IPA and it have the Street Dog packaging across the next few months perhaps.
In Hindsight
Brewdog's marketing has become like a game of fetch – see something, grab it, and quickly run off with it. Opportunistic and slightly unpredictable, which other brand is releasing a beer mocking Dominic Cummings one week and rehoming dogs the next?

And of course, on the face of it, it's working for them – Brewdog was recently placed within the top 20 beer brands in the world by Brand Finance.

At the same time, it's the scattergun approach that's landed them in hot water in the past, like the 'free beer for Trump supporters' Scofflaw partnership they claimed to know nothing about, or the No Label beer launch that was meant to champion diversity but missed the mark for the transgender community.

Even in the past week the response to Aldi's Anti-Establishment IPA with 'Yaldi IPA' had to be quickly changed to 'Ald IPA' to avoid being seen to copy another brewer's beer name.

But that's what being a punk is all about I suppose, and they stick by their principles in that respect. Ultimately, these campaigns do the job, particularly when piled up one after the other. They get that message and feeling across that Brewdog is funny and proactive in its quest to be different.
If you enjoyed this article, you can subscribe for free to our weekly email alert and receive a regular curation of the best creative campaigns by creatives themselves.