How Quiet Storm used simple technology to re-scope its work for Zoflora

BOAST is a place where you can find out about recent creative campaigns.
It is a space where agencies and creatives can tell us about the new work they are proud of; blowing their own trumpet, so to speak.
Here's the latest from the creative world as we know it.
The Background
The circumstances we find ourselves in have challenged us personally and professionally, unearthed our adaptive qualities and forced us to 'think different'.

The rules are changing by the day so the landscape on which agencies attempt to build work is constantly on the move.

Many creatives found themselves mid-pitch or mid-project at the point of lockdown, having to re-think and, in many cases, re-do what was planned in a Covid-19 friendly way. A challenge in itself, agencies were also tasked with constantly updating ideas, plans and production schedules.
The Challenges
Quiet Storm's first campaign for Zoflora - a disinfectant brand it won in November – didn't come off exactly as planned.
Thanks to COVID-19, the shoot for the agency's pitch-winning idea had to be postponed just a couple of days before the team was due to fly out to Prague. But sales of Zoflora were soaring, as hygiene took centre stage in people's lives, and the brand saw the importance of building on this momentum and to fulfil the commitment to invest in brand building and development of a distinctive brand personality.

So it was quickly back to the drawing board, and Quiet Storm came up with a new concept that was approved, tested, produced and on-air within a month.
The Campaign
The 'One Big Beautiful Home' campaign celebrates our common cleaning habits and the sense of community and togetherness brought about by the pandemic.
Despite the restrictions, it was important to make a good quality commercial, so the agency put together equipment packages to send out to the cast – most of whom weren't professional actors, let alone camera operators. Production Director, Alex Azis, gloved up to make sure that nothing got contaminated, and sent bespoke packages to 29 different households around the country, from Cornwall to Yorkshire and everywhere in between.

"It was finding the right balance," Director, Trevor Robinson said. "We needed to find usable tech that would give good results but was cost-effective." The team's big epiphany was to use the gimbal, which is like a next-generation selfie stick that smooths out the shaky bits when you film yourself moving around with your phone.

Robinson continued: "I loved the gimbal. And I loved the techniques that Alex and David brought together to make this. The restrictions inspired us to come up with all sorts of fun solutions. Visually, we got quite Michel Gondry, on a low level."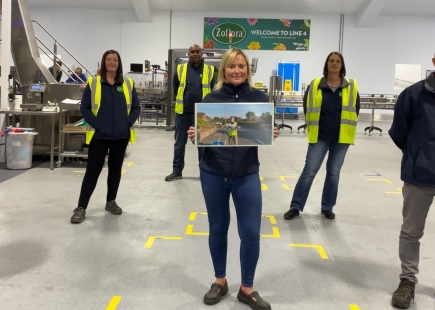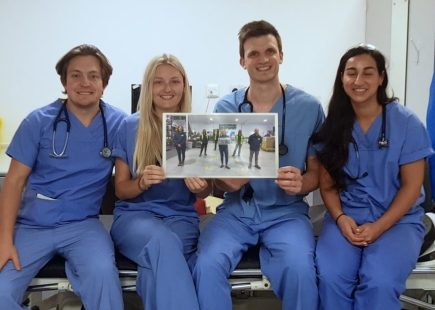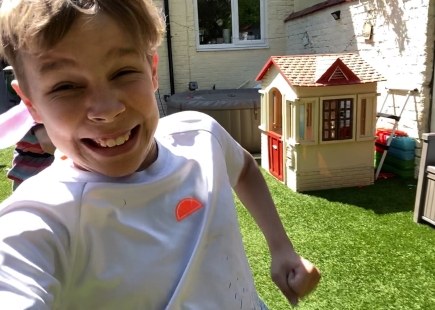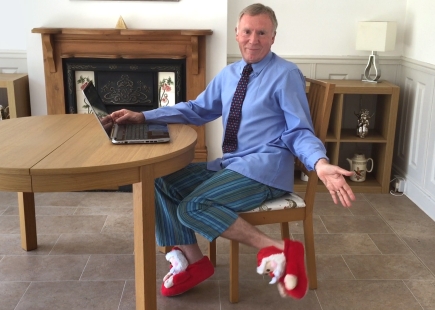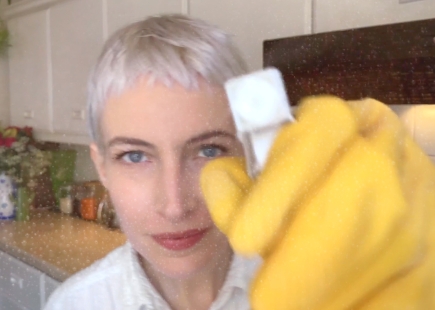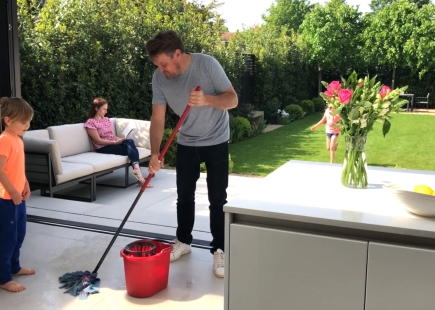 The Footage
David Owen, Editor and Technical Director at Quiet Storm said: "I was really impressed with the quality of the footage that came back from all of the participants, although it wasn't without its quirks. We wanted to create something that stood out from all of the other UGC ads on air at the moment, but needed to keep the process simple enough that it could be shot at home, on a phone, and explained in a way that anyone could understand."

The team briefed the shots over Zoom calls and eagerly waited for the footage to return. When the first one came back, everyone was relieved to see it all worked as planned. File naming inconsistencies, variable frame rates, mixed resolutions, inconsistent motion blur, high compression rates, etc…these were all things that needed to be addressed when dealing with footage from a phone. Although – with a bit of planning - once things were in the edit suite, it was business as usual.

Owen added: "Working remotely with the director, producer, and agency was really smooth. Video calls and screen sharing made for a great virtual edit suite. I could move to Cornwall and no one would know…but as impressed as I was with what was shot, I still came out thinking – give me footage from an Arri Alexa over an iPhone any day of the week."
The Changes
During production, Trump made his famous comments about ingesting disinfectant to kill off the virus, so the agency had to go back and reappraise the script, to make sure that nothing in it could in any way look like it was endorsing anything dangerous. There had been a shot where a banana's skin was wiped down with Zoflora (to reflect that many people have adopted curious new routines of disinfecting things to keep their families safe) but this was replaced with tin cans just to be on the safe side.

Every shot was meticulously planned out, and some of the briefs were sent to multiple households, to take the pressure off one person having to get it right.

The shots show families at home; people taking work video meetings dressed for business only on their top half while managing to stay in pyjamas; distanced deliveries; home work-outs; and lots of other relatable scenes portraying the positive and funny elements of lockdown that many people are experiencing. As well as reflecting that; alongside everyday household cleaning, people are disinfecting things they would never have thought of disinfecting before.
An element of post-production magic was inserted to make the footage stand out from other ads at the moment that is filmed in homes. Not only was the image quality high from the camera kits, but a technique using tracking boards to link each shot to the next through an image held in the participants' hands provided a portal through which the next scene emerges.

Trevor Robinson, director, said: "I realise how simple my life normally is. I tell an actor how they do it and they use their skill and instinct to get it right. Everyone was lovely, but working remotely with people who are not aware of how they look on camera can be a challenge. Even getting people to smell a rose becomes quite difficult – some of them looked like they were headbutting it. For reference, you need to go in quite close, inhale, and then move away.

Trevor, Alex and David all agree that; "Other elements of working remotely, from late night video calls with the client with Guinness' in hand, to meeting everyone's kids and dogs, will make this one we won't forget." They are pleased with the quality of the final work, and learned a lot from the process. Some elements – especially the gimbal – will be useful going forward, but all in all, Alex says, "If there was an option to shoot it normally, we'd take that."
If you enjoyed this article, you can subscribe for free to our weekly email alert and receive a regular curation of the best creative campaigns by creatives themselves.