Tony's Chocolonely encourages its rivals to imitate it and help end modern slavery in the trade

To be a challenger is exciting, a David and Goliath opportunity for the small to win big.

Some of you may know I love a challenge.
Whether campaigning to get a stock image of an egg to be the most liked ever, stuffing a complete Christmas dinner and pudding into a tin can, or after going into lockdown last year, petitioning Daniel Beddingfield's 'Gotta Get Thru This' to replace our national anthem (sadly, this one failed).
As individuals, we challenge ourselves every day to eat better, work out, spend less and see family more.
If 2020 taught us anything it's the collective power we hold to challenge existing conditions. Whether that be protesting for injustice on the streets or taking it to Wall Street online.
So how does that play out for us as brand disciples?
Why are we ok with so many so-called challenger brands failing to live up to their name and actually challenge their industry status quo?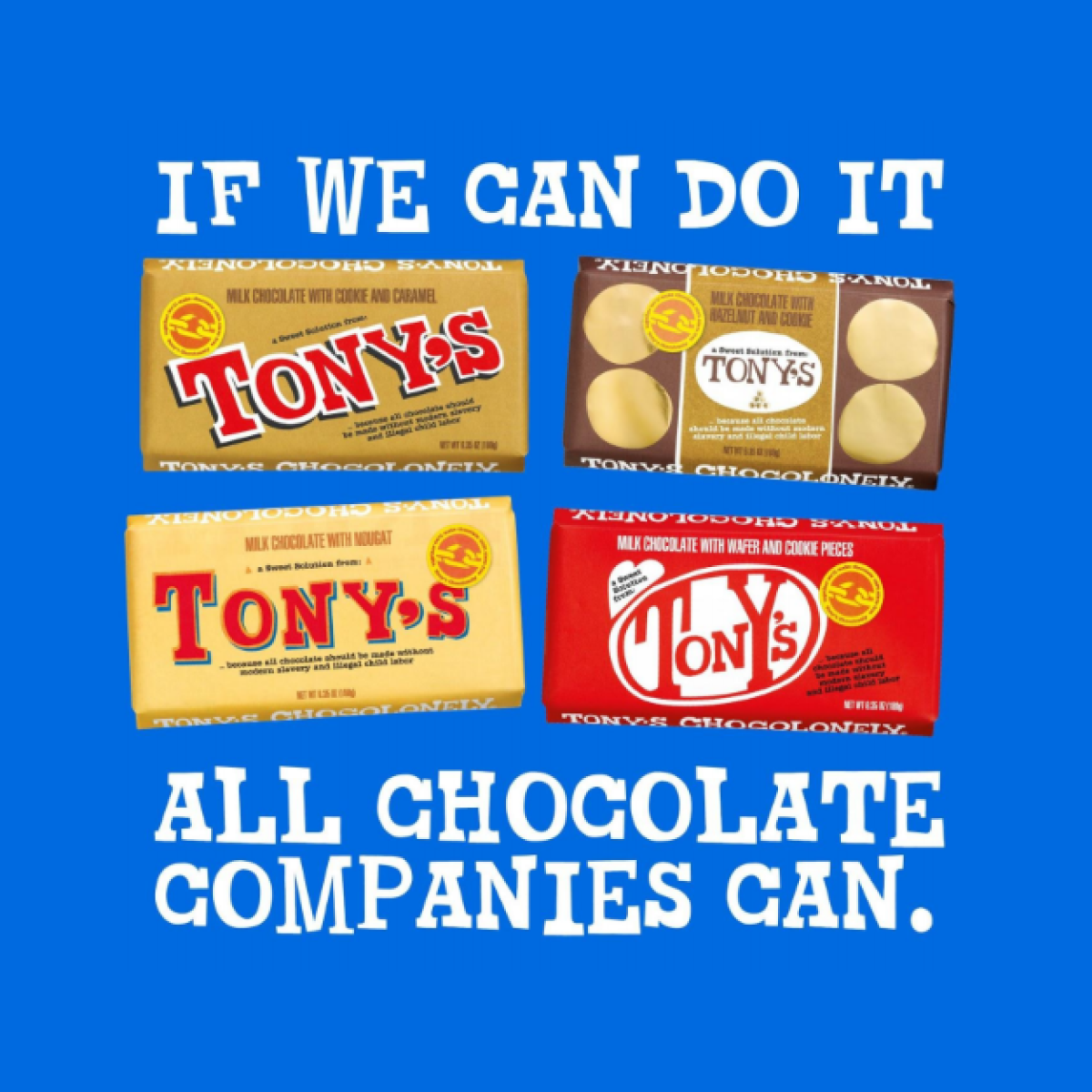 Real challengers
In Adam Morgan and Malcolm Devoy's book Overthrow II they break being a challenger down into 10 categories, ranging from Feisty Underdog to Enlightened Zagger. Seeing that and even billion-dollar brands calling themselves 'challenger', you could argue it's more about marketing kudos than changing any norms.
There are a few brands that I see truly embodying the challenger mentality mindset.
First up is the well-known Brewdog and their carbon negative drive, the first of any beer brand. Then up-and-coming condiment kings Dr Will's mission to tackle the uncomfortable truth about hidden sugar content in our table sauces.
But it's Tony's Chocolonely that have really pulled no punches recently, and in my eyes are the perfect example of a true challenger brand.
It's not just their mouth-orgasm product that got me purring, it was their story and mission to change the industry they call home that cemented my loyalty to them.
In 2001 the Harkin Engel Protocol was signed and the chocolate industry pledged to end all illegal labour in the cocoa chain. So that should have ended long ago, right? Wrong. Many people still live far below the poverty line.
20 years on, Tony's slave-free chocolate wanted to make a point, so it recently made its process open chain, so any of its competitors could copy them. Tony's Chocolonely position The Open Chain as "an industry-led initiative that helps chocolate brands transform their cocoa supply chains."

Real inspiration
To give existing manufacturers an extra push to "inspire" other international chocolate makers to take action, Tony's imitated their branding and ingredients with their own bars.

We've seen a fair few brands tackle critique with humility of late, and bravo to them. Not so here, with the big dogs pressurising some supermarkets to pull the bars from the shelf, which they rather unsportingly did.
Will that stop Tony and his cocoa crew? Nah. That's the spirit of a true challenger.
When your bottom line isn't the bottom line. When doing the right thing is worth more than extra profit.
Human nature has us naturally wanting to fit in, to belong.
So to boldly call out the most popular is a pretty ballsy move and one that in my eyes we need more of.
So here I am, with my fist raised and chocolate round my mouth asking us all to be a bit more Tony.
If you enjoyed this article, you can subscribe for free to our weekly email alert and receive a regular curation of the best creative campaigns by creatives themselves.