Meet The Maker: The Christmas Tinner Story

The year is 2013.
The agency is MHP-Engine.
And the campaign is GAME's Christmas Tinner.

It all began when someone wondered where 'that idea' had gone.
'That Christmas Tinner idea, the Christmas meal for gamers? I've been through the client presentation and I can't find it?' This was posed more like an accusation than a question.

'Oh yeah', replied the account manager, 'None of us could see how it would get coverage and it was just a bit...weird. So we took it out.'
Every December it resurfaces with predictable regularity, the social media meme equivalent of Slade's Here It Is, Merry Christmas (minus the royalties). It became a viral hit again when GAME revived the original content in 2019 - with a new vegan alternative.
Christmas Tinner cost a tiny sum to create, was the number one trending topic on Twitter in the UK and US, crashed the GAME website, a finalist at Cannes, won numerous 'Campaign of the Year' accolades and it almost didn't happen because the account team thought it was 'weird'.
Things hadn't been going well.
MHP was a big name in corporate, health, and public affairs PR with a small consumer team. I joined in January from Cow, a maverick creative agency. It was October and I'd not had a single campaign idea activated. Many didn't even make it to the client eyes for the aforementioned reason.

To use a football analogy, I was an expensive signing, a misfit who hadn't fitted into the team's style of play - and I was on the bench!
If things didn't work out by Christmas, I told myself, it would be time to go.
However, I was determined to get this idea - which I really believed in - signed off and pitched it directly to Stephen Lynn, the client at GAME.
'Love it!', he said. 'Do it'.
The original brief had been for a stunt to mark the Christmas release of PS4 and Xbox One.
With multi-million-pound marketing campaigns from Sony and Microsoft and a £15k budget, there was nothing we could add to the noise, anticipation, and excitement.
But what about the target audience of gamers?
The ones who roll out of bed, fire-up their console and play it for days on end in their pants and t-shirt, subsisting on whatever junk food is in easy reach?
If you've waited months to unbox a new PS4 you just want to play all day non-stop, you don't have time to sit down for Christmas dinner, let alone cook.
I wanted to create a subversive convenience product or service that responded to that insight but didn't have the solution until I saw an article on a design website.
A Kingston University student called Chris Godfrey had created a 12-course meal in a tin as a protest against austerity.
With client sign-off, I tracked Chris down and said 'That thing you made. I want to do the same for Christmas dinner'. I explained the idea, how it would be for clickbait rather than commercial sale.
We made it, shot it, and were ready to go.
The plan was simple.
The backstory was that GAME had released a limited-edition trial run in-store and online. It had sold-out, but if there was enough consumer demand they'd consider making more in time for Christmas.
GAME would pump our images out from their social feeds.
Links in posts and articles to drive viewers to the GAME site to a page where the Christmas Tinner was listed as SOLD OUT among a number of key gift products - consoles, games etc - that were not.
Plans are never simple.
Sometimes they can fall apart due to events beyond one's control, other times to human error. On this occasion it nearly failed to launch due to human stubbornness beyond one's control.

On the day of launch, the chap who managed the social feed for GAME staged a mutiny. He argued that as the content didn't feature consoles, games or in-game characters it didn't fit with his strategy. He also pointed out he ran social, not the marketing or PR team - then turned his phone off, refused to reply to any emails and went into lockdown. Charming.
The MHP team was already issuing the story to media. However, journalists thought it was clearly a spoof and were not buying our backstory. Faced with no alternative, I shared the images and links from my own personal Twitter feed. Within a few minutes - and thanks to a retweet from Andrew Bloch - all hell broke loose on social media. Timelines were filling with Tinner.
The next morning I turned the car radio on to hear Nick Grimshaw on Radio One in mid-flow '...turkey, stuffing, mince pies, sprouts, roast spuds all in the same can. It's called Christmas Tinner. It looks absolutely disgusting and I want one!'. In true pop music fashion,
I knew we had a hit.
That same day the GAME social feeds also shared the content, but by then they didn't need to. The horse had bolted. Within 48 hours it was covered around the world - with media speculating if it was genuine (and the French haughtily commenting on the state of British cuisine) and the subject of an SNL sketch with Seth Myers.
Even The Smithsonian covered the reaction, describing it as less a commercial product, more a piece of art.
Swoon.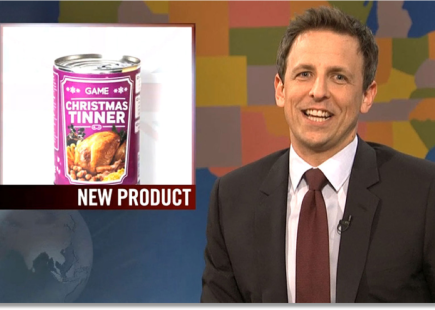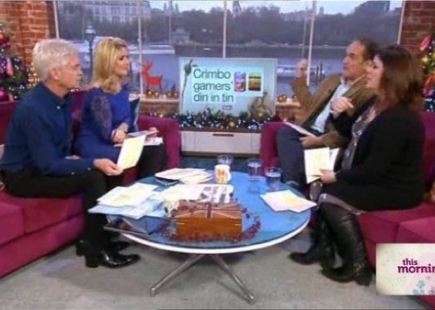 The End.
Given it was pulled from a deck, it shows the importance of sticking to an idea to see it through, digging your heels in to make sure it gets made. Of being even more stubborn than a rogue social media manager.
Also, be patient and persevere when you go to a new place. After a year of frustration and firing blanks, it kickstarted a very happy and productive four-year creative run at MHP, one where 'weird' was rapidly embraced to good effect.
As for Chris Godfrey, he graduated, got a job as a creative in advertising and hasn't done too badly either. In 2019 he found fame when he broke Kylie Jenner's world record for the most-liked image on Instagram with an egg called Eugene. He is now co-founder of creative agency Happy Yolk.
If you enjoyed this article, you can subscribe for free to our weekly email alert and receive a regular curation of the best creative campaigns by creatives themselves.