JD Sports champions the iconic duffle bag in its Christmas campaign

Created by Uncommon, the new JD work celebrates over 25 years of the iconic JD duffle, cementing its unrivalled status in British youth culture.
JD, the youth fashion and sportswear brand retailer, has announced its new brand platform, 'Forever Forward' with a seasonal campaign titled 'The Bag for Life'.
The multichannel campaign from Uncommon will span across VOD, cinema, retail, OOH, DOOH, murals, social and online in the UK, Australia, Canada, South East Asia and Europe.

This year, JD celebrates 25 years since its iconic duffle bag first launched. The duffle bag's role as an enduring symbol of British youth culture sits at the heart of this new global campaign. Whether serving as a boot bag, a record bag, a school bag, or carried crossbody, the JD duffle has been an unwavering companion through generations.
The work celebrates the JD duffle bag and the people who wear it — reflecting the authentic role JD continues to play in youth culture today.
The campaign is spearheaded by a heightened documentary style film — titled 'The Bag for Life' — marking a distinct new direction for the brand.
Soundtracked to the timeless classic 'Sweet Harmony' by Liquid, the launch film is rooted in authentic, relatable, real-life scenarios of JD consumers.
From a first kiss, to kickabouts on the street, family gatherings and hanging out with mates, the film follows the JD duffle bag forwards through moments we all know and love during the holiday period.
The film is curated with talent across sport, entertainment, music and culture — featuring fifteen well-known faces alongside street-cast young people to empower and inspire the next generation. Talent includes: Kano, Central Cee, Joy Crookes and Nia Archives. Directed by Amara Abbas from Iconoclast, the film deviates from archetypal Christmas tropes, delivering a counterpoint that resonates with the brand's core audience and communities.
To kick off the outdoor campaign, the executions initially teased mysterious shots of unknown models wearing the iconic JD duffle bag from behind. When the campaign went live, all media switched simultaneously to reveal the identity of the models: celebrity talent — also icons of youth culture today.
Key OOH will also go live in relation to key areas associated with the talent — for example Central Cee's execution will be across Shepherd's Bush — his home neighbourhood.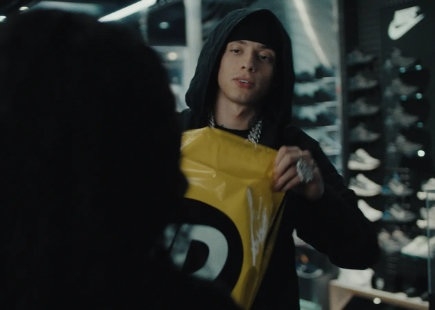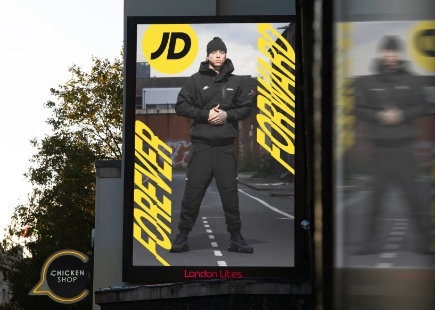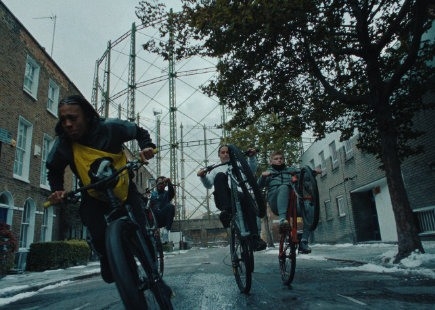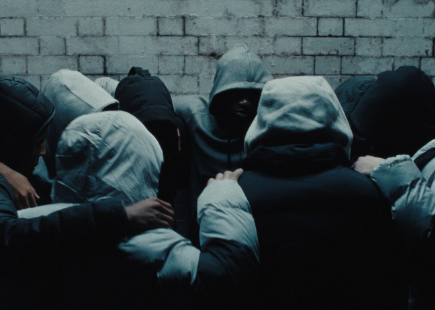 Benny Everitt, executive creative director at Uncommon Creative Studio said: "The JD duffle bag has been a central part in British youth culture across the years. We wanted to create a campaign that celebrated its relevance today now more than ever — using the bag itself as a connection point between the brand and its audience. Using authentic moments, talent and tactical outdoor to bring this message to bear over the festive season."

'Forever Forward' launches in JD stores, shopping malls, and high streets this November, serving up all the sports fashion essentials this Christmas. The iconic JD duffle will be recreated and brought to life through a series of fun consumer digital and in-store experiences.

Credits
Creative Studio: Uncommon Creative Studio
Client: JD
Project Name: The Bag for Life — Forever Forward
Global Managing Director: Mike Armstrong
Marketing Director UK & EU: Chris Waters
Director of Social and Third Party Brands: Neil Corrie
Director of Multichannel Content: Ben Ingoldby
Head of Marketing Operations: Stephanie McClelland
Senior Marketing Manager: Louisa Craggs
Senior Creative Lead: Connor McManus
Campaign Manager: Rachel Coope
Head of Projects: Cristiano Molha
Head of Design & Artwork: Adam Bond
Producer: Liv Johnson
Head of Photography: Martyn Leather
PR Manager: Abbie Mattingley
Production Company: Iconoclast
MD/EP: Jean Mougin
MD/EP: Guy Rolfe
EP/Head of Production: Kate Sharpe
Director: Amara Abbas
Producer: Luke Plaister
Service Producer for SugarFree: Michelle O'Brien
Production Manager: Marian Mikhail
DoP: Nicolas Loir
Production Designer: Bon Walsh
1st AD: Jim Cole
Edit: Trim
Editor: Tom Lindsay
Producer: Polly Kemp
Post: Electric Theatre Collective
VFX Lead: Hani Al Yousif
Colourist: Jason Wallis
Producer: Oscar Wendt
Sound Studio: Factory
Creative Director of Audio: Anthony Moore
Sound Design & Mix: Michael Haines
Audio Production: Ciara Wakley
Music Supervision: Mr Pape
Music Supervisor: Paul Brown
'The Bag for Life' — Full Cast
1. AntsLive: A trailblazing DJ, musician, and producer whose boundary-pushing beats have set new standards in the contemporary music scene.
2. Cat Burns: A powerhouse singer-songwriter who harnesses the strength of her stunning vocals to captivate and uplift audiences worldwide.
3. Central Cee: A dynamic rapper whose lyrical prowess and magnetic presence embody the essence of youth culture's unwavering spirit.
4. Chunkz: A versatile content creator and comedian whose infectious personality has won the hearts of millions across social media platforms.
5. Darkest Man: An exceptional artist, fashion influencer, and lifestyle content creator whose avant-garde approach has captivated global audiences.
6. Davido: An internationally acclaimed musician, songwriter, and producer who continues to redefine Afrobeat, breaking barriers and chart records.
7. Ella Toone: A European champion and Manchester United Women's F.C attacking midfielder who is a global sporting inspiration.
8. Joy Crookes: An immensely talented singer-songwriter whose soulful melodies and poignant storytelling transcends generations and genres.
9. Nia Archives: An advocate for social justice, artist, and poet, whose work stands as a beacon of hope, unity, and empowerment.
10 Kano: A visionary British artist, entrepreneur, and pioneer actor, showcasing the power of artistic expression and forward-thinking.
If you enjoyed this article, you can subscribe for free to our weekly email alert and receive a regular curation of the best creative campaigns by creatives themselves.