Posters with huge, peel-off vouchers for free meals at Nando's create great PR and online content

The Background
Nando's, everyone's favourite cheeky peri-peri chicken chain and winner of Preston's best restaurant 2019, has noticed there's 1.8 million unclaimed meals worth of points on its loyalty cards.
To most brands this is exactly what they want from loyalty schemes – dormant points that lay unclaimed and expire – or perhaps that's just the cynic in me.

The Big Idea
Nando's decided to encourage people to check their wallets for unclaimed rewards by running a sort of treasure hunt.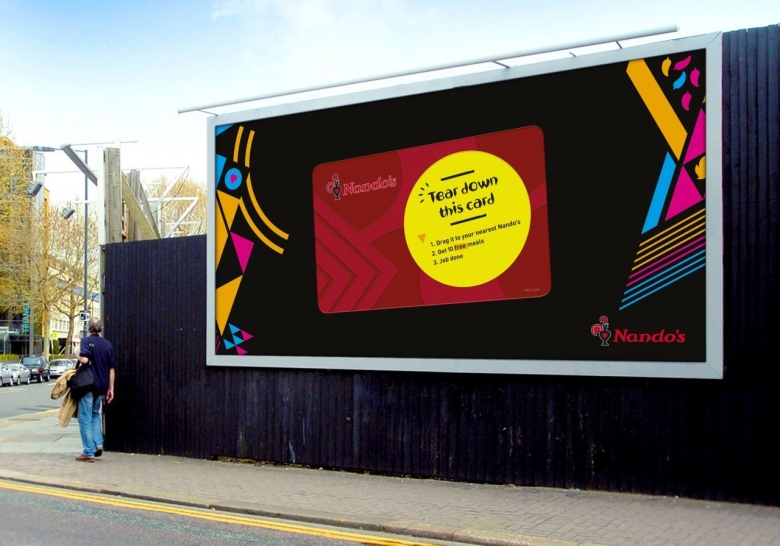 What They Did
The highlight activation in this campaign is the interactive use of its large, out-of-home spots across a few sites.
Initially the ads read – "free Nando's coming soon" before a massive rewards card appeared at a few sites in London and Manchester.
The extra-large cards were stuck using Velcro on to the billboard with the message "tear down this card" along with what to do with it.
In those spots, that begin with "Fancy a free Nando's?" on screen, viewers can head to a restaurant with nine mates and claim free meals all-round.

Alongside the out-of-home aspects of the campaign, Nando's also ran digital pre-roll highlighting the other creative ways to get a rewards card such as 3D printing one, or paying an art forger to create one followed by the message of there being 1.8 million unclaimed rewards.
The Review
I came into this review thinking it wasn't all it was cracked up to be – out-of-home sites are just on the side of dirty roadsides – the sort that break their air pollution targets for the year by 3 January.
And then I read that a brand representative will be at the site to help peel it down. So not as unexpected and treasure-hunt like as it first appeared.

That said, Nando's has managed to create some decent content (as seen on its Instagram) of groups supposedly seeing and taking the massive cards down to a restaurant.
Looking at the comments at least some of these instances aren't manufactured.
Ultimately, the ads and massive cards have combined well to get a positive message out there through PR and paid channels.
The underlying message of helping people realise they're sat on a tasty goldmine helps re-engage customers and show Nando's as being on their side at the same time.

In Hindsight
Could it have taken the principle beyond out-of-home roadside sites?
Opening up a range of decent spaces in a wider range of towns and cities perhaps?
With the work set to run to 5 May with smaller sites with vouchers-for-one up for grabs, it'll be interesting to see if there are more unexpected locations and shareable moments as customer's claim rewards.
If you enjoyed this article, you can subscribe for free to our weekly email alert and receive a regular curation of the best creative campaigns by creatives themselves.