Papa Johns celebrates Chinese New Year by connecting with Gen Z through family and culture

A campaign by Qumin
American pizza franchise, Papa John's, has launched an animation in celebration of the Chinese New Year (CNY), winning emotional connections with Gen Z audiences in China through its partnership with London and Shanghai creative agency Qumin.
The first Papa John's pizza was made in a broom closet in Jeffersonville, back in 1984. Now the brand runs more than 5,000 locations in 45 countries and territories around the world. In China, Papa John's has amassed over 210 restaurants and is set to add another 30 stores in 2021. In support of stronger brand growth in China, Papa John's would like to expand its connection with young consumers, especially with Gen Z, who are leading the future of an increasingly digitally connected world.
Traditionally for Chinese New Year, people gather to share good luck and best wishes by sending red packets, greetings, gifts, and wishing others a prosperous year ahead. This year Papa John's will launch a pizza that uses beef as the key ingredient to symbolise entering the new year of the OX, to wish for a 'bullish' year that is full of luck.
The Story
The film involved critically acclaimed music composer and audio designer, Nick Bulavin.
It tells the story of a determined grandfather whose biggest wish is to prepare something special for his granddaughter, who is set to visit during Chinese New Year. He knows that her favourite food is pizza, but, as it is not a traditional Chinese dish and certainly not one that is on the CNY menu, he does not know how to cook it from scratch.

Food is integral to Chinese New Year and there is an emphasis on it being home cooked, fresh and, most of all, made with love.
Downtrodden after his own attempts to recreate pizza, he comes across a Papa John's restaurant.
Through the window he sees the 'Master of Dough' skilfully crafting pizza after pizza. In awe of the man's skills, the grandfather asks him to teach him his ways.
Finally, the day of the visit arrives and the surprise pizza is a huge success, not only with the granddaughter, but also with his son, who wells up when discovering his father's careful notes on how to make pizza.
With the respectful term "shifu" (master) at the heart of the campaign, the creative echoes the belief of taking great pride over things and crafting them with love.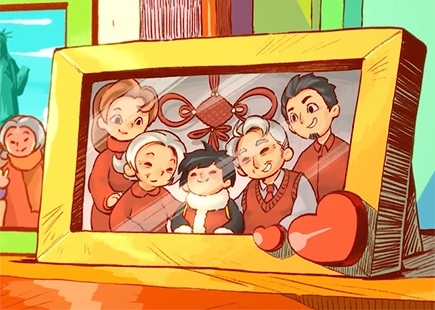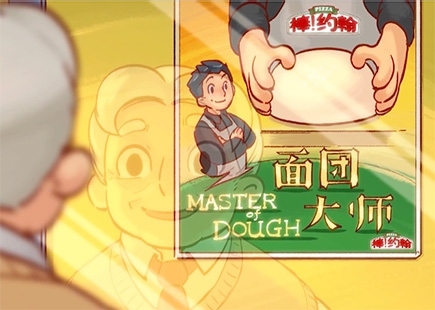 The campaign subtly boasts a number of traditional and societal references that make it well-thought-out, culturally relevant, and easy for the target audience to relate to. For one, the Chinese New Year festival, like Christmas in the West is a time when people journey home to be with their family - for many the only opportunity to see each other all year.

Distance, whether due to work, school, or living in a technology-filled world, has made the family reunion time during CNY particularly meaningful and important for everyone. In its film, Papa John's highlights the "traditional" love from grandparents was interpreted in a 'new' way by the older generation making the effort to make his love relevant. Recent research found that for the CNY period, top social key words are 'family', 'parents', 'grandparents', which made this animation of particular interest for the Chinese audience.
Jo Blundell, international marketing VP of Papa John's explained: "Papa John's is one of the world-leading pizza brands and positions itself as providing "Better Ingredients. Better Pizza.". However, in China's increasingly noisy and fast changing social environment, we faced challenges in reaching out to Gen Z and creating meaningful connections with young generations. Qumin caught our attention for its strong multi-cultural creative capability, which is important for Papa John's as a western brand trying to re-energise ourselves in China. We first started working with Qumin in December by creating a social campaign on Douyin, China's version of TikTok, which received overwhelming participation from Chinese consumers. For Chinese New Year, we would like to change the content and media format to tell a different story. The aim is to create a strong emotional story, leveraging the most important family reunion time to improve our brand equity with the young generation."
Arnold Ma, founder at Qumin commented: "We recognise the importance for an international brand, such as Papa John's, to understand the difference between people and cultures in China. We're proud to have helped Papa John's, who clearly care about authenticity and localisation, to create meaningful campaigns with a genuine social good contribution in China - touching the hearts and minds through creative video content during the most important festival of the year."
If you enjoyed this article, you can subscribe for free to our weekly email alert and receive a regular curation of the best creative campaigns by creatives themselves.