UK content creators say no to AI beauty filters for a safer social culture online

Creating a safer, healthier and more positive social culture.  
Gleam Futures, DENTSU CREATIVE's talent management and influencer marketing practice, together with leading UK creators have launched a nationwide campaign against the use of beauty filters - AI-powered editing tools designed to secretly alter your true appearance on social media - as part of the agency's wider pioneering efforts to create a safer, healthier and more positive social culture.  
 The group, with a combined following of millions, includes Gleam Futures roster talent Gemma Styles, Adele Roberts, Emily Norris, Anna Whitehouse (AKA Mother Pukka), Poppy Deyes, Clair and James Buckley, Paula Sutton, Kat Farmer and Grace Victory.
The creators have also signed up to a manifesto agreeing not to use beauty filters - the likes of Facetune, Perfect365 or TikTok's AI filter Bold Glamour which has racked up nearly 1bn views since its February launch - across their social media content.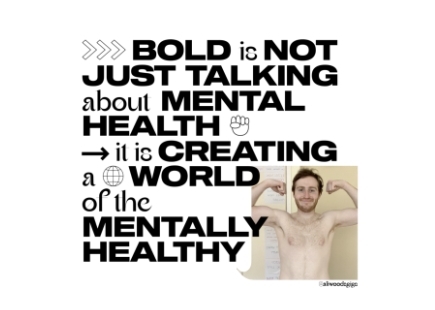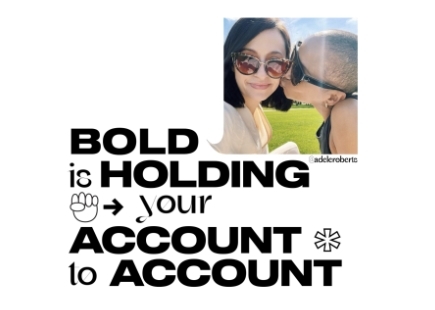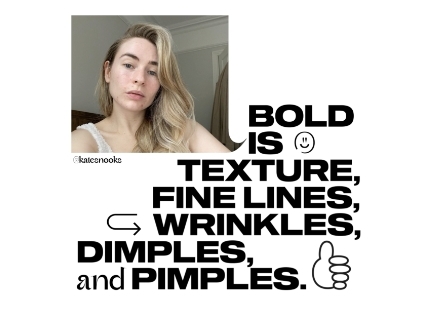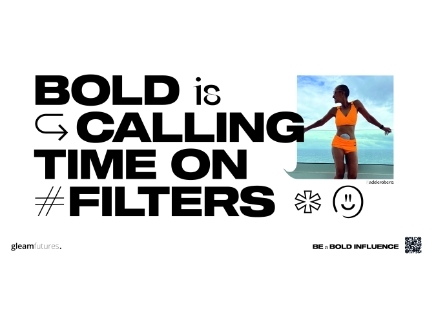 The work calls on everyone to 'Be a Bold Influence'.
It celebrates '8 billion versions of beautiful', 'self love in every shape and size', 'texture, fine lines, pimples and dimples' and champions 'leaving the planet better than when we started' and 'creating a world of the mentally healthy'. 

The Gleam manifesto, which the group is actively encouraging all creators to join as of this week, urges creators to hold their account to account, and not post any content that promotes distorted or misleading beauty standards. All newly-signed Gleam Futures talent will be asked to sign up as the agency looks to build a more sustainable and ethical creator industry.
As part of the campaign, the group is demanding the Government bring the upcoming Online Safety Bill in line with sweeping measures introduced in the likes of Norway*, where creators must label retouched photos, as well as France which is also demanding video labelling.  Specifically, the group wants the Bill expanded to label beauty filters as 'harmful content' and require use of a #filtered hashtag wherever beauty filtering is present.
"With great influence comes great responsibility," says Melanie Kentish, managing partner at Gleam Futures. "Young people are unwitting subjects in a social experiment changing the way we form our identities, represent ourselves and relate to others. It's all happening without any safety net in place while the AI tech snowballs at a relentless pace. We're stepping up and encouraging our industry peers in talent management to follow suit, but the Government needs to act decisively or face a worsening mental health crisis. We need to create a safer digital space for future generations to come." 
Sue Higgs, executive creative director of DENTSU CREATIVE UK says: "We took the manifesto beyond digital into the real world, where young people using these filters can see first-hand the mental health issues that they cause. And to talk directly to lawmakers in their backyard, harnessing all the talent and capabilities at DENTSU to be bold and make a difference."

Media planning was through DENTSU. 
Credits
DENTSU CREATIVE UK
ECD - Sue Higgs
CD - Sarah Watson
CD - Nick O'Brien 
Design Director - Jo Miller 
Senior Motion Designer - Harry Prentos 
Artwork - Chris Holiday 
Senior Digital Designer - Jenny Welsh
Senior Project Manager - Katie Morrell 
Senior Producer - Lou Bent 
Head of Communications UK & EMEA - Veronique Rhys Evans
Gleam
Melanie Kentish - Manager Partner 
Adam Strange - Head of Publishing 
Katie Ray – Head of Talent 
Lucie Ellinger - Marketing Executive 
Media - Dentsu
Sarah Daly – Investment Director 
Katie Livesley – Display Managing Partner
Kai Radcliffe – Display Partner
Fiona Norman – Display Director
Hugo Barthorp – Digital Trading Director
Media Partners
MiQ – Digital Video 
Gag Sahota – Group Agency Director
Tom Chittick – Senior Account Executive
Jack Agency / Build Hollywood
Elonex 
Global OOH 
MPL Production
Rockbox 
If you enjoyed this article, you can subscribe for free to our weekly email alert and receive a regular curation of the best creative campaigns by creatives themselves.