Adidas's This is Home video scores for Arsenal, but its Twitter campaign should've been blocked

Background
For most major football clubs, the launch of your new home kit is a focal point for the marketing team.
But when you're also changing kit supplier to one of the biggest names in sports, it's even more high profile.
So, when Premiership giant Arsenal launched its first new kit with the famous Adidas three stripes on, it was always bound to create waves.
And it did. But not always in a good way.
The Big Idea
In an integrated campaign by Iris called 'This Is Home', Adidas presented its vision of the iconic Arsenal home kit primarily through a viral video which built on the deep history of the club, as well bringing the personality of Arsenal's North London heartlands to the fore.
As a Chelsea season ticket holder who's no lover of Arsenal, I think it has done a brilliant job with the film.
Primarily targeting true Arsenal fans, there are constant reminders throughout of former players, previous Adidas kits and a selection of the current team playing the role of fans.
All great for dyed-in-the-wool Gooners.
However, another part of the campaign, a personalised shirt mechanic on Twitter, turned out not quite as Adidas intended.
What They Did
The film, presented by Arsenal legend and now national treasure Ian Wright, taps into the very essence of how football fans feel at the start of the new season and how the roots of their club are important to them.
Most big city clubs reflect their environment and this film really brings that to the fore.
Using voice over techniques to give the players proper North-London street accents, there is a real urban feel to the story and the direction moves things on in a pacey and exciting way.
There's a sprinkling of famous fans with actor Idris Elba popping up along with freestyler, Jeremy Lynch. Apart from Wrighty, there's also appearances by ex-captain, Tony Adams and the late David (Rocky) Rocastle – a nice touch that.
Having read quite a lot of the comments on the YouTube post, it seems to have resonated with fans from all clubs.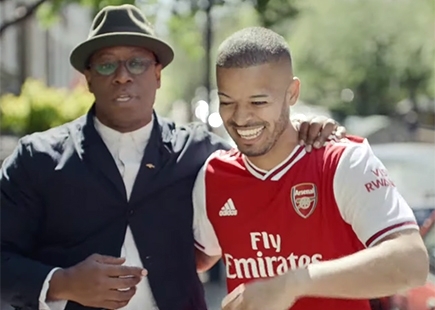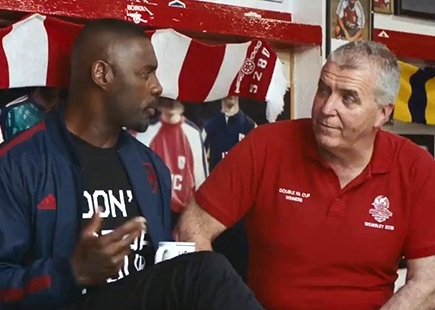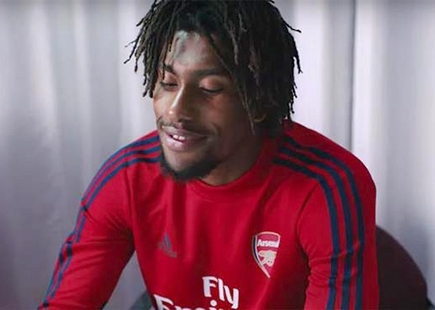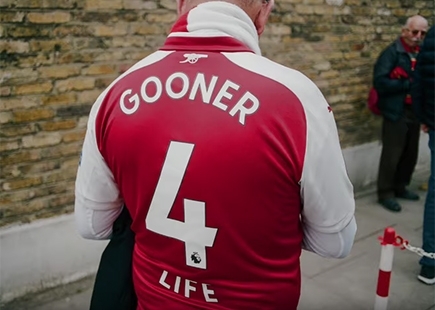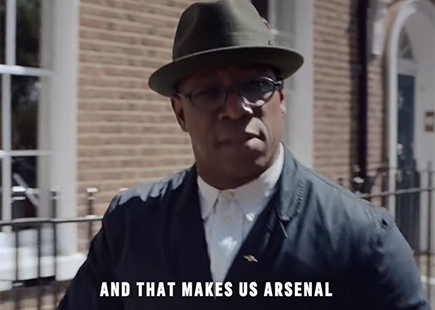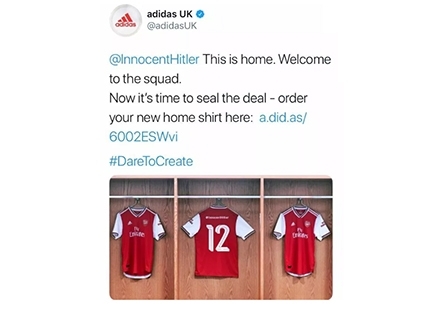 Shame the Twitter activity didn't go quite so well.
For this, Adidas went down the dangerous route of pulling in data from Twitter handles to place the account name onto the back of the new shirt.
Clearly the idea was to show fans how their new shirt could look thus encouraging them to buy it.
But as Walkers found out when it tried the same trick with Gary Lineker recently, people will always abuse an idea in the name of 'humour' if they can see an opportunity to show up the big brands.
Offensive names from history found their way onto Adidas's official Twitter account via made up accounts as it was an automated process. It seems there was no provision to review the posts as many of them stayed up for quite a while before being removed.
Big own goal.
Although there were far more genuine posts than the handful of offensive ones, it's not hard to guess which ones the media focused on in the many column inches of post-launch PR.
The Review
Love the viral film, hate the Twitter activity. Simple as that.
The script of the vid is great. Use of characters throughout makes you want to keep watching to see who else pops up and the references that only real Gooners will understand, are all in there.
You often see brands associating themselves with football clubs and it can feel forced and artificial. Not this.
It's Adidas and it understands football culture better than anyone.
And with Ian Wright leading the way, how could it fail? Not sure if the bit at the end with Wrighty responding to a jeering person off camera was scripted or not, but really reinforced its gritty Islington roots.
In Hindsight
Surely this Twitter activity may be the last time we see this kind of automated technique used as I can't believe there's a marketing manager out there who would trust it again even with the most diligent of vetting.
On the video, I'd love to see my team Chelsea bringing out some of our legends and present day team and get them doing their thing on the mean streets of Kensington and Chelsea!
I wish the Twitter activity on this had worked as I wouldn't have even mentioned it as it is not especially memorable. Then this whole article could have been dedicated to the vid which was a gem.
Let's focus more on great creative thinking and execution and leave the artificial creativity somewhere else.
Sure, it has a role to play, but for me, great ideas will always be great ideas.
If you enjoyed this article, you can subscribe for free to our weekly email alert and receive a regular curation of the best creative campaigns by creatives themselves.