'This Christmas, There's More To Argos' with Connie and Trevor showing off their favourite toys

Argos's new 2023 Christmas ad features the duo Connie and Trevor, showing off Argos's most stylish brands to inspire gifts that the nation can find under their Christmas trees.
Connie and Trevor have returned to the small screen to be the stars of Argos's shiny new advertising campaign this Christmas, showcasing the range of top brands and gifts on offer from the retailer this festive season.

The hero film shows Connie on an epic dance across a table on Christmas Eve as she struggles to contain her excitement in anticipation of the big day.
On Trevor's command "Lights, camera, coffee machine," Connie emerges from the shadows to unveil herself wearing a dazzling pink Christmas jumpsuit; against an atmospheric backdrop of steam conjured up by a pristine-looking coffee machine (purchased at Argos, of course.)
Channelling her youthful energy and festive spirit, we then see Connie strut past a series of Argos products.
On her long walk across the table, in perfect rhythm with the music, Connie passes a Sonos speaker and Habitat gold cocktail shaker which sparkles against her sequin jumpsuit.
As she comes to the big finale, we realise that Trevor has been filming all this on a phone, or at least he was supposed to, much to the dismay of Connie who has just finished her performance with a wind-swept aplomb, courtesy of a stylish Shark hairdryer. The film ends as Connie cartwheels across the festive table asking, "please tell me you got that, Trev?" It is unveiled that Trevor has in fact been recording himself the entire time whilst Connie claps to herself proudly.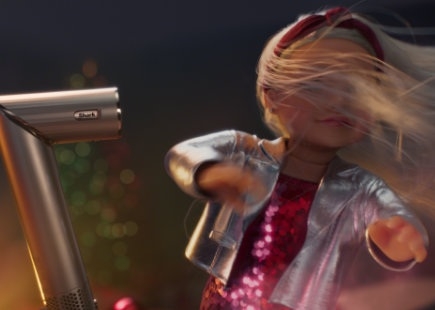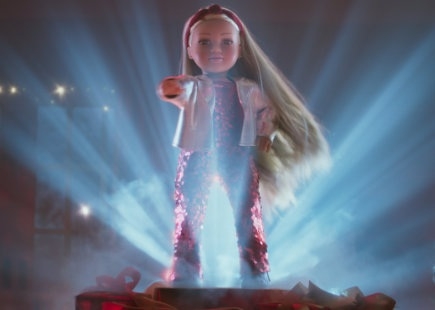 The tale, a modern day take on the classic 'toys come to life' narrative, builds on Argos's brand platform - 'There's More To Argos' - which launched earlier this year. It aims to showcase the vast array of most-wanted products on offer from the retailer, from toys, home and beauty, to cutting-edge tech, positioning Argos as a destination for quality and style, as well as great value.
Developed by The&Partnership, the film was directed by Traktor and animated by Untold, with the characters voiced by People Just Do Nothing's Ruth Bratt and This Country's Charlie Cooper. The disco classic Le Freak by Chic is played to accompany Connie's big show as there's no better song to help get into the party mood.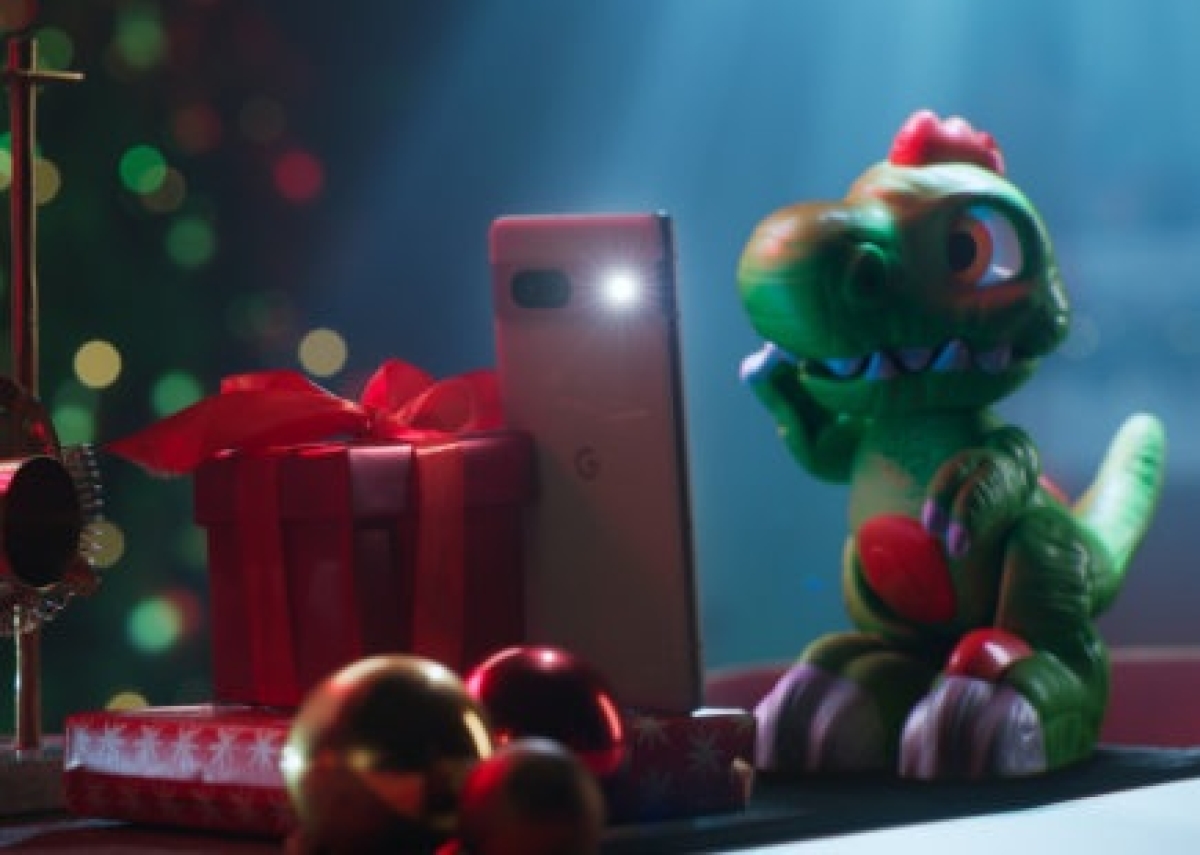 Matt Moreland and Chris Clarke, creative directors at The&Partnership, said: "We wanted to pull out all the stops for the latest Argos instalment. It is Christmas after all. So we teamed Connie up with some stylish merch, a world class choreographer, and a remix of one of the best disco tracks of all time. Surely nothing could go wrong?"

The 30" TV spot launched for the first time on Wednesday 1st November with OOH running across the country. 10" TV spots will also run from 19th November.
The campaign will live across, TV, BVOD, OOH, press, social, online, radio and PR in the UK. There will be stand-alone short form films created specifically for TV, BVOD and social, alongside a suite of TikTok films that show Connie and Trevor like never before.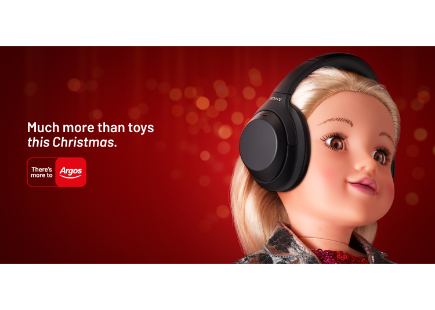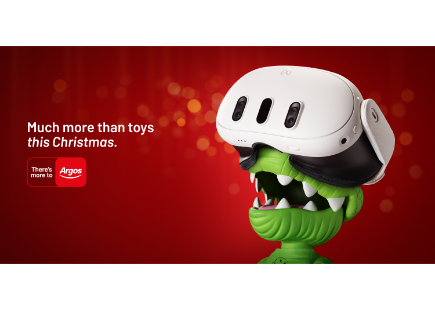 Credits
Client: Argos
Chief Marketing Officer: Mark Given
Director of Communications & Creative: Radha Davies
Head of Marketing & Brand Communications: Laura Boothby
Campaign Manager: Jade Nielsen
Marketing Campaign Executive: Tiff Winchester
Campaign Assistant: Ben Arnold
Campaign Assistant: Melissa Williams
Campaign Title: Argos Christmas: Dancer
Agency: The & Partnership
CEO: Sarah Golding
ECD: Toby Allen
Creative Directors: Chris Clarke & Matthew Moreland
Senior Creative: Carl Storey
Head of Integrated Production: Charles Crisp
Senior Agency Producers: Alfie Glover-Short, Sam Topley
Managing Director: Gary Simmons
Business Director: Alice Poole
Senior Account Director: Alex Fitzsimons
Senior Account Manager: Sasha Ford
Account Manager: Emily Colinese
Planning Director: Matt Linnett
Senior Strategist: Isabel Day
Production Company: Stink FIlms
Director: Traktor
Executive Producer: Jon Chads
Producer: Traktor
Production Manager: Nurjan Nevzat
Director of Photography: Pär M. Ekberg
Production Designer: Poppy Luard
Costume Designer: Amy Albertine Andrew
Choreographer: Lizzie Gough
Editor: Ryan Beck @ Final Cut
VFX Studio: Untold Studios
Exec Producer: Melody Alexander
Producer: Ange Toner
Production Assistant: Natalie London
VFX Supervisors: Chris Redding & Jon Wood
CG Supervisor: Tim Philips
Animation Supervisor: Aimee Westley
VFX Artists: Amanda Cheung, Bhavesh Budhkar, Daniel Escobar, Emma Lepuil, Jack Bond, Irina Alzuru, James Primhak, Kerim Camdzic, Michael Diprose, M Gopikapriya, Rachel Bosc-Bierne, Sarah Higgs, Swati Barnwal, Tom Paterson, Emine Arkin, Jan Kanta, Rebecca Clay, Sebastien Gaucher
Online: Richard Harris
Colourist: Julien Alary
Colour Producer: Eli Sandal
Audio Post Production: Grand Central Recording Studios
Audio Producer: Kelly Noble
Sound Designer: Munzie Thind
Music Supervision: DLMDD
Music Supervisors: Lizz Harman & Jeremy Newton
If you enjoyed this article, you can subscribe for free to our weekly email alert and receive a regular curation of the best creative campaigns by creatives themselves.