Creative Profile: Ala Uddin, executive creative director at mud orange, talks about design, personal connection to his work and a Yorkshire brew

In this feature, Creative Moment showcases creative talent from across the industry.
Ala Uddin, creative director at mud orange, walks us through his background and how he came to be one of the co-founders of an agency specialising in nuanced work, expertly crafted for diverse audiences.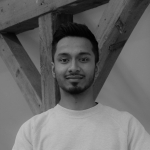 My Story
Ala Uddin, creative director, mud orange
Born in 1991, in York, to Bangladeshi immigrants. I was surrounded by love and care.
Age 5-11: Be it a Christmas table mat or a cardboard Aztec temple, me and my best friend Danny would always take every creative task we were set at Fishergate primary school way beyond what was set by the teachers. These are still some of my fondest memories.
Age 12-14: Now at secondary school, I threw myself into the art lessons where I was taught how to craft my skills; developing an eye for colours, shapes, visual observation and so on. I couldn't be more grateful for my art teachers in my early years at Fulford School.
Age 15-16: I took up Graphic Design as one of my GCSE subjects. This further helped me develop my creative skills and taught me how to practically apply myself to Design. Creatively and visually solving problems became a fascination. It's in this classroom, I knew what I wanted to do "when I was older".
Age 17-18: In order to broaden my design knowledge and creative craft, I took up Product Design and Film Studies at A-level. This helped me understand how design informs everything we interact with and how storytelling inspires meaning.
Age 19-22: I went to Norwich University of the Arts to study Graphic Design. I spent four years comprehensively learning about all things art and design; from branding, advertising, typography, editorial design, packaging design, to creative direction.
Age 23-24: After graduating, I moved to London. I carried out ten consecutive design internships at various creative agencies and design studios. Including Carter Wong, Purpose and Willams Murray Hamm. I then got a role as a designer at Penguin Random House, with an opportunity to work on their DK children's website and non-fiction titles. Having the chance to learn from senior and incredibly gifted practitioners who have been in the creative industry for decades was priceless.
Age 25-27: Whilst working at DK, I began taking on freelance work in order to find work that resonated with me more - projects I could personally connect with. Some of the work I put out during this time includes the Khidr Collective zine and The Good Journal with Nikesh Shukla. This helped develop an independence with my creative practise that has gone on to be invaluable.
Age 28: After lengthy discussions, I partnered with Arif Miah, a brilliant creative strategist with whom I worked on a few freelance projects. We both felt that the creative industry, especially Ad Land, could do with shaking up with our unique insights and outlook. So, we set up our own creative agency - mud orange.
Age 29-30: In our first year at mud orange, we won a Marketing Masters award (Charities and Non-profit) for our first advertising campaign - for MyTenNights, helping them raise £10.9m in charity donations in 10 days. In our second year, we won an OysterCatchers award for Best New Agency.
I look forward to seeing what my 30s have in store for us.
Lucy Smith: The best advice you have ever been given, advice that you would give to others knowing what you know now or words you live by?
Ala Uddin: Listen, Learn & Love.

I find if I keep my mind focused on these three things, be it in my professional career or personal life, I have a better chance of getting it right - or at least close enough to enjoy the journey.

LS: Out of all the campaigns you have worked on, which one stands out as the most memorable and why?
AU: Our first campaign at mud orange, for MyTenNights.
It was close to home. It was personally meaningful. We showed Muslims from different backgrounds, in an honest and authentic way. We left negative guilt-ridden charity messages for positive Ramadan giving goals. We raised £10.9m in 10 days.
All this led to us winning the 2020 Marketing Week Masters award for charities and non-profit. Our first award, in our first year of setting up shop.
LS: What piece of creative work, that you didn't create yourself, do you admire/respect and are inspired by?
AU: All Eyez on Me - 2Pac.

It's October 1995 (and I'm 4 years old). 24-year-old Tupac Shakur records his smash-hit 27-track album in 15 days. He was tragically murdered only seven months after its release. It is one of the greatest albums of all time.
LS: Right now, what's the best/most exciting thing about the creative industry?
AU: What excites me the most is the collective endeavour in the industry to create equal opportunities for all kinds of creative minds; whatever their beginning, whatever their background.
It's when worlds collide, that we get the most exciting stuff.

LS: Best strapline of all time?
AU: Let's have a proper brew!

As a Yorkshireman, this resonates at the deepest level. We all know we do tea, properly.

LS: Why did you set up mud orange?
AU: There was a myriad of reasons why we set up our own agency. The simplest reason was that Arif and I both felt like we could.
We both recognised the expertise and aptitude in each other. We understood that we could effectively bring together our backgrounds in creative strategy and creative direction to serve clients and brands with a fresh new outlook; especially when it comes to audiences that need a more nuanced and considered approach.
Overarchingly, we both wanted to have as much fun as we could when it came to our work; and we felt that could be found in embarking on a new challenge.

LS: If you weren't in the creative industry, what would you be doing and why?
AU: I would either be writing stories that inspire meaning in the mundane, or I would be training full-time to become a black belt in Brazilian Jui-Jitsu.

LS: What advice would you give others wanting to make the move towards a career in the creative industry?
AU: If the path isn't laid out for you, you have to be brave and confident; you have to believe in your own success.
Creatively, you have to practice, play, and produce.
You need to have patience and perseverance.
You have to balance your career with all other aspects of your life.
You have to try and fill your life with joy, and be grateful for all of it.
That's what I tell myself, anyway.

If you enjoyed this article, you can subscribe for free to our weekly email alert and receive a regular curation of the best creative campaigns by creatives themselves.