Creative Profile: How executive producer Charlotte McConnell went from horseback to Publicis in one memorable stride

Charlotte McConnell is an integrated executive producer with award-winning work for Levi's under her belt.
Oddly, horse riding (an incident with a fence) secured her first job at Publicis. It was not the usual route into the industry, but this led to roles in other successful agencies such as FCB Inferno, Goodby Silverstein & Partners and her current position with Anomaly.
I spoke to Charlotte about her journey from horseback to her current challenging creative role.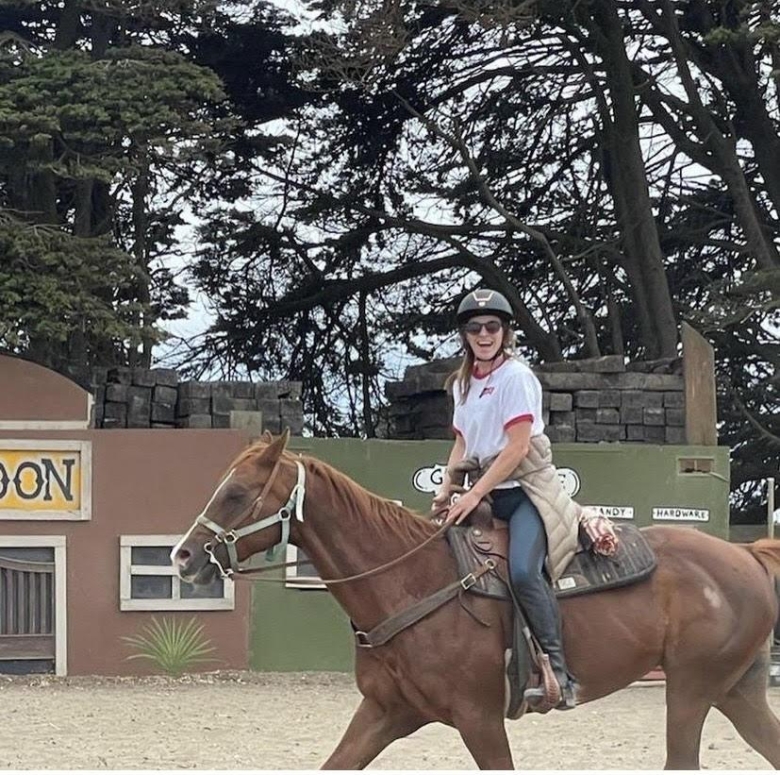 What's your story?
I was working at a racing yard breaking in young thoroughbreds, my other passion to film, when I got through to the interview round for the grad traineeship at Publicis.
When asked about other interests, I took off my jacket to show her a newly imprinted fence-shaped bruise that I had impaled myself during a fall the day before. I got the job. A year later, I saw the same woman and asked why she gave me the job. She replied, 'Fence girl', you stood out. Never underestimate the power of branding.

I was thrown into the deep end of production at Publicis, working on some groundbreaking work for the Territorial Army, Message on a Mountain.

The idea was to prove the TA were much harder than its perceived image by filming actual TA soldiers carrying and constructing a billboard to the top of Pen Y Fan in the Brecon Beacons in the middle of winter. I was producing and directing the B cam footage. We were unsure how easily the soldiers would manage it and how much drama we would capture. Our team got lost, we had a twisted ankle, and some tears. The ECD was so pleased with our footage that it made it into the main TV and cinema campaign and picked up several awards.
I had caught the bug for making breakthrough creative and became impassioned to the nature of craft.
This drive took me on to produce several award-winning campaigns and eventually to the States, where I was working on Superbowl and the Grammy's productions for Doritos.

You've worked as a producer since 2010 and across some well-known agencies. What is the most memorable/favourite work you have created in your career to date, and why?
When I first landed in the States, I was the lead producer across Levi's for FCB West. A dream gig as Levi's advertising was one of the reasons I wanted to work in the industry in the first instance.
Levi's 'Circles' is my most memorable work.
This is due to level of craft put in which elevated a simple idea into a striking piece of creative. The insight that various different cultures form circles when they dance was a juicy kick-off point for thorough research into such cultures. Jake Nave at Believe did a fabulous job bringing different dance and cultures together. We had to maintain authenticity to each group which was really enjoyable, embracing and celebrating the nuances within each. With a banging track and editing job, it propelled Levi's back to its notorious advertising status.

Some of your work has a quirky, humorous element to it. How important is injecting humour to you?
Laughter is vital to getting through my day!
I love to produce comedy spots, and I find it interesting how subjective humour can be. A comedy script on paper can land either way, so it is up to production to make sure the execution does the gag justice. I found working on comedy in the UK vs comedy in the States very different, which was fascinating to dissect.
I loved producing 'Cheetos, if it's hands-free, it's a Cheetos thing', bringing to life the alternative Cheeto's world where Cheeto dust on hands was the inspiration for all hands-free tech. The production and craft on this was so important from casting, location, and authentic representation of different decades, down to finding the most comedy ringtones of the 90s.

With complex storytelling sometimes required, in less than 2 mins, where do you start?
For example, in this work you created for Levi's.
It helps if you are producing scripts written by Justin Moore, the most talented writer I have ever worked with. The biggest challenge is protecting the creative from the many rounds of comments it needs to go through before making it out too unscathed. It was an honour bringing these kinds of scripts to life; you can't help but put your heart and soul into it, which shows in the result.

Music is clearly an integral part of your productions. How do you go about finding the right piece?
Finding the track is hands down the most favourite part of my job.
I love discovering new talent, and bringing fresh, new sound to audiences who would otherwise not be exposed to it. I would lose myself in deep dives on the Levi's campaign and would keep pushing for new tracks even after decisions had been made in the edit.
Music is so subjective, and the client would naturally veer towards a safer option, but sheer resilience pays off eventually. You just have to keep fighting for it.
What personal and/or professional challenges have you overcome across your 15 year career?
When I first started out in the industry, I was shocked at the level of gender bias in the industry.
I had been very lucky in my upbringing to be protected from the realities of how I was stereotyped to work on certain brands. It made me work harder for the good briefs and fiercely fight not to be stuck working on beauty products and biscuits! It's great how the industry has come where it should have been, but there is still a long way to go.

What piece of work, created by someone else, do you admire and why?
I can not get enough of the latest Marmite, Love it, Hate it, Get on it. I would have loved to produce this script. This is a great example of how far a music track can push the simple idea of two puppets, taking a BIG melody and adding new lyrics really makes this spot, it is super catchy and spreadable.. !
If you weren't doing this, what would you be doing and where in the world would you be doing it?
Definitely back in the saddle!

If you enjoyed this article, you can subscribe for free to our weekly email alert and receive a regular curation of the best creative campaigns by creatives themselves.