Declan Rice features in new campaign for suicide prevention charity Campaign Against Living Miserably

Loneliness is a significant problem in the UK.
For the latest Campaign Against Living Miserably (CALM) advert, AMV BBDO and Seven Stones have come together again to create work that challenges stereotypes and helps people open up about how they are feeling.
3 million people say they feel lonely some or most of the time, and CALM wants to encourage more people to seek support.
The campaign is the result of a new partnership between the agencies, who last year launched "The Invisible Opponent" campaign featuring heavyweight boxer Tyson Fury.
The campaign helped to deliver awareness of the charity by 50%, from 21% to 33%, between April 2021 and April 2022. PRETTYBIRD came onboard to produce this new iteration of the concept, with Director Robert Wilkins bringing the creative vision to life.
'The Invisible Opponent 2
The film is the heart of a new campaign and shows West Ham and England footballer Declan Rice battling invisible opponents.
The haunting struggle looks as though the player may be fighting themselves, as a full crowd looks on. Relief finally comes at the end as a hand extends to help him from the ground with CALM's powerful message appearing on screen 'You don't have to be alone to feel alone', followed by a rallying cry 'Let's tackle it together'. The film is a metaphor for the mental health struggles that people face and the sense of isolation that comes from tackling them alone.
This time around, Rice is the focus of the action, playing a game that feels stacked against him.
Rice, starring this winter with the Three Lions in his first World Cup, joined CALM as its newest ambassador earlier this month, and aims to raise awareness and challenge the stigma around mental health and suicide. Off the pitch, he's set a goal to get more people talking and looking out for their friends and loved ones, at a time when more people than ever are turning to CALM's helpline and web chat services for support.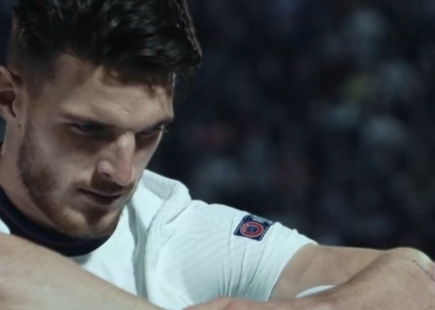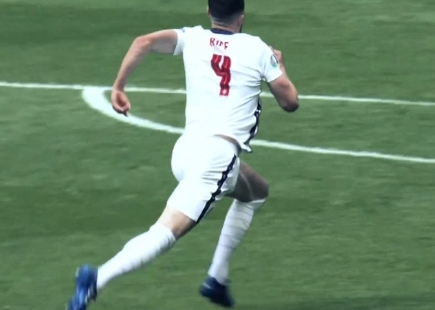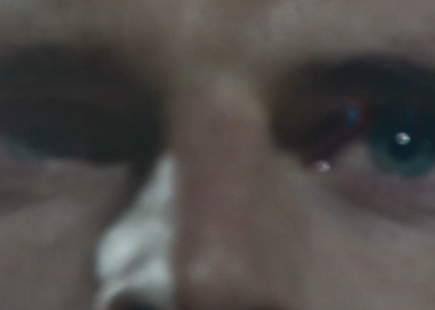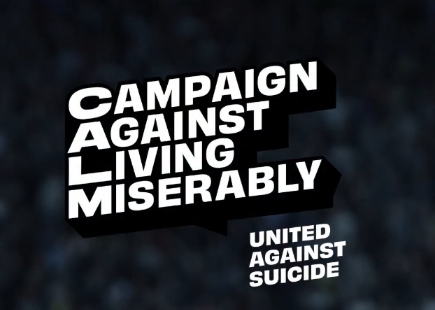 Declan Rice commenting on the campaign said: "Everyone suffers at different times in their life and there's so many people out there who feel like there isn't a light at the end of the tunnel - but all it takes is a conversation. It's about having that support network and having people you can speak to. Because no matter who you are or what you're going through it should be easy to speak to the people you love. Just one conversation can make a positive difference".
Simon Gunning, CEO, Campaign Against Living Miserably, said: "In the UK 125 people die by suicide every week - with 75% of those deaths being male. That's not ok, and it doesn't have to be that way. Now, more than ever, we must continue to challenge the stigma that prevents people from seeking the help they need.
Anyone can feel lonely, no matter your age, gender or background. But everyone experiences that feeling in different ways. That's why we need to tackle it together. And show people, however you feel right now, you're never alone. There's always someone on your side - and CALM is always here."

Credits
Client/Brand: Campaign Against Living Miserably (CALM)
Campaign title: The Invisible Opponent 2
Client name: Matt Jennings (CMO), Simon Gunning (CEO)
Ambassador Lead / Photographer: Harvey Aspell
PR Lead: Shervin Behzadi
Creative Agencies: AMV BBDO and Seven Stones
Creative Director: Zac Ellis
Writer: Zac Ellis
Strategy Team: Joe Smith
Agency Account Team: Dan Russell and Katie Gorrod
Media Planning: the7stars, Chris Gilfoy, Ben Edwards, Zachary Al-Moajil Cole
Production Company: Prettybird
Director: Robert Wilkins
Co-Founder / Exec Producer: Juliette Larthe
Head of Production: Fiona Bamford-Phillips
Executive Producer: Ted Thornton
Production Manager: Lottie Lindsay-Bevan
Production Assistant: Enrique Da Silva
Production Intern: Aljoe Joby
Hero Talent Casting: Entourage Sport & Entertainment
Entourage Head of Production: Sophie Cowan
Head of Talent Casting: Rob Hughes
Sports Choreography: Andy Ansah
Credits: Samuel Powell
DOP: Tat Radcliffe
1st AC: Lucie Seymour
2nd AC: Joshua Dadson
Camera Trainee: Ted Kelly
Video Playback: Alex Bates
DIT: Matt Cole
Gaffer: Mark Evans
Drone Pilot: Magnus Honeybourne, Surface 2 Air Media
Sound Recordist: Matt Bacon
Hair and Make-up Artist: Leila Karalic
BTS: Entourage Sport & Entertainment
Edit: Trim Editing
Editor: Paul Hardcastle
Assistant Editor: Helena Teixeira
Assistant Editor: Joey Henshaw
Executive Producer: Noreen Khan
Lead VFX: ETC
ETC Head of Production: Matt Williams
ETC Producer: Alex Carswell
Colourist: Jason Wallis
VFX support: The Hot Spring
Producer: Gemma Humphries
Production Manager: Mayumi Borah
Senior Producer: Anshul Gattani
Assistant Producer: Saurabh Thakur
Creative Lead: Pushkar Rawat
VFX Supervisor: Asha Parakhal
VFX Artists: Soumik Ghosh, Palash Ghosh, Sreejith
Tracking Artists: Varsha Jain, Harit Chavda
Sound Studio: Factory Studios
Sound Design & Mix: Mark Hills
Creative Director Audio: Anthony Moore
Executive Audio Producer: Deborah Whitfield
Audio Producer: Ethan Day
Music Composer: Adem Ilhan
Hero Talent: Declan Rice
Supporting Talent: Henry Lkeije, Aaron Clarke
Thanks to: The Hive London, Jon Crownshaw, Sports On Screen, Darren Eastwood
If you enjoyed this article, you can subscribe for free to our weekly email alert and receive a regular curation of the best creative campaigns by creatives themselves.